This week we're celebrating our 1st birthday! Can you believe it? What an incredible 12 months. Thank you so much to everyone who has joined us on this amazing journey! We can't wait to share more amazing recipes with you in the future.
These pops are a fun and cheeky twist on the usual birthday cake. They're really easy to make and best of all they don't even require baking! You can make them ahead of time and keep them in the fridge until serving.
Makes 8 pops.
Ingredients
1 cup oat flour (or jumbo oats blended)
1/4 cup brown sugar
1 tbsp soya milk
2 tbsp vegan margarine
1/2 cup vegan chocolate chips
Pinch of salt
120g dark chocolate
For decoration:
1/4 cup pistachios crushed
1/4 cup dessicated coconut
You will also need 8 pop sticks.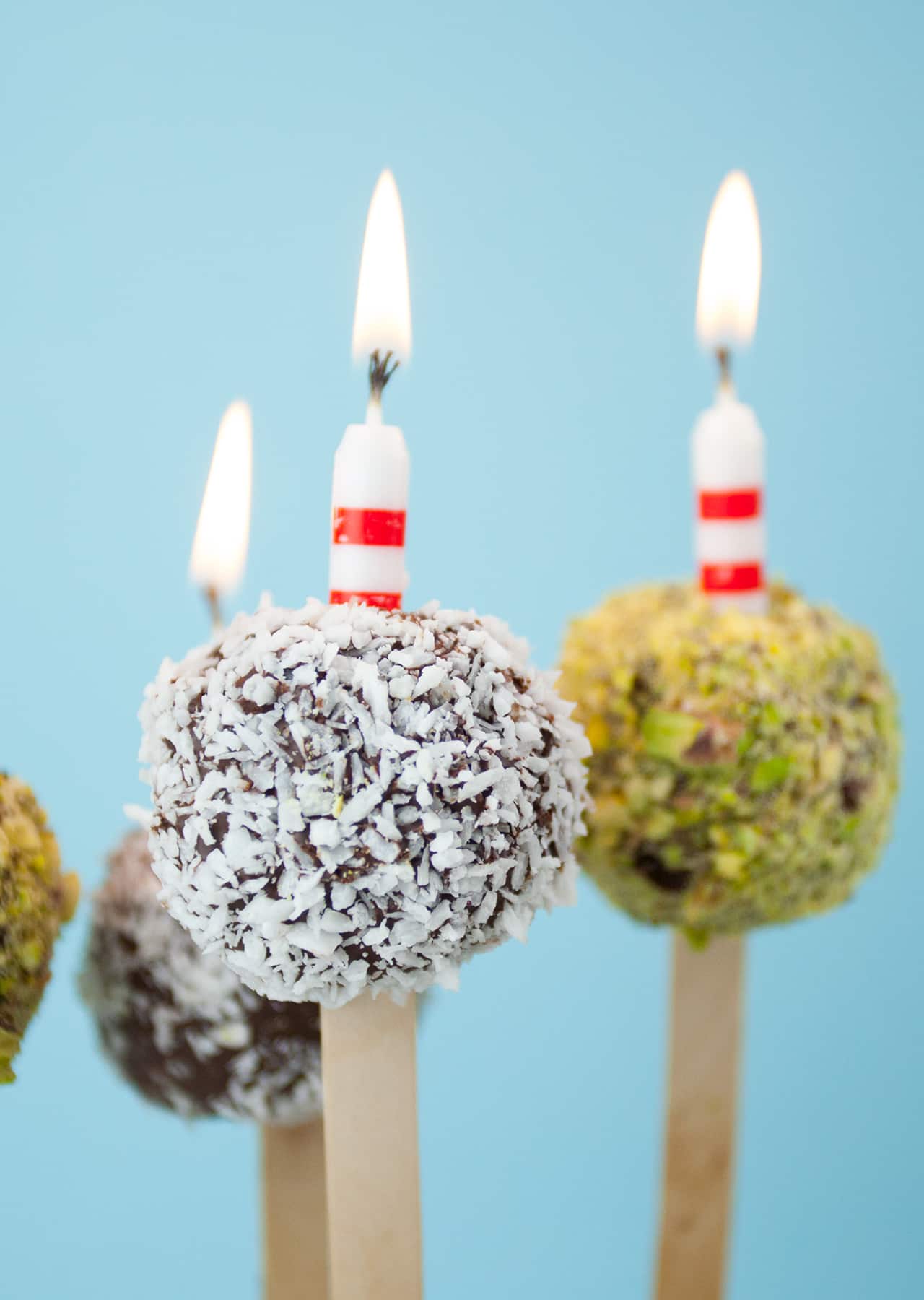 Method
1. If you're making the oat flour from jumbo oats, blend the oats in a blender until fine.
2. Combine the oat flour, sugar, soya milk, margarine, chocolate chips, and salt in a mixing bowl until it reaches a cookie dough mixture.
3. Roll the cookie dough mixture into 8 equal sized balls.
4. Melt 20g of chocolate in a pan on a low heat and dip one end of the pop stick into the melted chocolate. Then, insert the chocolate-coated end of the pop stick into the first cookie dough ball. Repeat for the remaining cookie dough balls.
5. Freeze the cookie dough balls for 20 minutes.
6. Meanwhile, melt the remaining chocolate in a heatproof bowl over a pan with a little simmering water.
7. Remove the cake pops from the freezer and coat them with chocolate. Wait a few seconds for the chocolate to set a little, then roll the pops in the crushed pistachio or dessicated coconut and leave to cool completely.
#SoVegan