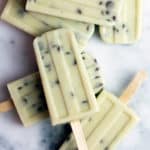 Avocado & Mint Chocolate Chip Ice Lollies
Print
Transfer the liquid to a measuring jug with a lip and stir in the chocolate chips.

Carefully pour the liquid into the ice lolly moulds, using a spoon to push in some chocolate chips as you go. Then push a lolly stick halfway down into the middle of each mould.

Transfer the lolly mould to a freezer and leave overnight.

To serve, remove the lolly mould from the freezer and leave on a worktop for 5 - 10 minutes, or run the mould under warm water until you can pull the lollies out.