Pierogi are Polish stuffed dumplings. They were one of Roxy's favourite things to eat growing up and you can eat them as they are or serve them with a classic Polish soup, such as barszcz. Smacznego!
If the dough is dry, simply add a splash of extra water. Likewise, if the dough feels too sticky, add a sprinkle of extra four until it reaches the right consistency.
We love to serve our pierogi with vegan crème fraîche but you can also serve these with vegan yoghurt.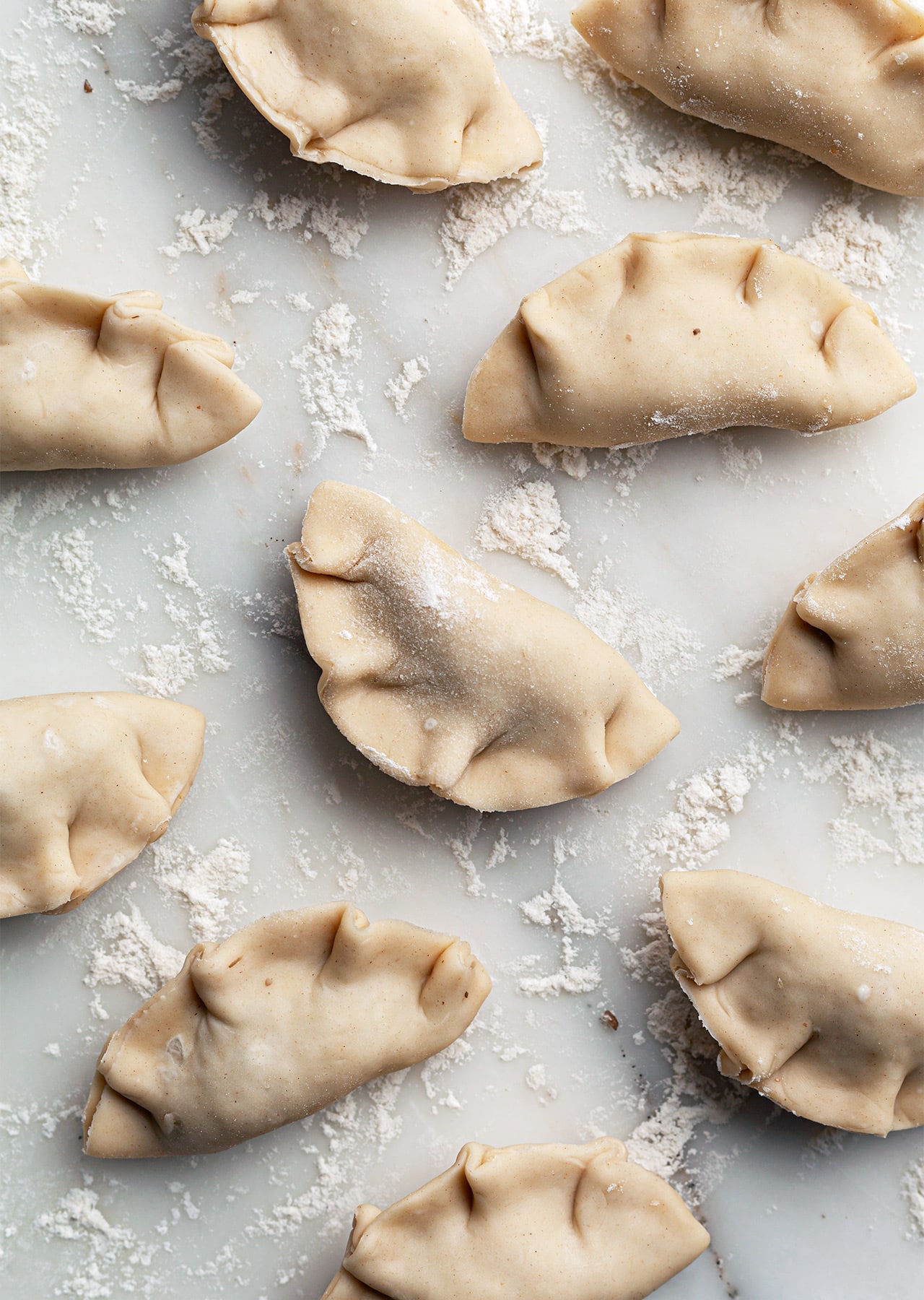 Ingredients
For the dough:
250g (8.8oz) plain flour
1/2 tsp salt
1 tbsp vegetable oil, plus extra
110ml (3.7fl.oz) warm water
For the filling:
1 onion, finely diced

200g (7.1 oz) mushrooms, finely diced

3 garlic cloves, peeled + finely diced
200g (7.1oz) sauerkraut, drained + roughly chopped

1 large sprig of fresh thyme, leaves picked

1/2 tsp caraway seeds

salt + pepper
To serve (optional)
vegan margarine or butter 

vegan crème fraîche

chopped chives or parsley
Method
Add the flour and salt to a mixing bowl and stir. Then pour in the vegetable oil and warm water and combine. Note, if the mixture is too dry and a tiny splash of water or if it's too wet and a sprinkling of flour.

Tip the dough onto a lightly floured worktop and knead for 5 minutes. 

Then pop the dough back into the mixing bowl and cover with a damp tea towel while you carry out the next steps. 

Heat a little oil in a frying pan on a medium heat. Once hot, throw in the onion and fry for 8 minutes.

Next throw in the mushrooms and fry for another 8 minutes or until most of the moisture has evaporated. 

Add the garlic and fry for 2 minutes.

Finally add the sauerkraut, thyme leaves, caraway seeds and generous pinches of salt and pepper stir then fry for another 2 minutes. 

Remove the pan from the heat and leave the mixture to cool completely while you roll out the dough.

Roll out the dough until it's 3mm (0.1") thick. Then using an 8cm (3") round cutter or glass, cut out rings of dough. Then keep rolling the leftover dough and cutting out rings until you've used up all the dough.

Add a heaped teaspoon of the filling to the middle of each circle of dough. Then fold the circle of dough in half and pinch the edges closed. You can also create a pleat pattern around the edge if you like by folding the edges as you go.

Next bring a pot of water to the boil. Add the pierogi to the water in batches and boil for 2-3 minutes or until the pierogi float to the top then transfer them to a plate.

This step is optional, but if you want to fry the pierogi, heat a little vegan butter in a frying pan on a medium heat. Add the pierogi in batches and fry for  a few minutes on each side or until golden brown.

Serve the pierogi with a dollop of vegan creme fraiche and a sprinkling of chives.
Did You Make This Recipe?
Don't forget to share your SO VEGAN creations on Instagram and tag us at
@SOVEGAN
!