Tangy, filling and super tasty, our vegan Sloppy Joes are a total treat.
Go for vegan and gluten free Worcestershire sauce to make this recipe gluten free.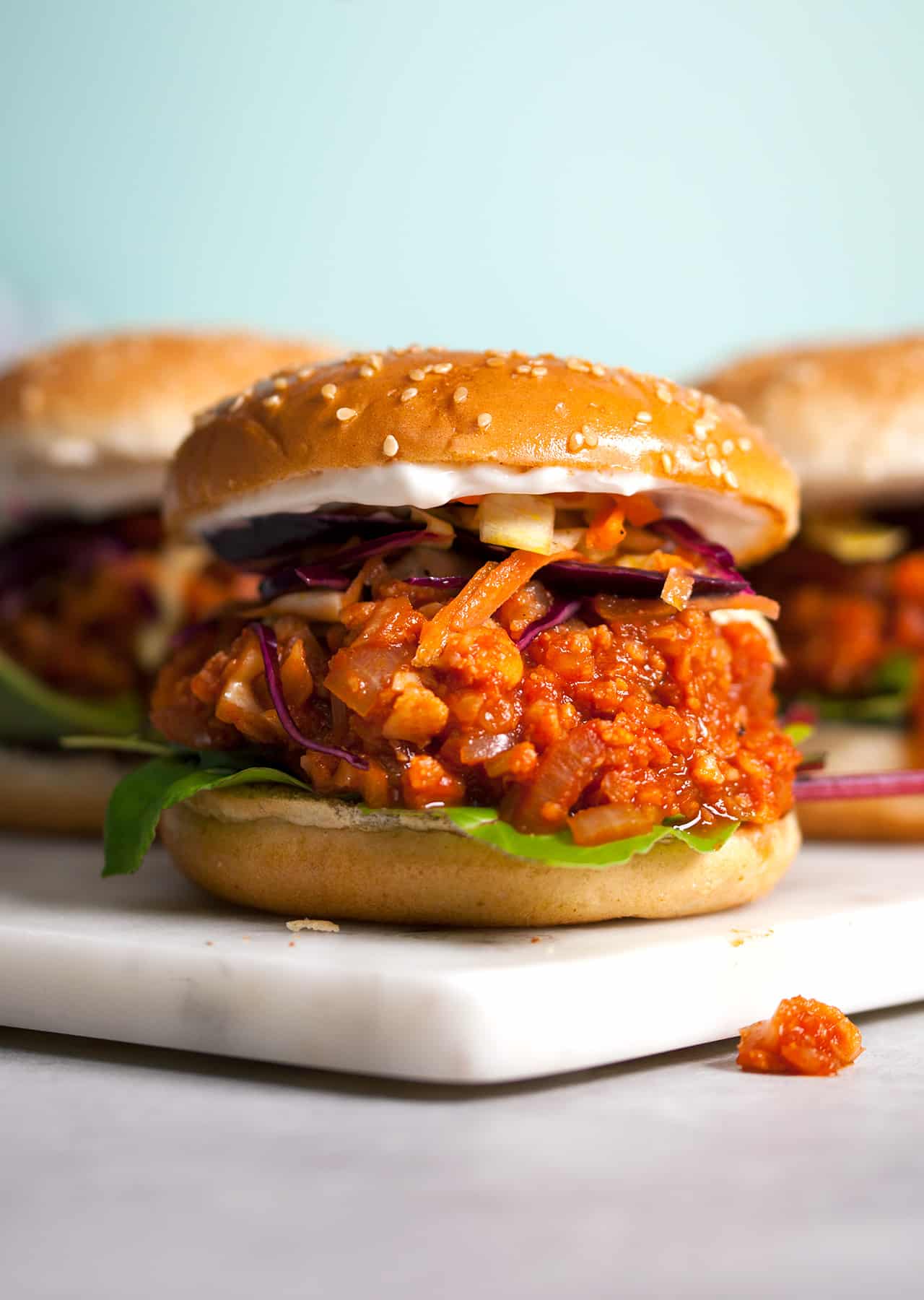 Ingredients
olive oil, for frying
2 onions
6 garlic cloves
600g (21oz) cauliflower, leaves removed
2 tsp smoked paprika
1/4 tsp chilli powder
1 tbsp cajun seasoning
600g (21oz) passata
2 tbsp vegan Worcestershire sauce
2 tbsp brown sugar
salt and pepper
Optional homemade coleslaw:
100g (3.5oz) carrots
200g (7oz) red cabbage
3 tbsp extra virgin olive oil
1 tbsp apple cider vinegar
salt and pepper
To serve:
6 burger buns, salad leaves, vegan mayonnaise
Method
Start by making the coleslaw. Coarsely grate the carrot and add it to a mixing bowl. Thinly slice the red cabbage, then add it to the same mixing bowl, along with the extra virgin olive oil, apple cider vinegar and generous pinches of salt and pepper. Mix everything together, then leave the coleslaw to one side.
Add a little olive oil to a large pan on a medium heat. While the oil is getting hot, peel and dice the onion, then add them to the pan and fry for 7 minutes, stirring occasionally.
Peel and dice the garlic, then add it to the pan and fry for 3 minutes, stirring occasionally.
Meanwhile, add the cauliflower to a food processor, tearing apart the florets into small pieces using your hands as you add them to the processor. This is important because you want the cauliflower to break down into evenly-sized pieces (slice any tough stalks into small pieces using a knife). Pulse the cauliflower half a dozen or so times until it breaks down into small pieces (see video).
Add the cauliflower to the pan, along with the chilli powder, cajun seasoning and smoked paprika. Give everything a good stir, then leave to fry for 10 minutes, stirring occasionally.
Next add the passata, Worcestershire sauce, brown sugar and generous pinches of salt and pepper. Stir everything to combine the ingredients, then simmer on low for 20-25 minutes, stirring every now and then so it cooks evenly. The mixture should still be wet (sloppy), but reduced enough so it will hold in the burger.
Start preparing the burgers by first toasting the buns, then build each burger by adding salad leaves to the bottom bun, followed by a few spoonfuls of the Sloppy Joes mixture, a small handful of coleslaw and a generous spoonful of vegan mayonnaise. Top with the remaining half of the bun and repeat for for the remaining burgers.
Serve alongside the leftover coleslaw.
Did You Make This Recipe?
Don't forget to share your SO VEGAN creations on Instagram and tag us at
@SOVEGAN
!