Caramelised onions give this grilled cheese sandwich a delicious sweetness, which really takes it to the next level.
Notes:
It's important to slice the onion roughly 0.5 cm (0.2″) thick. If you slice the onion too thin, it'll break apart in the pan as it softens, which isn't the end of the world but it's not ideal.
We're intentionally vague about how much cheese you need to add to the sandwich because this comes down to preference. We just go by eye and add 2 handfuls and often it depends on the size of the bread.
For best results, we usually use a combination of two cheeses, a mozzarella-style vegan cheese and a cheddar-style vegan cheese. This means we get the best combo of strong flavour (from the 'cheddar') and stringy texture (from the 'mozzarella'). But you can use whichever grated vegan cheese you like!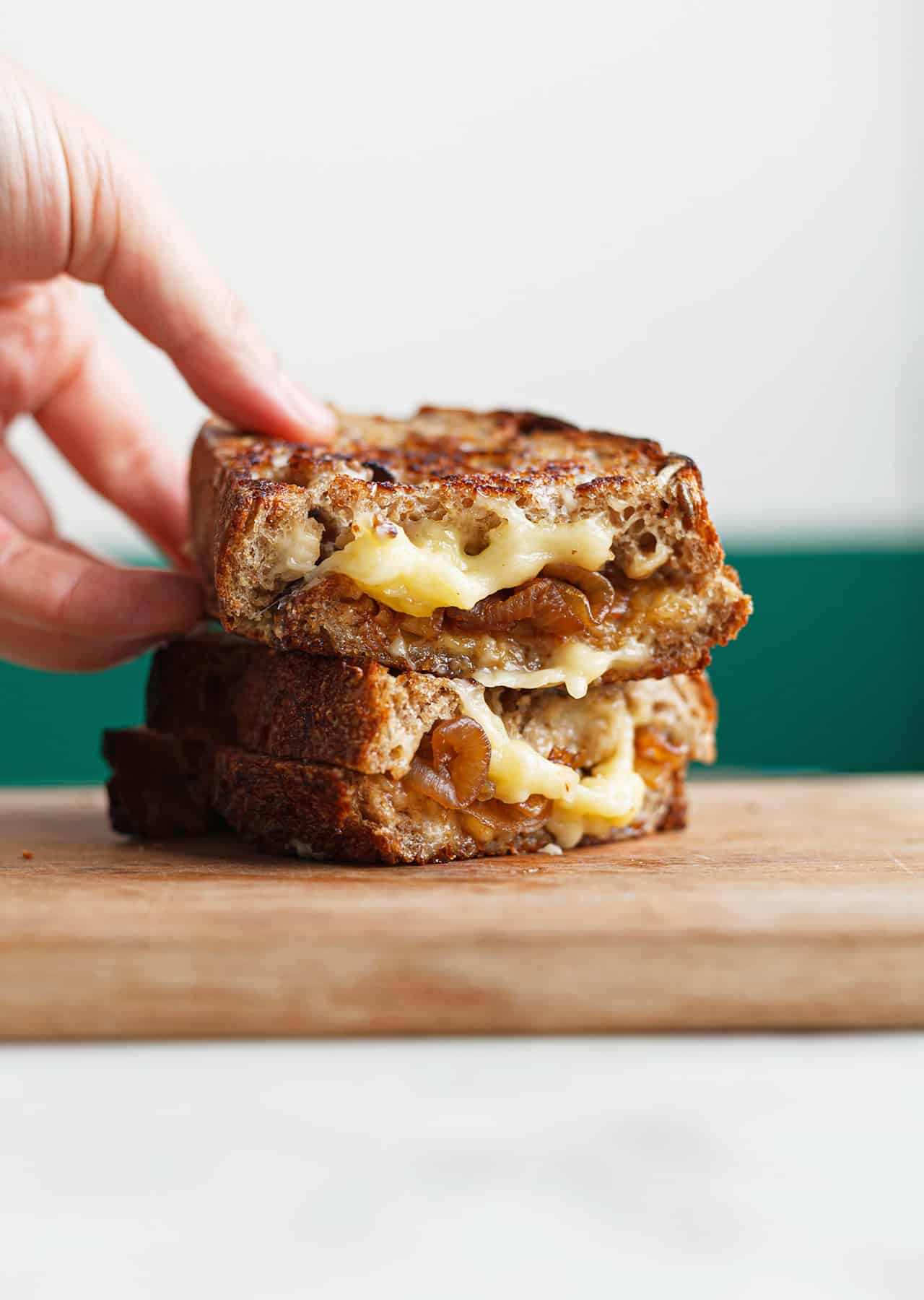 Ingredients
vegan butter
1 onion, peeled + sliced (see notes)
salt
1 tsp soft brown sugar
1 tsp balsamic vinegar
2 tbsp vegan mayonnaise
2 slices of bread, or gluten-free bread
1 tsp Dijon mustard
2 handfuls of grated vegan cheese, see notes
Method
Add 1 tablespoon of butter to a stainless steel or cast iron pan on a low-medium heat. As soon as it has melted, add the onion and a pinch of salt, then cook for 50-60 minutes, stirring frequently until the onion is a dark golden brown. If necessary, add splashes of water to prevent the onion burning and use the water to deglaze the pan.
When the onion looks ready, stir in the sugar and vinegar, then continue cooking for 5 minutes.
Spread the mayonnaise over one side of each slice of bread. Then add the bread slices, mayonnaise side down, to a pan on a medium heat.
Spread the mustard over one slice of bread, then cover both slices evenly with cheese. Next add the caramelised onion over one of the slices, then flip the other slice of bread on top so the onion is sandwiched in the middle.
Cook for 3-5 minutes on each side or until the bread is golden brown and the cheese is melted, pressing down occasionally with a spatula to compress the sandwich. Remove the sandwich from the pan and slice to serve.
Did You Make This Recipe?
Don't forget to share your SO VEGAN creations on Instagram and tag us at
@SOVEGAN
!