First we roast butternut squash with nutmeg, then we add it to a creamy butter bean mash and top with a sage pesto. Sometimes we serve this with cooked veggies and crusty bread to scoop up the mash.
Notes:
We'll usually serve this with crusty bread to scoop up the mash and pesto. We also serve it alongside cooked veggies, such as steamed broccoli or wilted spinach.
We love to grind whole nutmeg, rather than using pre-ground nutmeg. This will add a stronger and more balanced flavour. 1 tsp of ground nutmeg is about half a whole nutmeg.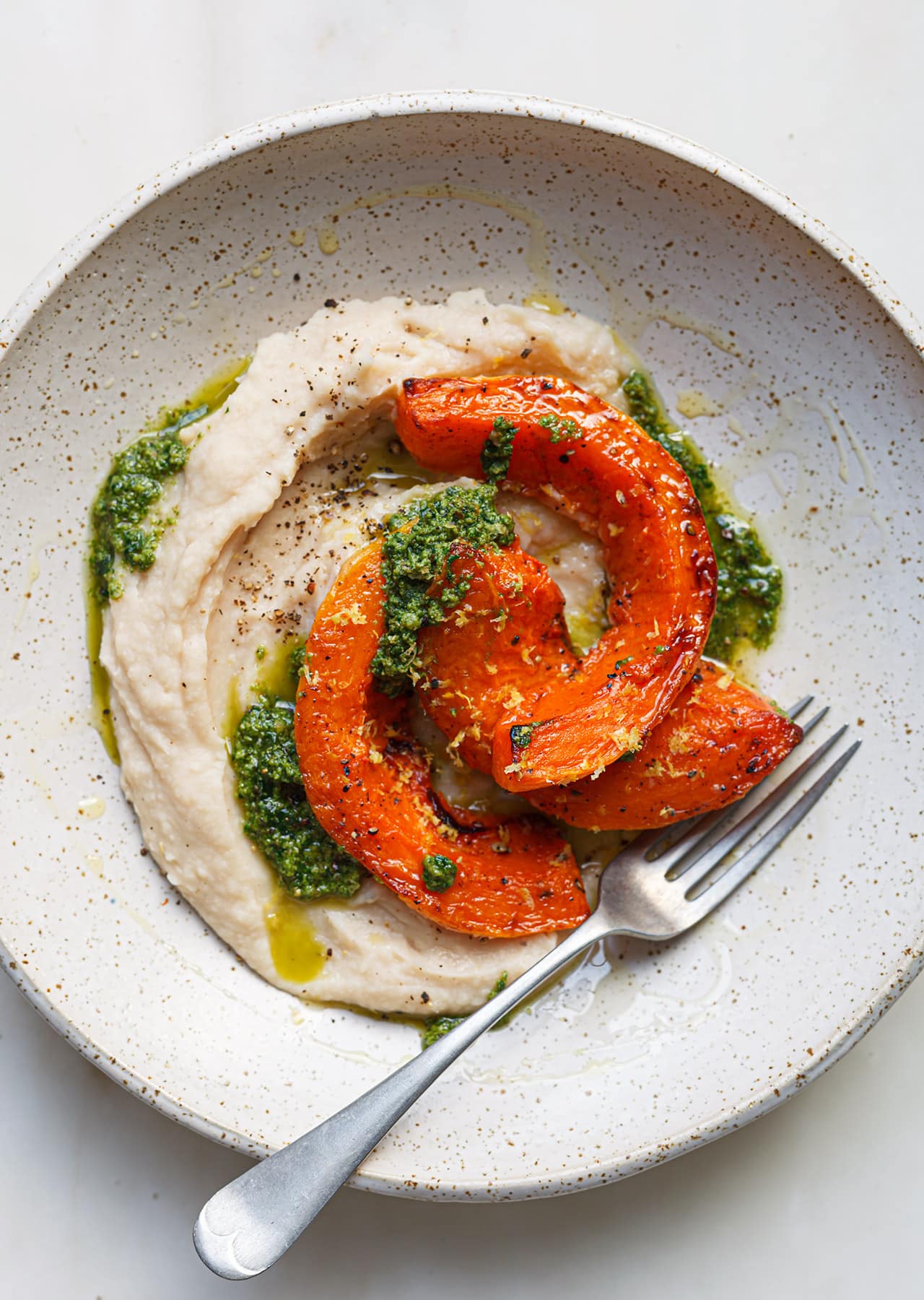 Ingredients
1 small butternut squash
salt + pepper
1 tsp ground nutmeg, see notes
1 large garlic bulb
olive oil
12 sage leaves
1 small handful of fresh parsley
20g walnuts
1 tbsp nutritional yeast
1 lemon, juice + zest
3 × 400g (14.1oz) tins of butter beans, drained + rinsed
crusty bread, for serving (optional)
Method
Preheat the oven to 200°C fan / 425°F. Peel the squash, discard the seeds and chop it into 2cm thick slices. Add it to a tray, season with salt and pepper and add the nutmeg.
Slice the head off the garlic bulb to expose the cloves, then add the bulb to the tray. Drizzle everything with a glug of olive oil and mix. Wrap the garlic bulb with baking paper, then roast for 40 minutes or until the squash is tender and caramelised, and the garlic cloves are soft.
Meanwhile add the sage and parsley to a pestle and mortar. Keep crushing until they've broken down, then add the walnuts, nutritional yeast, juice from half of the lemon, a good glug of olive oil and pinches of salt and pepper. Keep crushing until the pesto reaches a runny paste (add more oil, if necessary), then set aside.
Add the butter beans to a blender. Then, when the garlic is ready, remove the baking paper and squeeze out the soft cloves into the blender. Next add the juice from the remaining lemon half, small pinches of salt and pepper and 250ml of water (1 cup). Blend and, if necessary, add more water until it reaches a creamy consistency.
Add the butter bean mash to a pan and heat through for a minute or two, then add it to plates, top with the roasted butternut squash and sage pesto. We also love to top with freshly ground black pepper, lemon zest and a drizzle of olive oil from the tray. Yum.
Did You Make This Recipe?
Don't forget to share your SO VEGAN creations on Instagram and tag us at
@SOVEGAN
!