Our homemade ravioli is both delicious and probably a lot easier than you might think.
The ground turmeric is optional. We simply use it to give our pasta a more traditional colour (it doesn't affect the flavour).
We don't use a pasta maker because we want to make this recipe accessible, but you can obviously use it if you have one!
Sometimes we use a shop-bought vegan pesto, but other times we'll make our own simple version. We've included our homemade recipe below.
Lots of homemade pasta recipes call for wrapping the pasta in cling film, but we try to avoid using cling film so we wrap ours in recyclable baking paper. It's not quite as good at keeping the moisture in the pasta, but honestly the results are so similar it really doesn't make any difference.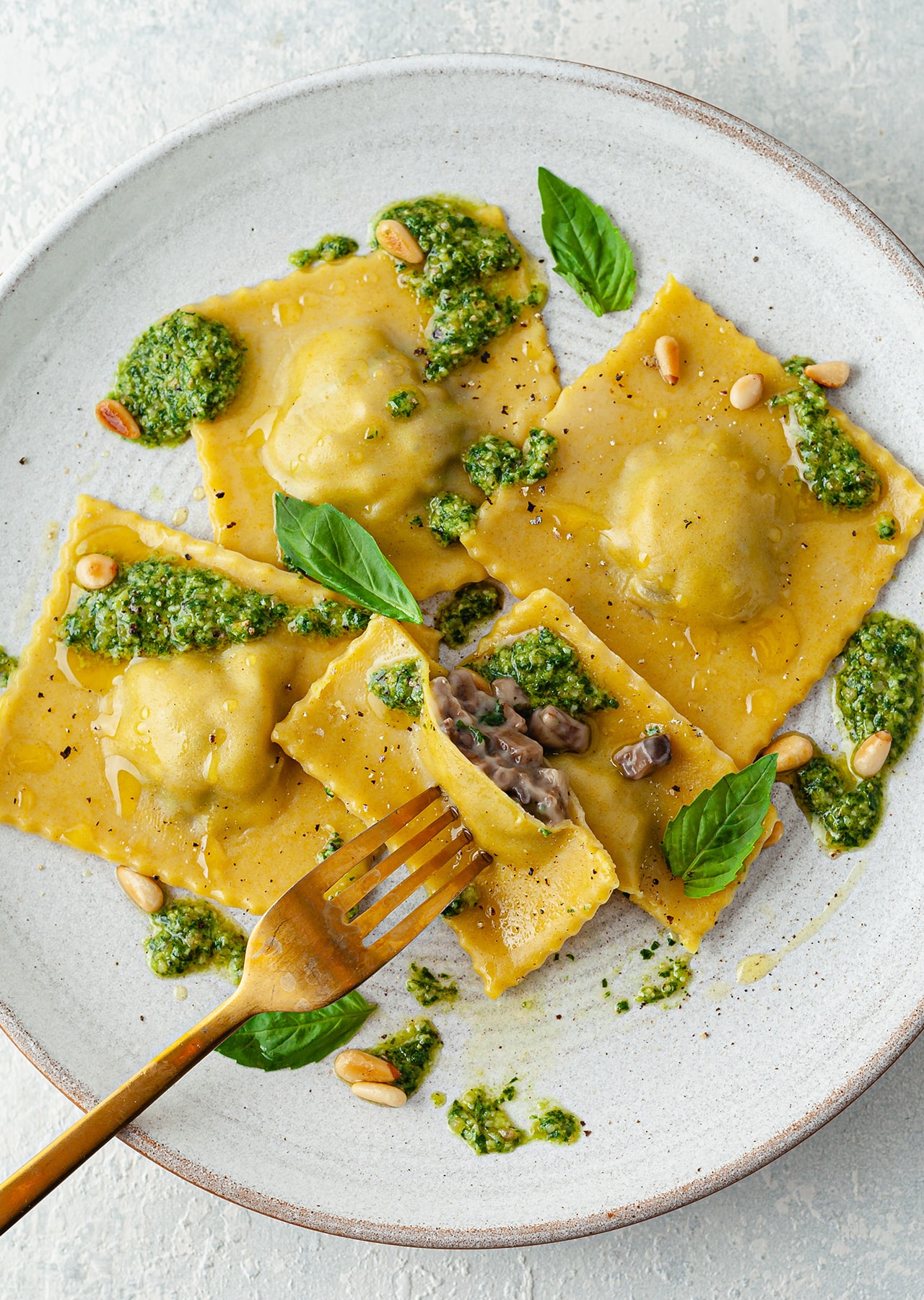 Ingredients
200g / 3.5oz plain flour, plus extra for dusting
1/8 tsp ground turmeric (optional)
salt + pepper
olive oil
2 garlic cloves, peeled and diced
150g / 5.3oz closed cup mushrooms, finely chopped
50g / 1.8oz vegan cream cheese
1 small handful of fresh basil, chopped, plus extra for garnish
2 tbsp pine nuts
4 tbsp vegan green pesto, or see homemade recipe below
For the homemade pesto:
4 tbsp pine nuts
1 large bunch of basil, leaves only
2 tbsp nutritional yeast
100ml / 3.4 fl.oz olive oil
2 garlic cloves, peeled
1/2 lemon, juice only
Method
Combine the flour, turmeric and a large pinch of salt in a bowl. Make a well in the middle, then pour in 1 tbsp of olive oil and 100ml (3.4 fl.oz) of water. Stir with a spoon, then empty the dough onto a clean worktop and bring it together with your hands. Knead for 5 minutes then wrap in baking paper and refrigerate for 20 minutes (don't leave it any longer because the pasta will begin to dry out).
Meanwhile, add a splash of olive oil to a pan on a medium heat. Fry the garlic for a minute or so until it begins to brown, then add the mushrooms and pinches of salt and pepper. Cook for 8-10 minutes, then transfer to a mixing bowl and add the vegan cream cheese and basil. Stir to combine,

then leave to cool slightly.

If you're making the homemade pesto, add all the ingredients to a food processor along with large pinches of salt and pepper. Blend into a runny paste. Note: you can store any leftover pesto in an airtight container in the fridge for 4-5 days.
Remove the pasta from the fridge and slice it in half. Dust your worktop lightly with flour and roll out one half into a long rectangle until it's roughly 2-3mm thick. The thinner the better. Then transfer the dough on top of a piece of baking paper (this will stop the ravioli sticking to your worktop). Spoon teaspoon-sized amounts of the mushroom filling in a line down the centre of the dough with a roughly 4cm gap between them. Then roll out the remaining piece of dough to a similar shape and thickness. Carefully place it on top and squeeze it around the filling while pushing down to force out any trapped air between the dough. Use a pasta cutter or knife to slice into squares roughly 1cm away from the filling. Re-roll the leftover dough to make the remaining ravioli and repeat until you've used up all the filling. You should be left 12-14 ravioli.
Cook the ravioli in a large saucepan of boiling water for 5 minutes (cook in batches if necessary). Meanwhile toast the pine nuts in a pan on a medium heat until golden brown.
Transfer the ravioli to plates and top each plate with a tablespoon of vegan pesto, some toasted pine nuts, a few basil leaves, freshly ground black pepper and a drizzle of olive oil. Deeeelicious!
Notes
Nutritional information per serving: Calories 413kcal / Protein 6.6g / Fat 24.7g / Sat Fat 5.3g / Carbs 43.7g / Sugar 0.9g / Fibre 2.9g
Did You Make This Recipe?
Don't forget to share your SO VEGAN creations on Instagram and tag us at
@SOVEGAN
!