Make sure you keep an eye on the pasta because you don't want it overcooked. You want the pasta slightly undercooked, otherwise known as 'al dente', so the pasta holds up well in the sauce.
One-Pot Tomato & Mushroom Pasta

One-Pot Tomato & Mushroom Pasta #Throwback 😋 If you love this, then you'll love our new cookbook ONE POT VEGAN, which is available to pre-order today! sovegan.co/onepv

Posted by So Vegan on Tuesday, 12 May 2020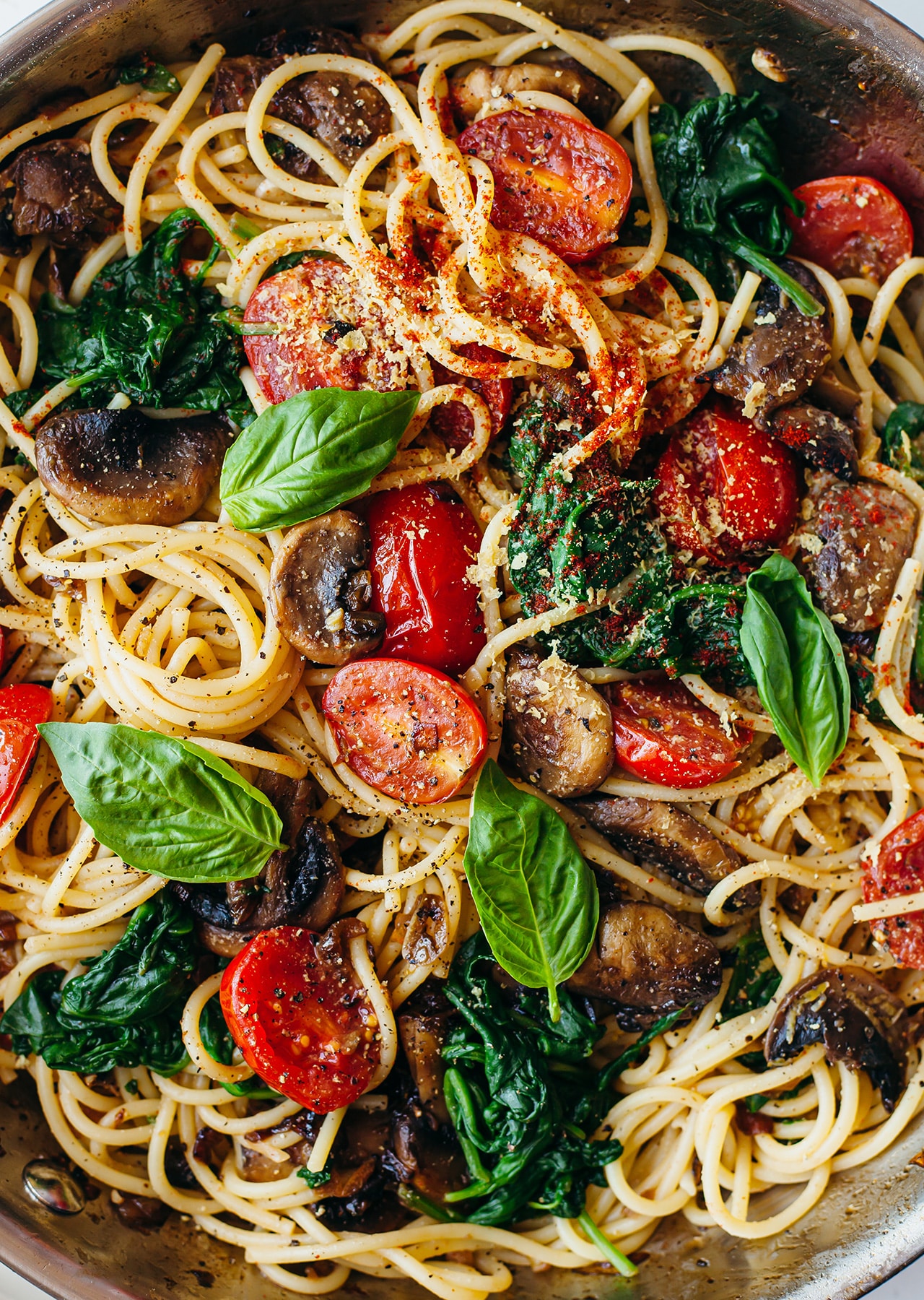 Ingredients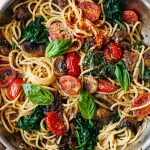 1 onion
200g / 7oz mushrooms
3 garlic cloves
olive oil, for frying
200g / 7oz cherry tomatoes
1 lemon
salt and pepper
200g / 7oz spaghetti
1 tsp paprika
2 tbsp nutritional yeast
small handful of basil
200g / 7oz spinach
Method
Peel and thinly slice the onion. Slice the mushrooms, then peel and dice the garlic cloves. Heat a little oil in a large saucepan over a medium heat. As soon as the oil is hot, add the onion, mushrooms and garlic, and fry for 10 minutes, stirring occasionally.
Slice the cherry tomatoes in half. Add them to the saucepan with the juice and zest from the lemon, paprika, 1/2 tsp of salt and 1/2 tsp of pepper. Give everything a stir, then add the spaghetti and 500ml (2 cups) of hot water from a kettle. Bring the water to the boil, then lower and simmer until the spaghetti is just about cooked (around 12-15 minutes), stirring every couple of minutes.
Meanwhile roughly chop the basil leaves. Then stir the nutritional yeast, spinach and most of the basil into the pasta, and remove the pan from the heat. Keep stirring until the spinach has mostly wilted. Sprinkle any leftover basil on top to serve. Yuuum.
Did You Make This Recipe?
Don't forget to share your SO VEGAN creations on Instagram and tag us at
@SOVEGAN
!