We sometimes add tofu if we want a bigger protein hit.
Make sure you choose a soy-free Thai curry paste to make this recipe soy-free.
You can also use Thai green curry paste, or even experiment with other pastes like chilli and garlic or Chinese black bean just make sure you use a gluten-free option to make this recipe gluten-free.
This will last for 2 days in the fridge with the lid on, but it's best consumed within a day if you want all those fresh flavours.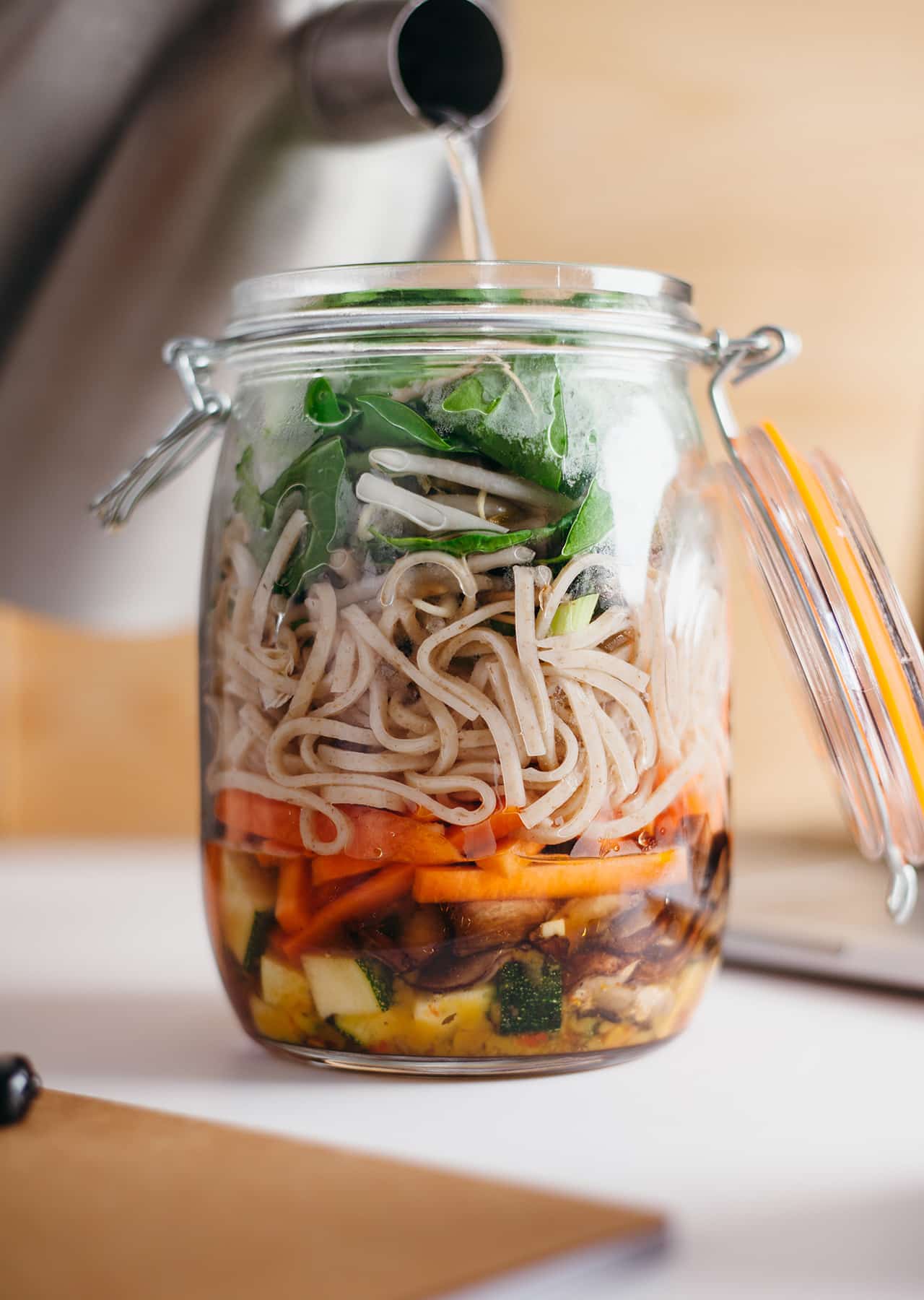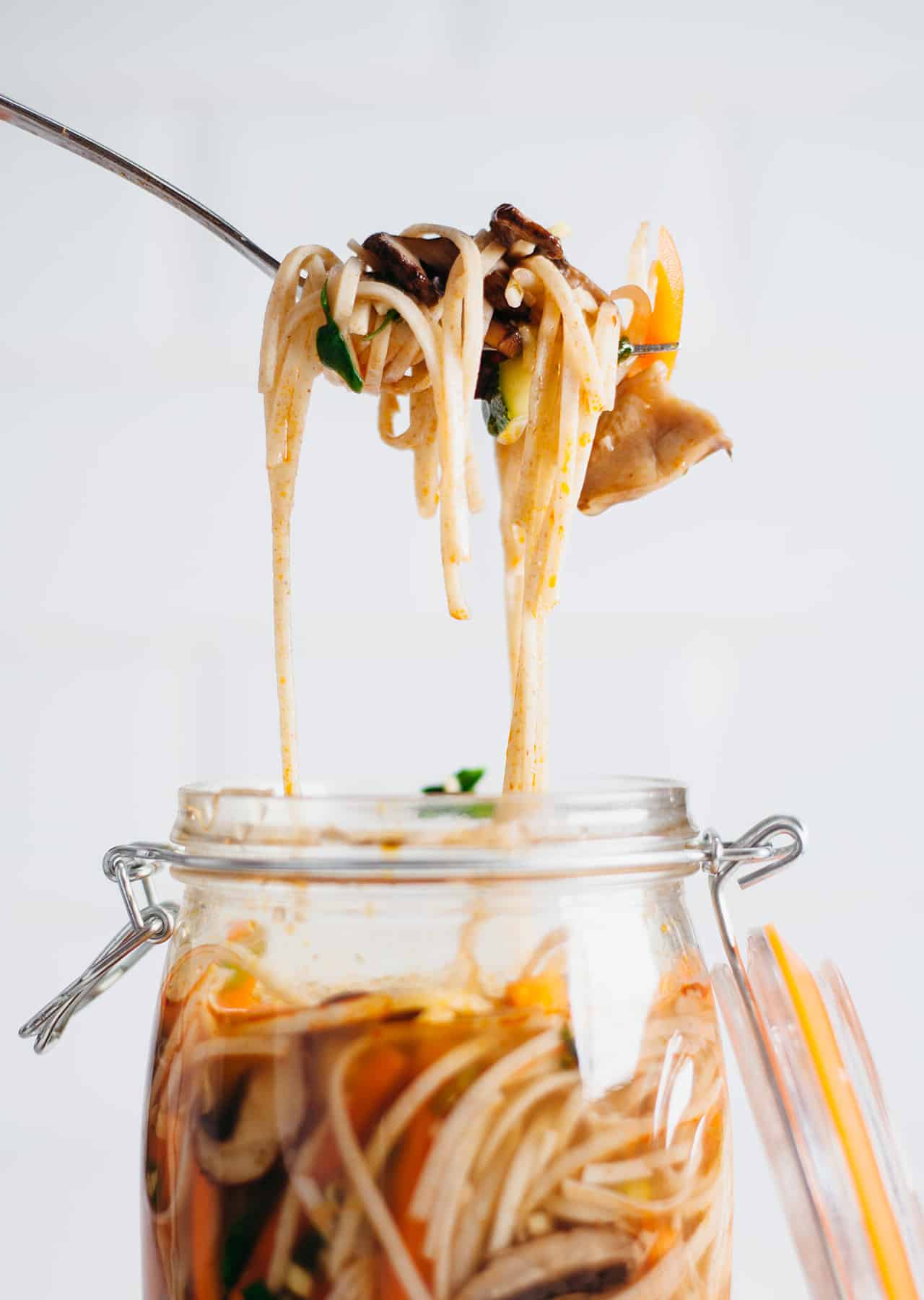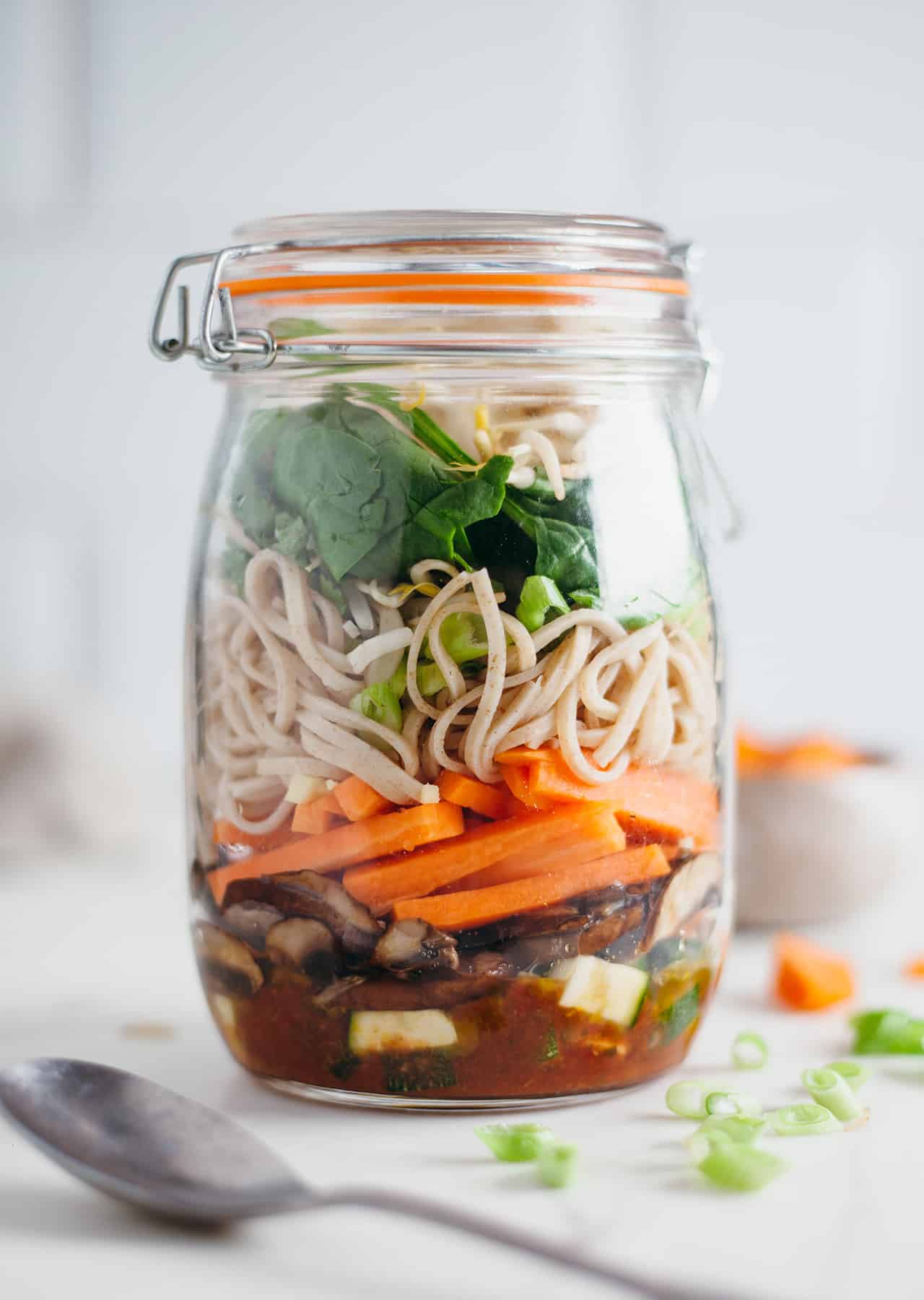 Ingredients
1 garlic clove
oil for frying
150g / 5.3oz chestnut mushrooms
50g / 1.7oz wholewheat noodles
1/2 vegetable stock cube
1/2 courgette
1/2 carrot
1/2 thumb ginger
1/2 spring onion
small handful of coriander
1.5 tbsp Thai red curry paste (vegan friendly)
salt
small handful of beansprouts
small handful of spinach
You will also need a medium-sized mason jar.
Method
Peel and dice the garlic. Then add a splash of oil to a frying pan on a medium heat. When the oil is hot, add the garlic and fry for 1-2 minutes.

Meanwhile brush any dirt off the mushrooms and roughly slice them. Then as soon as the garlic is about to brown, add them to the frying pan, give everything a good stir and leave to fry for 10-15 minutes or until the mushrooms are browned, stirring occasionally.

Cook the noodles in boiling water as per packet instructions, then drain and rinse them under cold water to prevent the noodles going soft.

Combine 2 tbsp of boiling water with the stock cube in a small bowl and give it a stir until the stock has fully dissolved. Leave to one side.

Now it's time to start preparing the rest of the veggies. Dice the courgette into small pieces, thinly slice the carrot into matchsticks, peel and dice the ginger, chop the spring onion and pick the coriander leaves from the stalks.

When the mushrooms and noodles are ready, it's time to start filling your mason jar. We usually start with the curry paste, followed by the dissolved stock cube, courgette, mushroom and garlic, carrot, ginger, a pinch of salt, noodles, spring onion, beansprouts, coriander leaves and finally the spinach.

Close the jar and store in the fridge for 2 days. But this is best consumed the next day if you want all those fresh flavours! When you're ready to eat, simply fill the jar with hot water straight from a kettle until it's about 1cm from the top. Then give everything a good stir with a fork or a spoon. Yum.
Did You Make This Recipe?
Don't forget to share your SO VEGAN creations on Instagram and tag us at
@SOVEGAN
!