We like to use extra virgin olive oil in this recipe but olive oil will be fine too.
Make sure you cook the chickpeas until they're super soft. This will yield a super creamy hummus.
The more chickpea skins you can discard, the smoother the hummus will be.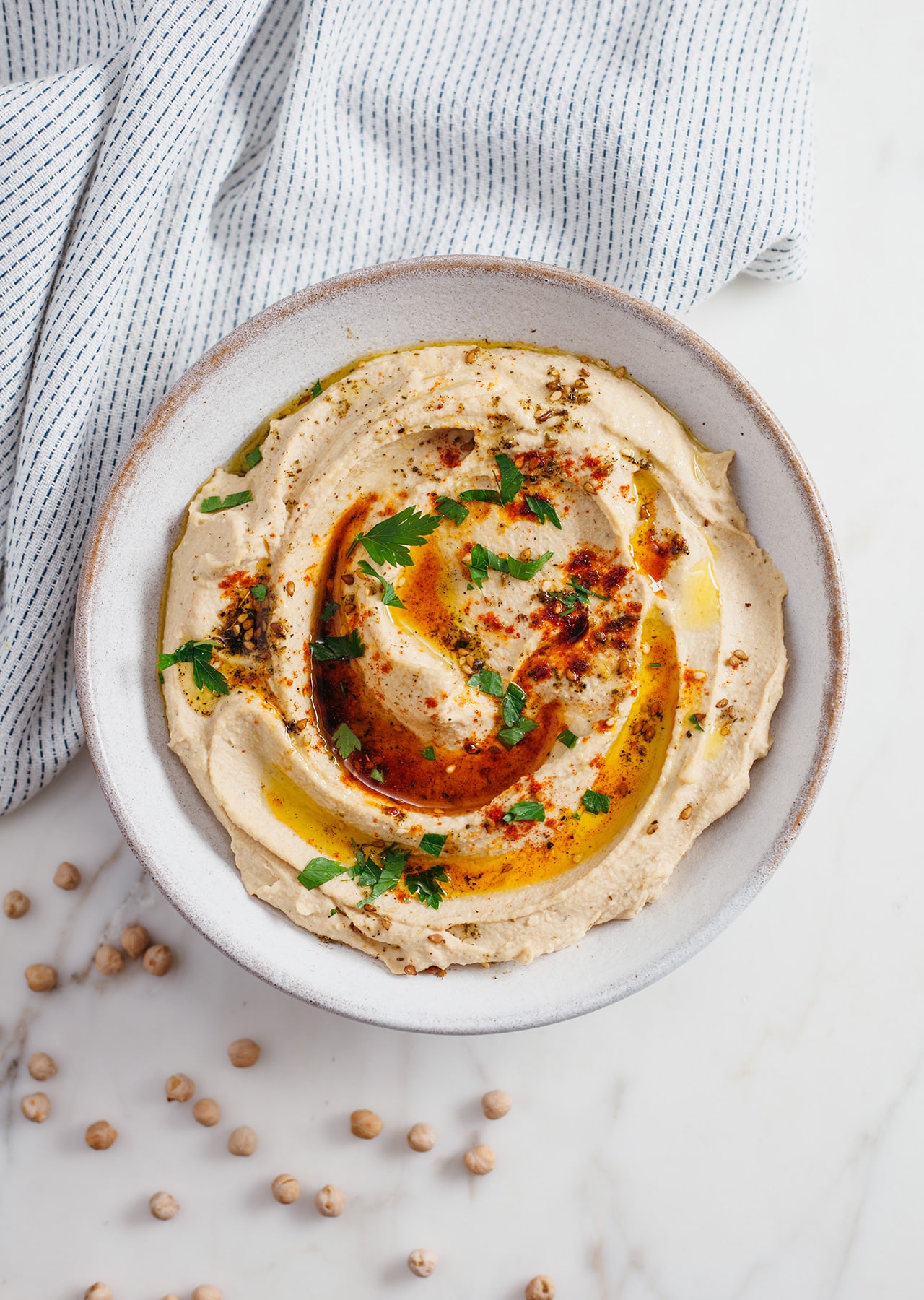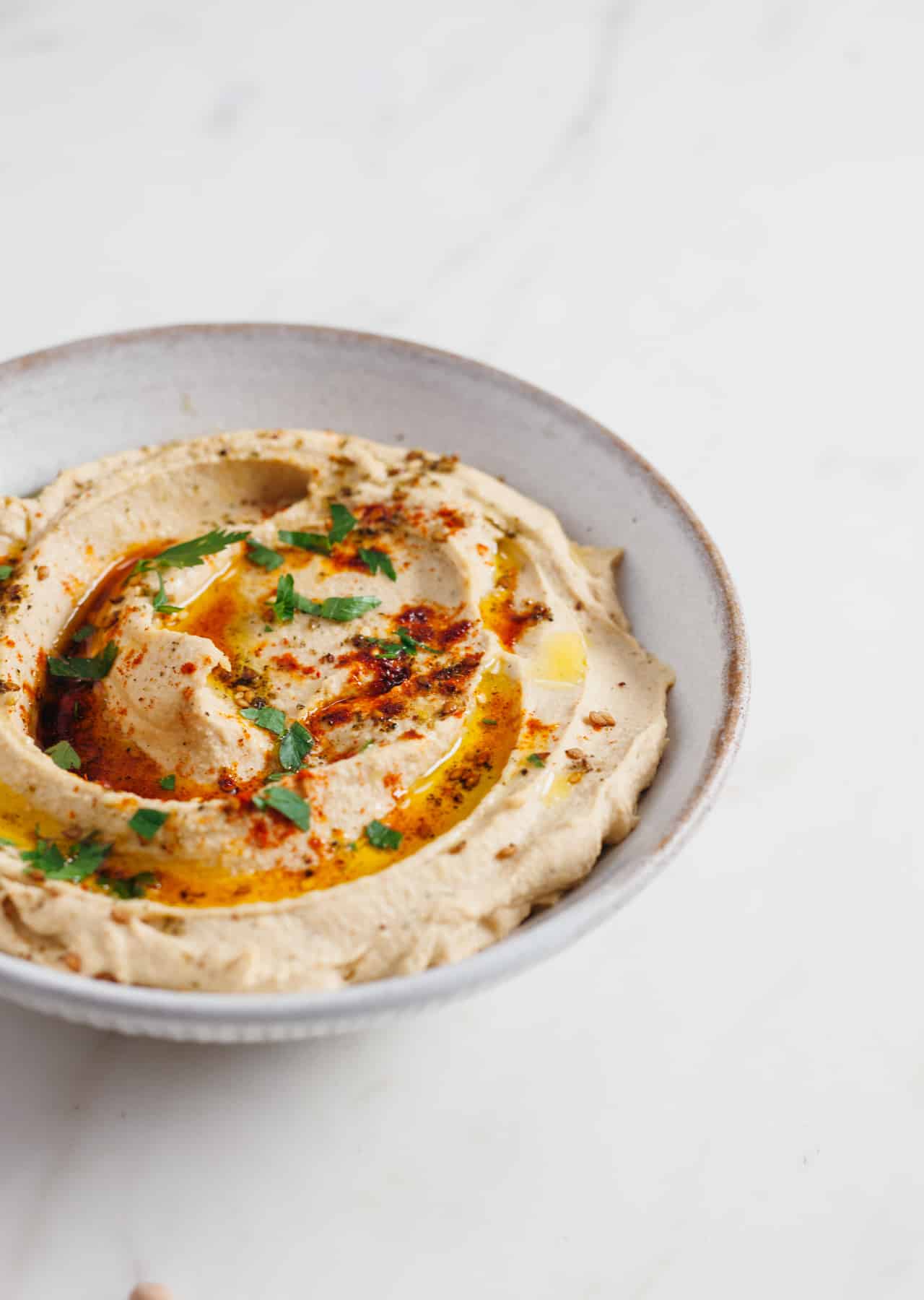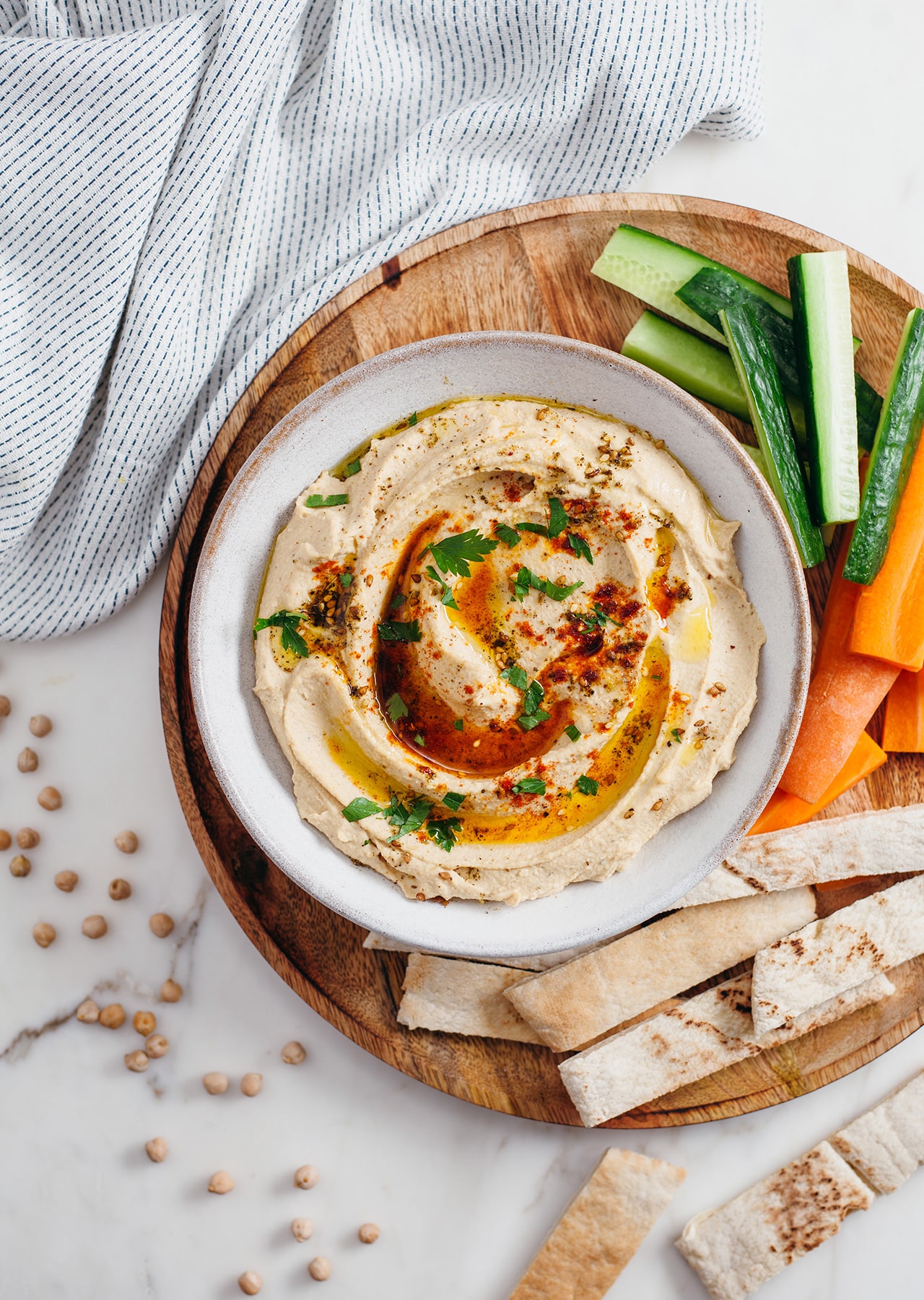 Ingredients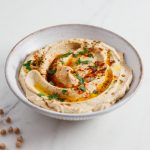 200g / 7oz  dry chickpeas

1 tsp bicarbonate of soda (baking soda)

5 tbsp tahini

1 ½ lemons

1 tsp cumin powder

1 tsp za'atar, plus extra for decoration

½ tsp paprika, plus extra for decoration

3 garlic cloves

2 tbsp extra virgin olive oil, plus extra for decoration

salt

a few parsley leaves (optional)
Method
Add the dry chickpeas to a large bowl and cover with plenty of cold water. Cover with a tea towel or a plate and leave to soak for 8 hours or overnight.

Thoroughly drain and rinse the chickpeas and add them to a saucepan along with the bicarbonate of soda. Cover with hot water straight from a kettle so that the water is 2 inches deeper than the chickpeas. Cover the pan with a lid, bring the water to the boil then reduce the heat and simmer for 30 minutes.

Transfer 5 tbsp of water to a small glass and place it in the freezer while you carry out the next steps.

Drain the chickpeas and transfer them to a large bowl. Cover with water until the chickpeas are submerged (note: do not use the water you placed in the freezer), then rub the chickpeas with your hands to remove the skins and sieve out as many as possible.

Drain the skinned chickpeas and add them to a food processor along with the tahini, juice of the lemons, cumin powder, za'atar, paprika and a generous pinch of salt. Peel the garlic cloves and add them to the food processor. Process the ingredients until mostly broken down. Then slowly pour in all of the olive oil then some of the ice cold water from the freezer. Process for 4-5 minutes until the hummus is super smooth. Keep adding water to reach the perfect smooth consistency (it might only require 2-3 tbsp of water until it's perfectly creamy).

Transfer to a serving bowl and top with a drizzle of extra virgin olive oil, a sprinkling of za'atar and paprika. 

Finally, roughly chop a few leaves of parsley and sprinkle on top to finish. This hummus will taste best eaten the same day, but you can store for 4-5 days in the fridge in an air-tight container.
Did You Make This Recipe?
Don't forget to share your SO VEGAN creations on Instagram and tag us at
@SOVEGAN
!