This dish is inspired by the traditional Japanese dish 'chicken katsu'. We serve our crunchy breaded aubergine with a gorgeous curry sauce and cooked rice.
You can make this gluten-free using gluten-free breadcrumbs and flour.
We use coconut milk in our katsu sauce, which is less traditional but it gives the sauce a sweetness which balances really well with the earthy aubergine.
Instead of aubergine, you can also use tofu or even partly-cooked sweet potato.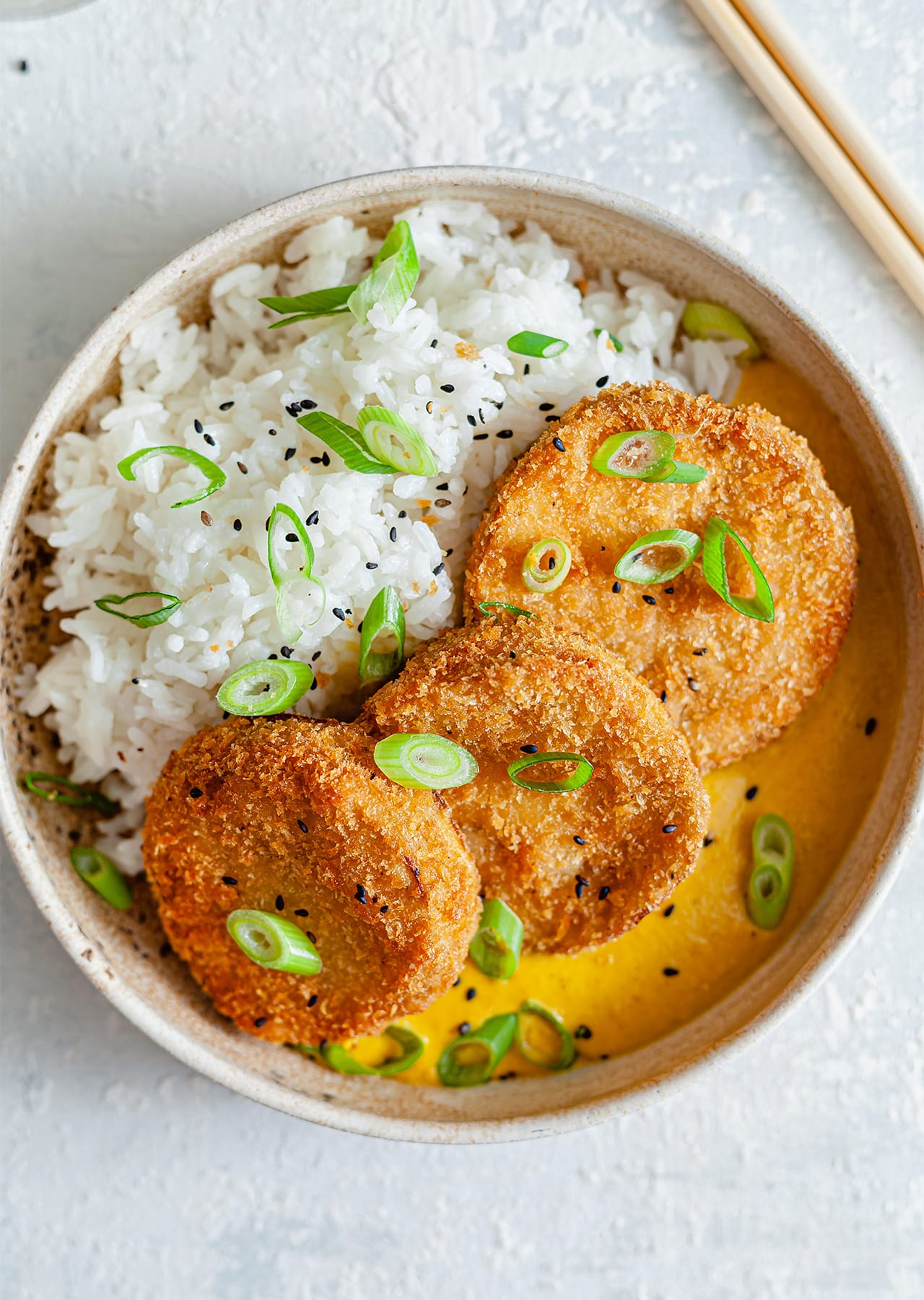 Ingredients
For the sauce:
vegetable oil
1 onion, peeled + chopped
2 carrot, chopped into small pieces
4 garlic cloves, peeled + chopped
1.5 tbsp medium curry powder
salt
1 x 400ml / 14.1oz tin of coconut milk
1 tbsp maple syrup
For the aubergine:
3/4 cup plain flour, or gluten free flour
salt + pepper
2 aubergines, sliced 1cm thick
2 cups panko breadcrumbs, or gluten-free breadcrumbs
For serving:
jasmine rice, spring onion and sesame seeds
Method
Start by making the sauce. Heat a tablespoon of oil in a pan on a medium heat. Add the onion, carrot and garlic and fry for 10 minutes or until the onion and carrot are soft, but avoid them browning.
Meanwhile, add the flour to a bowl with 1/2 teaspoon each of salt and pepper and 3/4 cup of water. Combine to form a smooth batter (add more water if the batter is too thick). Add the panko breadcrumbs to a separate bowl.
Dip the aubergine rings first into the batter, then cover in the breadcrumbs and leave them to one side for later.
Stir the curry powder and a pinch of salt into the pan with the carrot mix and fry for 1-2 minutes.
Then stir in the tinned coconut milk and maple syrup, bring to a gentle simmer and cook for 5 minutes.
Pour the katsu sauce into a blender and blend until smooth, then pour it back into the pan and leave it to one side.
Cook the 4 portions of rice as per the packet instructions.
Fill a saucepan with vegetable oil until it's at least 1-2cm / 0.4-0.8" deep. Heat the oil on a high temperature until it's approximately 180°C / 356°F. Test by dropping a small pinch of breadcrumbs into the pan and if it sizzles then the oil is ready for frying.
Cook the aubergine in batches of 3-4 for about 4 minutes on each side or until golden all over. Then leave them on kitchen paper to soak up any excess oil. If you like you can also keep the cooked slices of aubergine in the oven on a low temperature to stay warm.
When you're nearly ready to serve, heat the sauce in the pan and serve the aubergine with the sauce, cooked rice, sliced spring onion and sesame seeds.
Did You Make This Recipe?
Don't forget to share your SO VEGAN creations on Instagram and tag us at
@SOVEGAN
!