You can easily sub the broccoli for cauliflower if you happen to be #TeamCauliflower. Cooking times are exactly the same.
Simply adjust the amount of heat by dialling up or down the amount of sriracha.
Toppings are completely optional. The sesame seeds and spring onion bring that extra crunch, but the broccoli is still incredible without!
We use soya milk because this will create a creamier vegan 'buttermilk'. Other plant-based milks are fine to use but the texture will be runnier.
Bang Bang Broccoli

Bang Bang Broccoli 🔥 Did you know we also have a new cookbook? ONE POT VEGAN is out now 👉 sovegan.co/opva

Posted by So Vegan on Saturday, 26 September 2020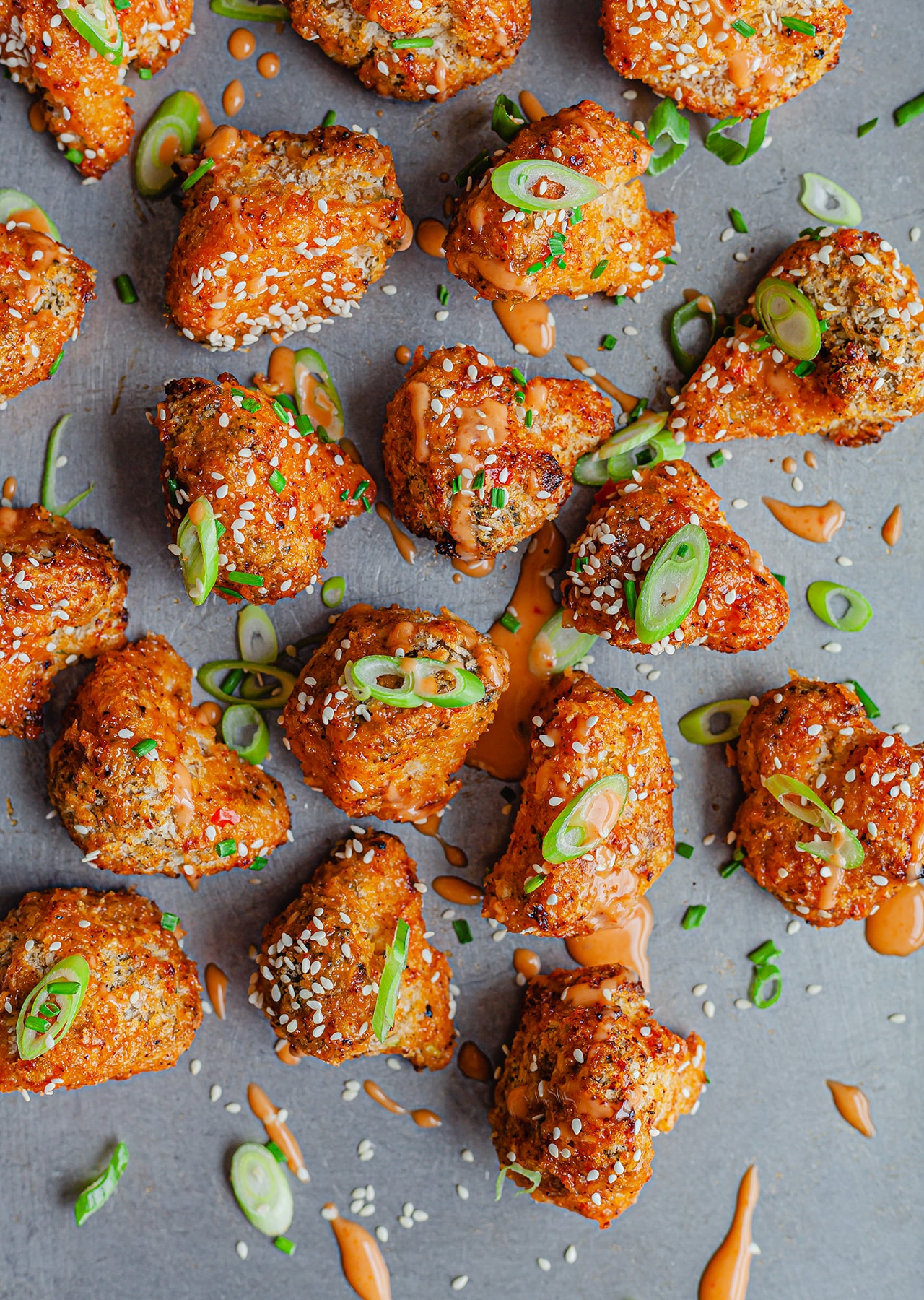 Bang Bang Broccoli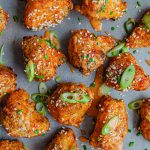 Roxy, So Vegan
This bang bang broccoli is seriously finger lickin' good. Sweet, spicy, and crunchy, they're great as a snack or a side
Print This
Ingredients
1 broccoli

40g / 1.4oz plain flour 

240ml / 8.1 fl.oz soya milk 

1 tbsp apple cider vinegar 

1 tbsp sriracha

180g / 6.3oz panko breadcrumbs 

1/2 tbsp onion powder 

1/2 tbsp garlic powder  

salt & pepper
For the spicy mayo:
4 tbsp vegan mayonnaise

1 tsp sweet chilli sauce

2 tsp sriracha

1/2 tsp maple syrup
Toppings (optional):
sesame seeds

small handful of fresh chives

spring onion
Method
Preheat the oven to 200°C / 392°F fan-assisted and line a large baking tray with baking paper.

Trim the broccoli into bite-sized florets. Add the flour to a bowl. Next add the soya milk and apple cider vinegar to a separate bowl, stir, leave to sit for a few minutes, then add the hot sauce and stir to combine. Finally add the panko breadcrumbs to a third bowl along with the onion powder, garlic powder and generous pinches of salt and pepper, and stir to combine.

Making sure they're fully coated in each coating, dip each broccoli floret first into the flour, then into the milk mixture and finally into the panko breadcrumb mix, then place on the lined baking tray.

Bake for 20-25 minutes until golden brown.

Meanwhile combine all of the spicy mayo ingredients in a small bowl.

Once the broccoli is ready, transfer it to a large mixing bowl and pour the spicy mayo all over, then toss until the florets are coated in the mayo. Transfer the bang bang broccoli to a serving bowl.

To finish, roughly chop some chives and a spring onion, then sprinkle all over the broccoli along with some sesame seeds. Enjoy!