We use fresh tomatoes to create a light and fragrant curry, which we pack out with chickpeas and spinach for extra nutrients. Delicious!
We use the coconut cream from the top of a tin of coconut milk. Make sure you buy a tin of full-fat coconut milk otherwise you won't be able to scoop out the cream. You can also try refrigerating the tin to help separate the coconut cream from the water.
If you prefer a milder curry, simply ignore the chilli powder.
This is a great meal prep recipe – simply refrigerate the curry for up to 3 days or store it in the freezer for 1-2 months.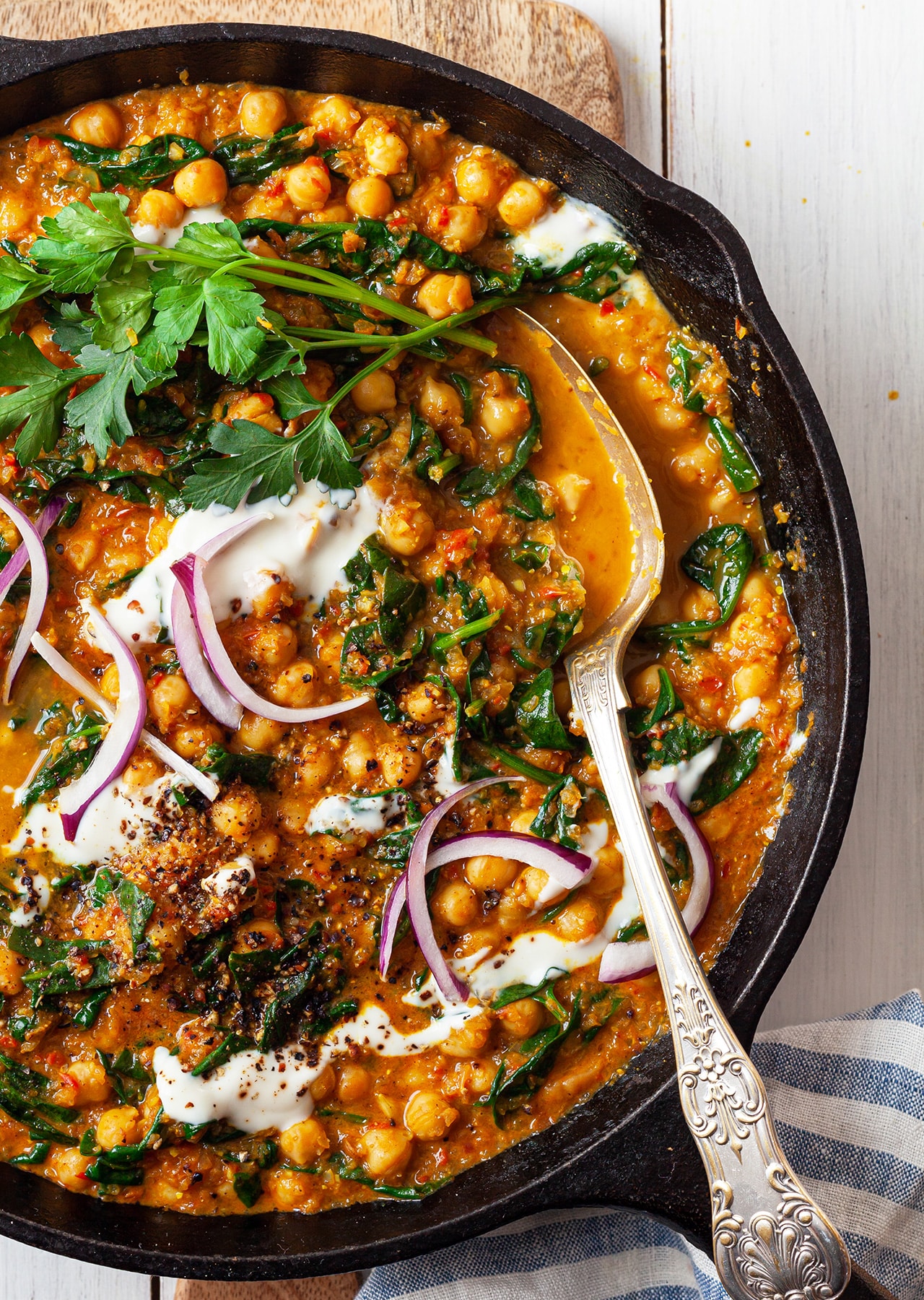 Ingredients
1/2 onion, peeled + chopped
2 garlic cloves, peeled + halved
1/2 thumb of fresh ginger, peeled + chopped
4 large tomatoes, quartered
coconut oil
1 tsp mustard seeds
1 tsp coriander seeds
1 tsp garam masala
1/2 tsp turmeric
1 tsp ground cumin
1/2 tsp hot chilli powder
2 portions of basmati rice
400g (14.1oz) tin of chickpeas, drained + rinsed
1/4 cup coconut cream, see notes
salt
1/4 lemon, juice only
100g (3.5oz) baby spinach
optional servings: sliced red onion, sliced cucumber + chopped coriander
Method
Add the onion, garlic, ginger and tomatoes to a food processor and process until smooth.
Heat a teaspoon of coconut oil in a pan on a medium heat. Meanwhile, crush the mustard seeds and coriander seeds until fine.
Fry the cumin, coriander, turmeric, garam masala, mustard seeds, and chilli powder for 2 minutes.
Add the onion and tomato sauce and simmer on a low heat for 20 minutes. If the sauce still tastes a little bitter, add a splash of water and cook for a further 5 minutes.
Meanwhile cook the rice as per packet instructions.
Add the coconut cream and chickpeas and cook for 5 minutes.
Season with a pinch of salt, then add the lemon juice and spinach. Cook through until the spinach has wilted and add a splash of water if the curry is too thick.
Serve with rice, a few slices of cucumber and red onion, and sprinkle over some fresh coriander.
Did You Make This Recipe?
Don't forget to share your SO VEGAN creations on Instagram and tag us at
@SOVEGAN
!