Inspired by the very popular Indian dish butter chicken, or 'murgh makhani' as it's traditionally known, our version uses delicious cauliflower florets and a creamy protein-packed sauce made with silken tofu.
Notes:
To make things a little easier, you can prepare the cauliflower a lot further in advance and leave it to marinate in the fridge overnight or throughout the day.
If you don't want to use vegan butter, you can use coconut oil instead, which is generally a healthier alternative.
Minced garlic and ginger is sold in a jar and you'll find it in most large supermarkets or south Asian stores. It's a useful ingredient which makes the preparation a lot easier, but you can substitute 1 tablespoon for 1/2 a thumb of fresh ginger and 2 garlic cloves (both finely chopped) if you prefer.
You can store the curry in an air-tight container in the fridge for 2-3 days or freeze for up to 3 months.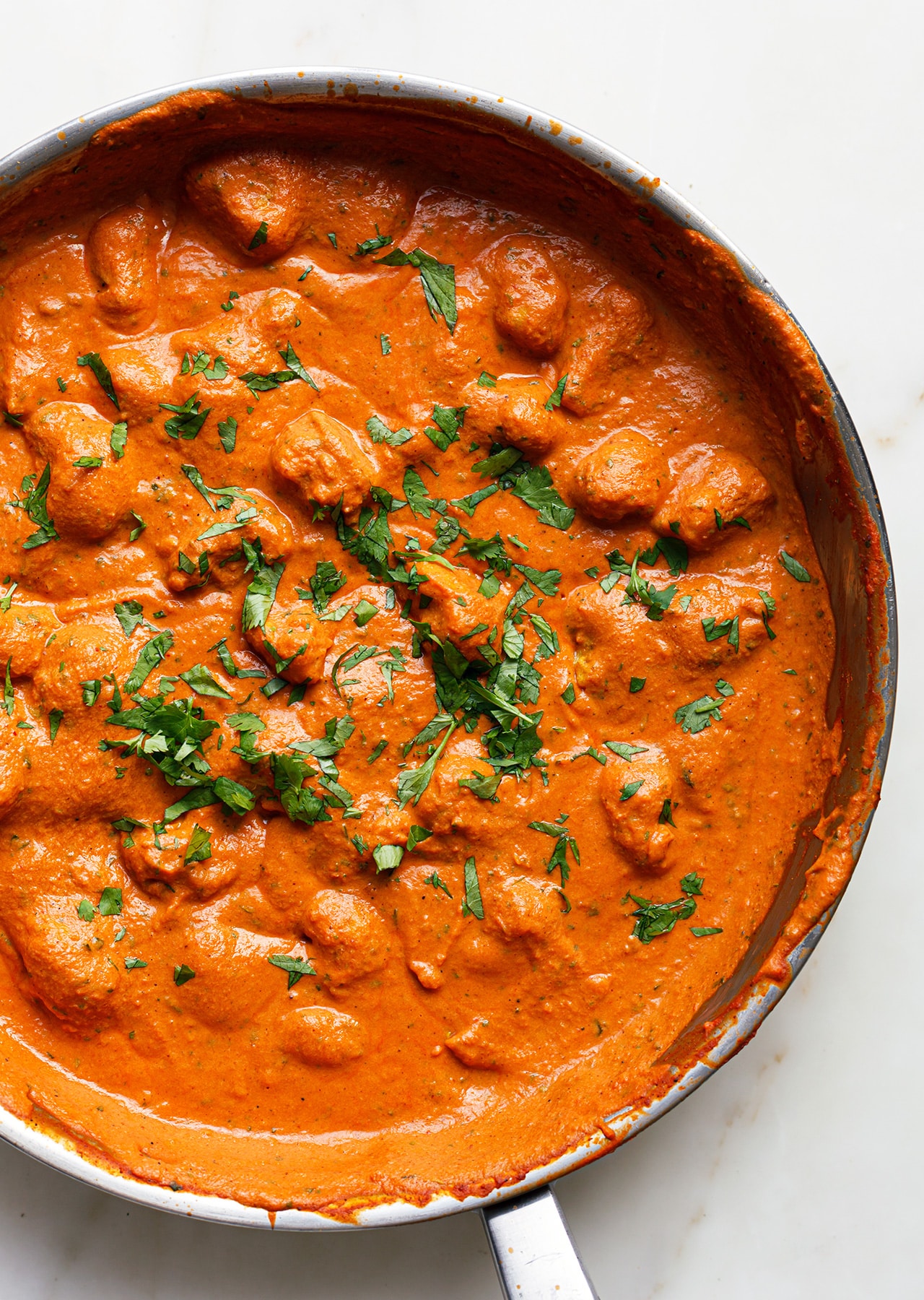 Ingredients
For the cauliflower:
150g (5.3oz) vegan yoghurt, we use oat
1 tbsp minced ginger + garlic, see notes
1 tsp garam masala
1 tsp ground turmeric
1 lemon, juice only
salt
1 medium cauliflower
For the sauce:
vegan butter, see notes
1 onion, peeled + chopped
1 tbsp minced ginger + garlic
1 tsp ground cumin
1 tsp garam masala
1/2 tsp turmeric
1 tsp ground coriander
1 x 400g (14.1oz) tin of chopped tomatoes
300g (10.6oz) silken tofu
2 tbsp tomato purée
1/2 tsp chilli powder
1 tsp fenugreek leaves
1 large handful of fresh coriander, chopped
To serve (optional): rice or vegan naan
Method
Combine the yoghurt, minced ginger and garlic, garam masala, turmeric, lemon juice and a big pinch of salt in a mixing bowl, then set aside.
Trim the leaves off the cauliflower and slice off the stalk (you can save these for a soup). Slice the cauliflower head into bite-sized florets, then add them to the mixing bowl with the yoghurt mixture and stir to combine. Cover, then leave to marinate in the fridge for 30 minutes or overnight.
Preheat the oven to 180°C fan / 400°F and line a large baking tray with baking paper. Add the cauliflower to the tray, then roast for 20 minutes or until tender.
Meanwhile, for the sauce, add a knob of butter to a frying pan on a medium heat. As soon as it has melted, add the onion and fry for 10 minutes or until brown. Next add the minced ginger and garlic, cumin, garam masala, turmeric and ground coriander. Cook for a minute, then remove the pan from the heat.
Spoon the fried onion and spices into a blender, then add the tinned chopped tomatoes, silken tofu, tomato purée, chilli powder and a generous pinch of salt. Blend until smooth and pour the sauce back into the same frying pan you used earlier. Then fill half of the empty tin of tomatoes with water and swirl it around to collect any leftover tomato juices, before pouring the water into the pan and stirring to combine.
Bring the sauce to a simmer, then lower the heat, cover and cook for 15 minutes or so, stirring occassionally. You'll know the sauce is ready when the natural sweetness in the tomatoes takes over and the sauce doesn't taste bitter.
If serving with rice, start cooking the rice now, then leave to one side with the lid on.
When the sauce is ready, add a small dollop of butter (this is optional), then crumble the fenugreek leaves between your hands and throw them into the sauce. Stir, then add the cauliflower and give the sauce one final stir before topping with the fresh coriander and serving with rice or naan. See notes for storing suggestions.
Did You Make This Recipe?
Don't forget to share your SO VEGAN creations on Instagram and tag us at
@SOVEGAN
!