Ramen is essentially the ultimate comfort food and we can't get enough of it. Our latest creation uses a spicy Korean chilli paste called 'gochujang', which we combine with tahini and miso to create a simple, creamy and moreish broth for our toppings.
Notes:
Gochujang paste is a spicy Koren chilli paste which you can find in most large supermarkets and Asian stores. Most brands are vegan, but it's worth checking the labels just in case.
Tahini has a tendency to split when it's added to a hot broth. To avoid this, we add the tahini mixture first to the serving bowl, then stir in the hot mushroom broth. It works every time!
Regular wheat noodles (sometimes labelled as 'ramen' or thin 'udon' noodles) will work really well, but to be honest any type of noodles will be fine.We use extra-firm tofu which doesn't require pressing, but if your tofu is a little soft then we recommend pressing it under a heavy object for 10-15 minutes before slicing.
It's best to use a non-stick wok or a non-stick high-sided pan. This means you don't have to use excessive amounts of oil to prevent the tofu sticking to the pan.
We also try out different toppings. Cooking broccoli or pak choi is also great, as well as tinned sweetcorn, beansprouts or sliced carrot.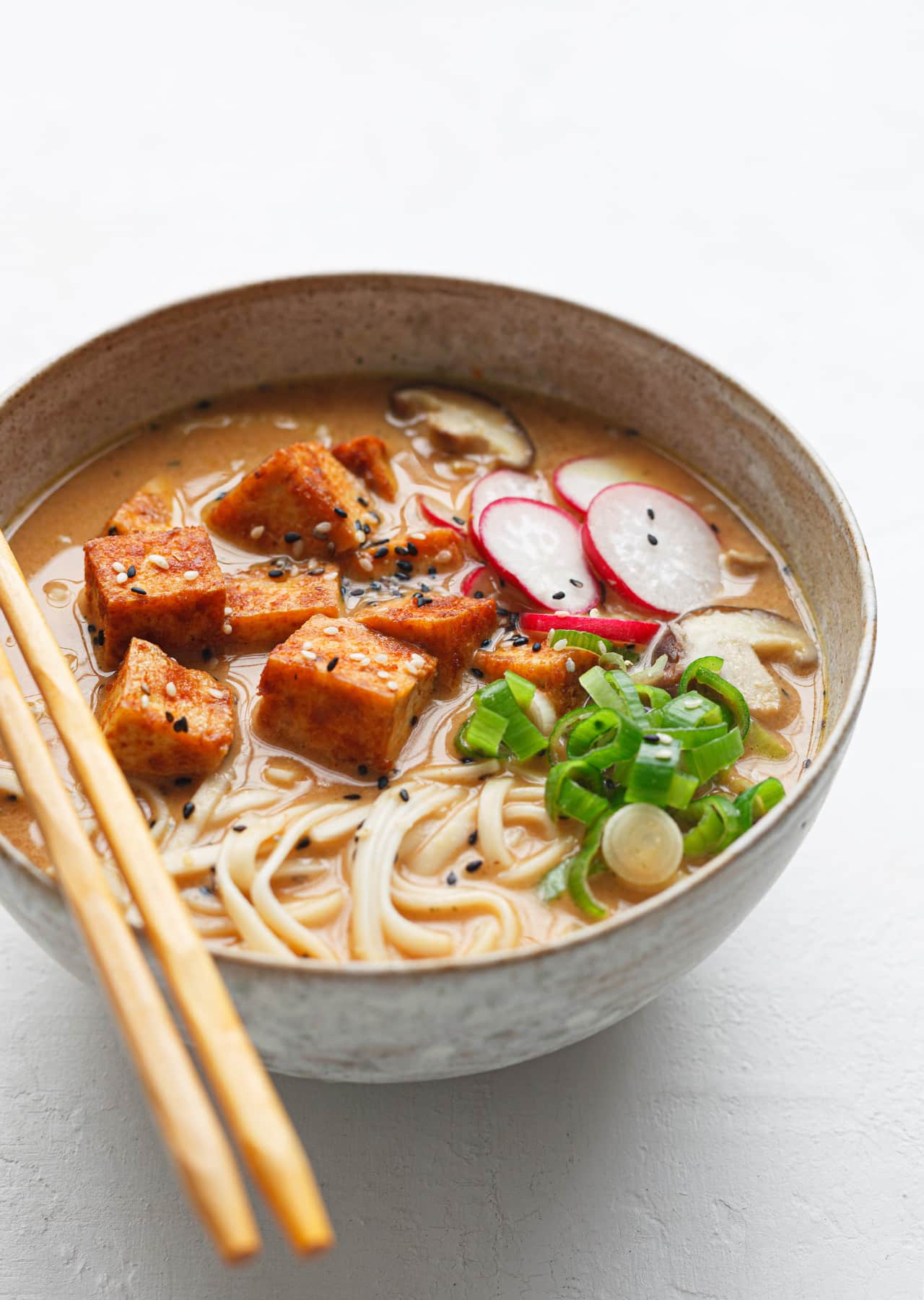 Ingredients
4 tbsp tahini
2 tbsp miso paste, we use white miso
1 tbsp gochujang paste
2 tsp maple syrup
1 tsp sesame oil, plus extra for frying
300g (10.6oz) block of extra-firm tofu, drained (see notes)
1/2 thumb of ginger, peeled + finely grated
2 garlic cloves, peeled + finely grated
150g (5.3oz) shiitake mushrooms, sliced
1 litre (33.8 fl.oz / 4 cups) vegetable stock
140g (5oz) wheat noodles
optional toppings: radish, spring onion, sesame seeds
Method
Combine the tahini, miso paste, gochujang paste, maple syrup, sesame oil and 3 tablespoons of water in a bowl, then set aside.
Slice the tofu into cubes. Add a small splash of sesame oil to a non-stick wok or high-sided pan on a medium heat. Add the tofu and fry for 10 minutes or until golden and crispy on all sides. Next drizzle a heaped tablespoon of the spicy tahini mixture into the pan and stir to combine until the tofu is coated in the mixture, then transfer the tofu to a bowl and set aside.
Add another small splash of sesame oil to the pan and keep it over a medium heat, then add the ginger and garlic. Fry for a minute, stirring occasionally to prevent the ginger and garlic burning, then throw in the shiitake mushrooms and pour in the vegetable stock. Turn up the heat, bring it to a boil, then cook for 3-4 minutes or until the mushroom is tender.
Meanwhile, cook the noodles in boiling water until al dente, then drain and set aside.
Divide the remaining tahini mixture equally between two large bowls (we love to use ramen bowls), followed by the broth with all the sliced mushrooms. In each bowl, stir together the tahini mixture and mushroom broth (this method helps to prevent the tahini splitting) until they're fully combined, then drop in the cooked noodles, tofu and your favourite toppings. Yum.
Did You Make This Recipe?
Don't forget to share your SO VEGAN creations on Instagram and tag us at
@SOVEGAN
!