Whole spices always add an extra layer of flavour and use them as often as we can. Here we turn to cumin seeds, which bring a lovely warmth to our cherry tomatoes and chickpeas – and we serve it all with a lemon-infused couscous, yoghurt and cucumber.
Notes:
You can easily make this gluten-free by switching the couscous for quinoa or rice. We recommend cooking the quinoa or rice at the start of the recipe and stirring the lemon juice into the cooked quinoa or rice just before serving.
There are now lots of vegan yoghurts to choose from at the supermarket. We recommend using a Greek-style vegan yoghurt, which is usually oat-based. These tend to be less sweet in comparison to soy-based yoghurts, however a coconut-based yoghurt would also work really well in this recipe.
You can store the tomato and chickpea mixture, as well as the couscous, for up to 2 days in an air-tight container in the fridge.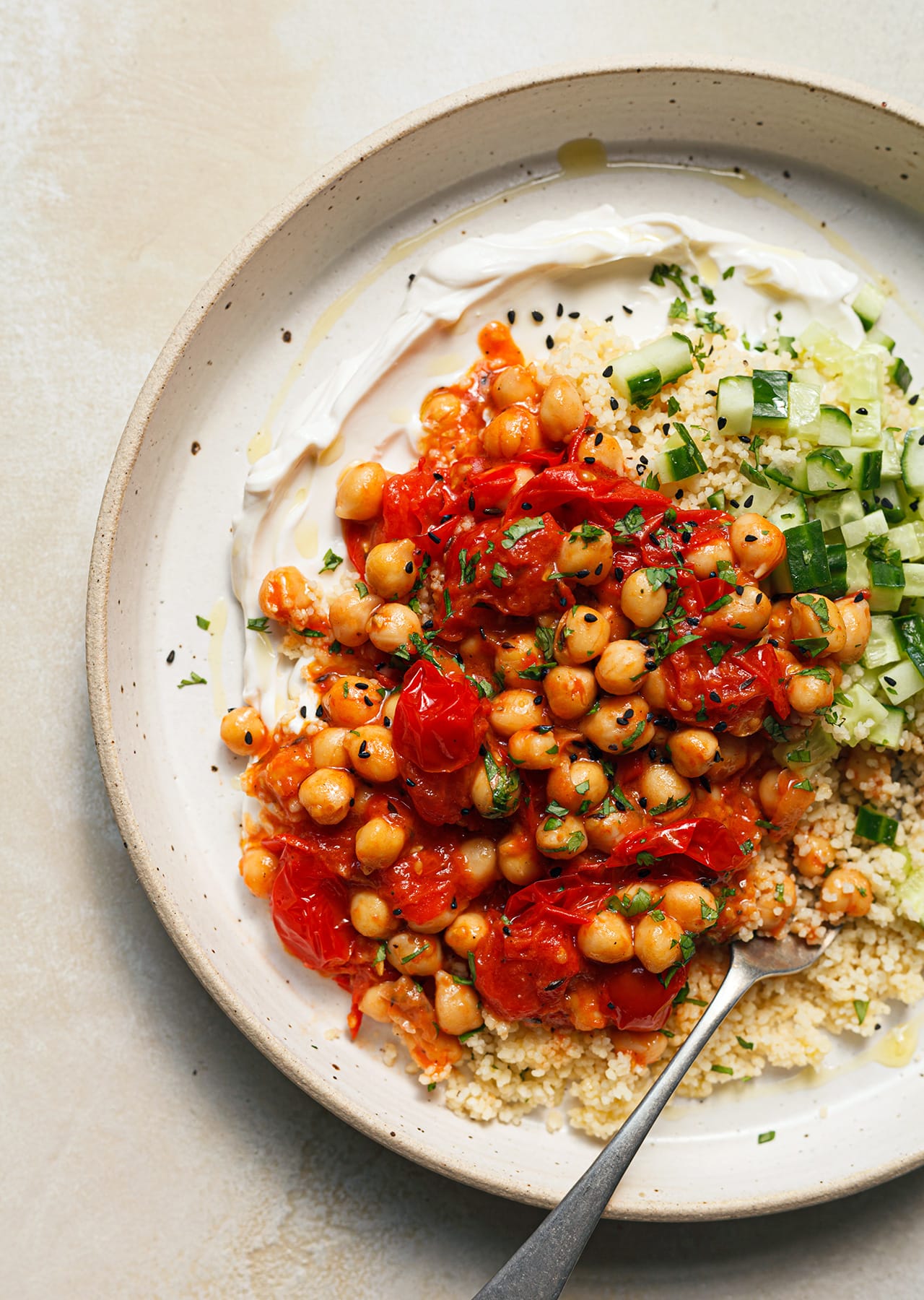 Ingredients
1.5 tsp cumin seeds
olive oil
300g (10.6oz) cherry tomatoes
120g (4.2oz) couscous, see notes for GF option
1 lemon, juice only
salt + pepper
2 garlic cloves, peeled + sliced
1 x 400g (14.1oz) tin of chickpeas, drained + rinsed
200g (7oz) vegan yoghurt, we use Greek style
1/3 cucumber, diced
nigella seeds, to serve
1 small handful of fresh coriander, chopped
Method
Toast the cumin seeds in a hot pan over a medium heat for 2-3 minutes or until they turn dark brown and begin to smoke. Then transfer to a small bowl and set aside.
Return the pan to a low-medium heat and add a generous splash of olive oil. Next slowly add the cherry tomatoes - being careful of the hot oil. Cook for 5-6 minutes or until the tomatoes soften.
Meanwhile add the couscous to a mixing bowl with 200ml (6.7 fl.oz) of hot water from a kettle, along with juice from half of the lemon and pinches of salt and pepper. Stir, then cover and set aside.
Gently crush the tomates using a masher so their juices pour out into the pan (again, be careful of the hot juices when crushing), then stir in the garlic, chickpeas, toasted cumin seeds from earlier and generous pinches of salt and pepper. Turn the heat up a touch and cook for a minute or two, then stir in the juice from the remaining lemon half.
To serve, spoon the yoghurt on a plate, then add the couscous, cucumber and finally the tomato and chickpea mixture. Top with the nigella seeds and coriander, and - if you like - an extra drizzle of olive oil. Yum!
Did You Make This Recipe?
Don't forget to share your SO VEGAN creations on Instagram and tag us at
@SOVEGAN
!