When our friend Sarah told us she has a recipe for the 'ultimate' vegan version of salmon & cream cheese bagel, we jumped at the chance to try it for ourselves.
This fresh and vibrant bagel is a real joy.
The capers and dill capture the taste of the sea, while the cashew cream cheese is wonderfully soft.
Sarah is a co-founder of Made in Hackney, a charity based in Hackney London, which we're proud to represent as ambassadors.
Made in Hackney do incredible work offering plant-based cooking classes for the local community and the best way to support their work is signing up to one of their courses.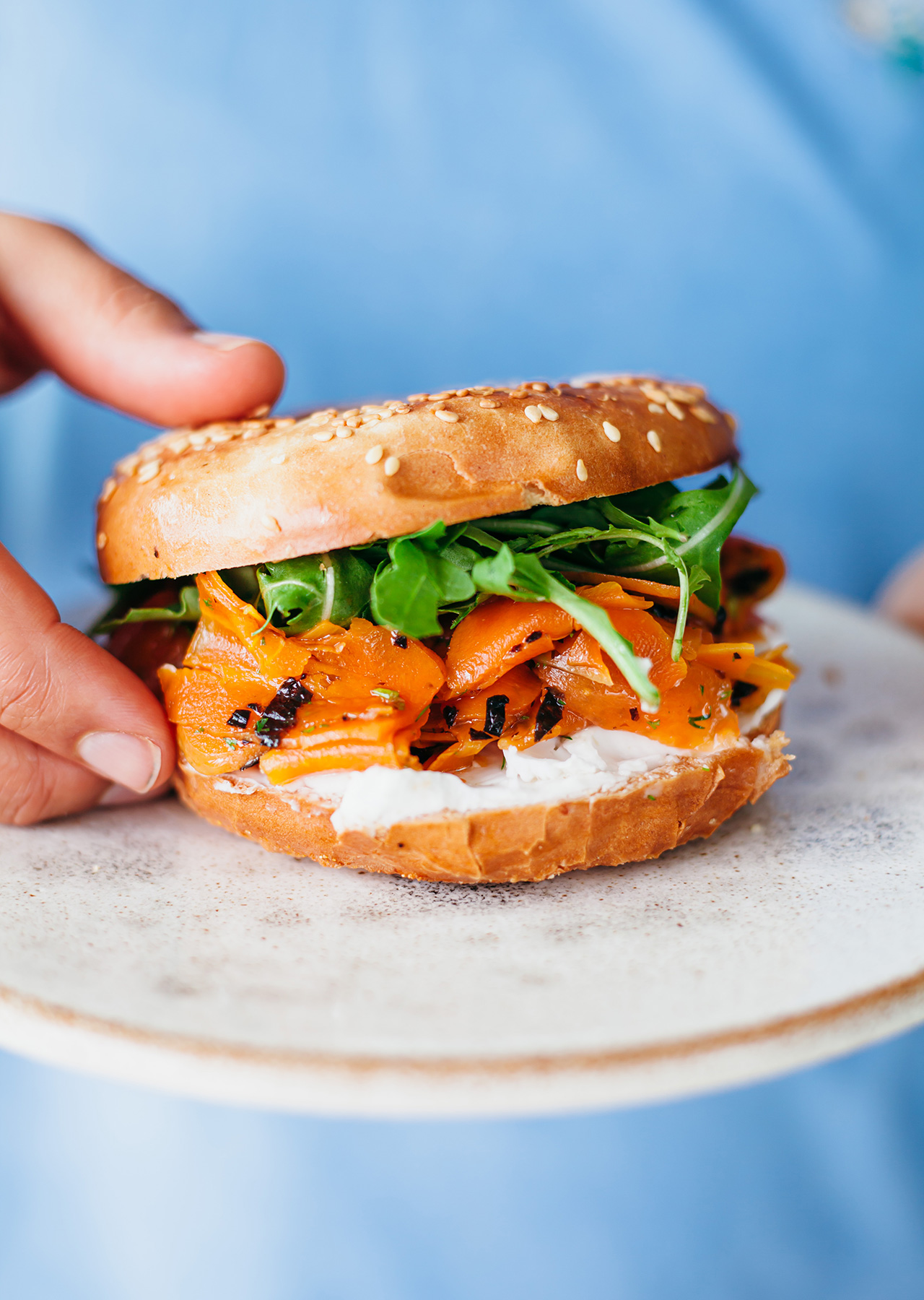 In fact, you can even learn how to master this epic carrot 'salmon' and cream cheese bagel recipe!
Find out more about Made in Hackney here.
And don't forget, if you love simple and tasty vegan food, then you'll totally love our debut 5-ingredient cookbook So Vegan in 5, which is available to buy right now.
Enjoy!
Roxy & Ben
Carrot 'Salmon' & Cream Cheese Bagel

Here's a cheeky throwback to our delicious Carrot 'Salmon' & Cream Cheese Bagel 😍 Looking for tasty vegan recipes? Check out our cookbook So Vegan In 5: sovegan.co/cookbook

Posted by So Vegan on Monday, 19 August 2019
Carrot 'Salmon' and Cream Cheese Bagel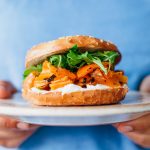 Roxy, So Vegan
When our friend Sarah told us she has a recipe for the 'ultimate' vegan version of salmon & cream cheese bagel, we…
Print This
Ingredients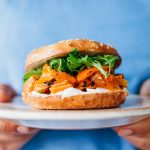 For the carrot salmon:
Handful of fresh dill

1/2 large sheet of nori

2 tbsp lemon juice

2 tbsp olive oil

1 tbsp capers from a jar

1 tbsp brine from capers

1 tsp liquid smoke (optional)

pinch of salt

4 medium carrots
For the vegan cream cheese:
250g / 8.8oz raw cashews

1 garlic clove

2 tbsp nutritional yeast

1 tbsp lemon juice
To serve:
Instructions
Transfer the cashews to a small bowl, cover with hot water straight from the kettle and leave to soak while you carry out the next steps.

To make the marinade, roughly chop the dill and use scissors to cut the nori into small pieces, then add both to a large flat-bottomed bowl along with the lemon juice, olive oil, capers, caper brine, liquid smoke, and a pinch of salt. Stir to combine.

Using a peeler, peel the carrots into ribbons width ways and add them to a saucepan full of boiling water on a medium-high heat. Simmer for 3-5 minutes or until the carrots are soft.

Drain the carrots, rinse with cold water and add them to the marinade. Stir through so the carrots are coated in the marinade and set to one side for a minimum of 1 hour or overnight so the flavours absorb into the carrot.

Meanwhile, prepare the cream cheese by adding the cashews to a high-powered blender or food processor along with the garlic, nutritional yeast, lemon juice, a generous pinch of salt and 100ml (3.4 fl.oz) of water. Blend until smooth, then transfer to a bowl, cover, and refrigerate for at least 30 minutes.   

When you're ready to serve, cut the bagels in half and toast them on until golden brown. Then spread the cream cheese over the bottom half of each bagel and add a generous serving of the carrot 'salmon'. Top with a handful of rocket and finally place the top half of the bagel on top.