Cauliflower cheese is one of the most quintessentially-British dishes.
It really is difficult to beat!
Perfectly cooked cauliflower with a seriously creamy sauce. This is some of the best comfort food around.
It's usually served as an accompaniment to a Sunday roast, but to be honest we'll happily devour this entirely on its own.
Our vegan version uses cashews for the creamy texture and nutritional yeast for the cheesy flavour.
We then top the cauliflower with a herby breadcrumb mixture
Delicious.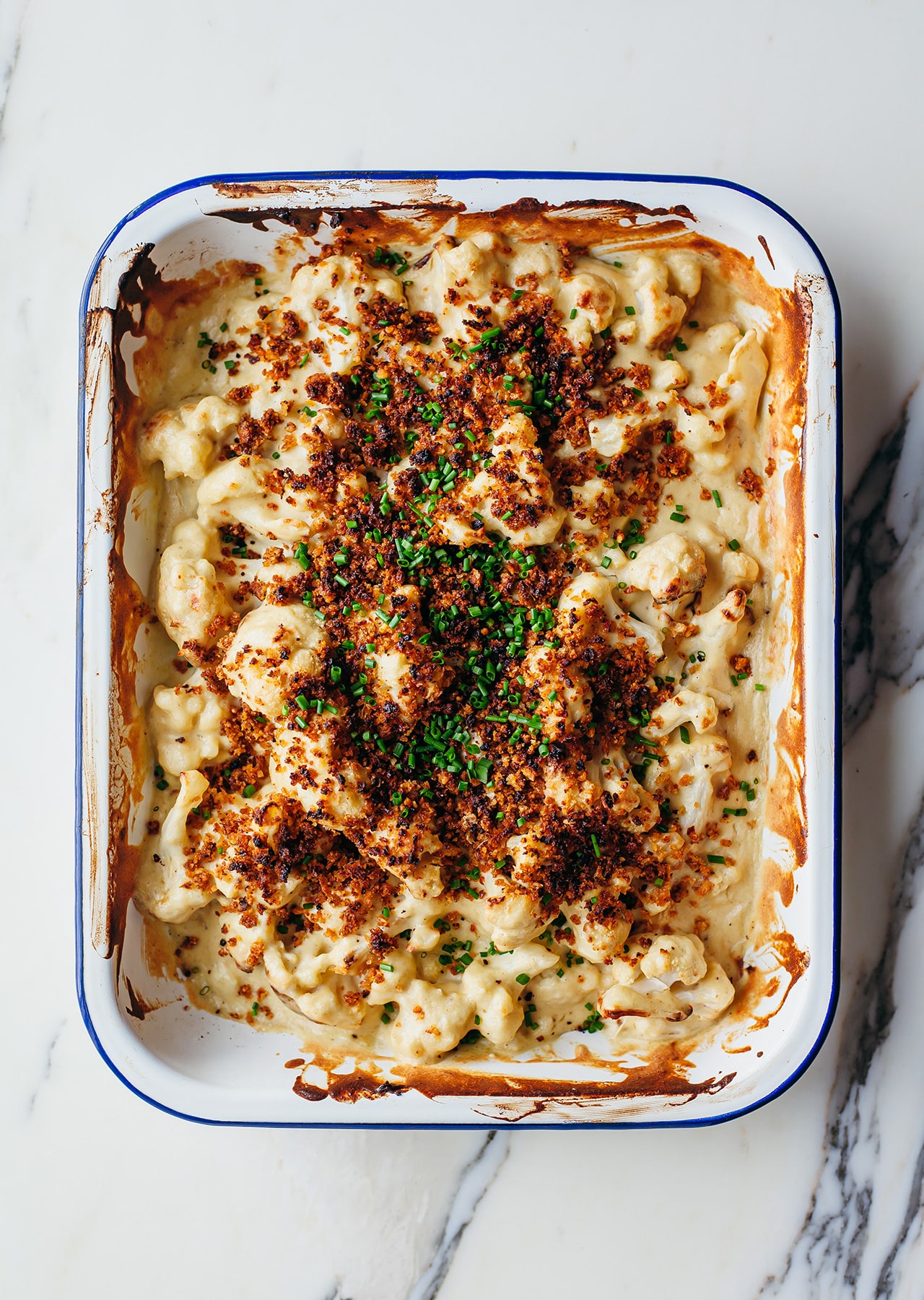 For this recipe we've teamed up with Hotpoint as part of their 'Fresh Thinking' campaign.
We developed this tasty dish using using our new Hotpoint Mulitflow oven and Flexi Space induction hob.
In many ways, lockdown has forced us to rethink how we cook at home and – in a positive way – we've adopted more sustainable ways to prepare meals.
Across the UK we're spending more time than ever cooking at home and sitting together around the dinner table as a family.
So it's more important now than ever that we look into ways to reduce food waste and cook more efficiently.
For our breadcrumb mixture we use leftover stale bread, which is the most wasted food in the UK.
Stale bread is perfect for using as breadcrumbs because it's already dry and it's therefore easier to blend into a crumb-like consistency.
This creamy cauliflower cheese is a huge hit in our household and we hope you enjoy it, too!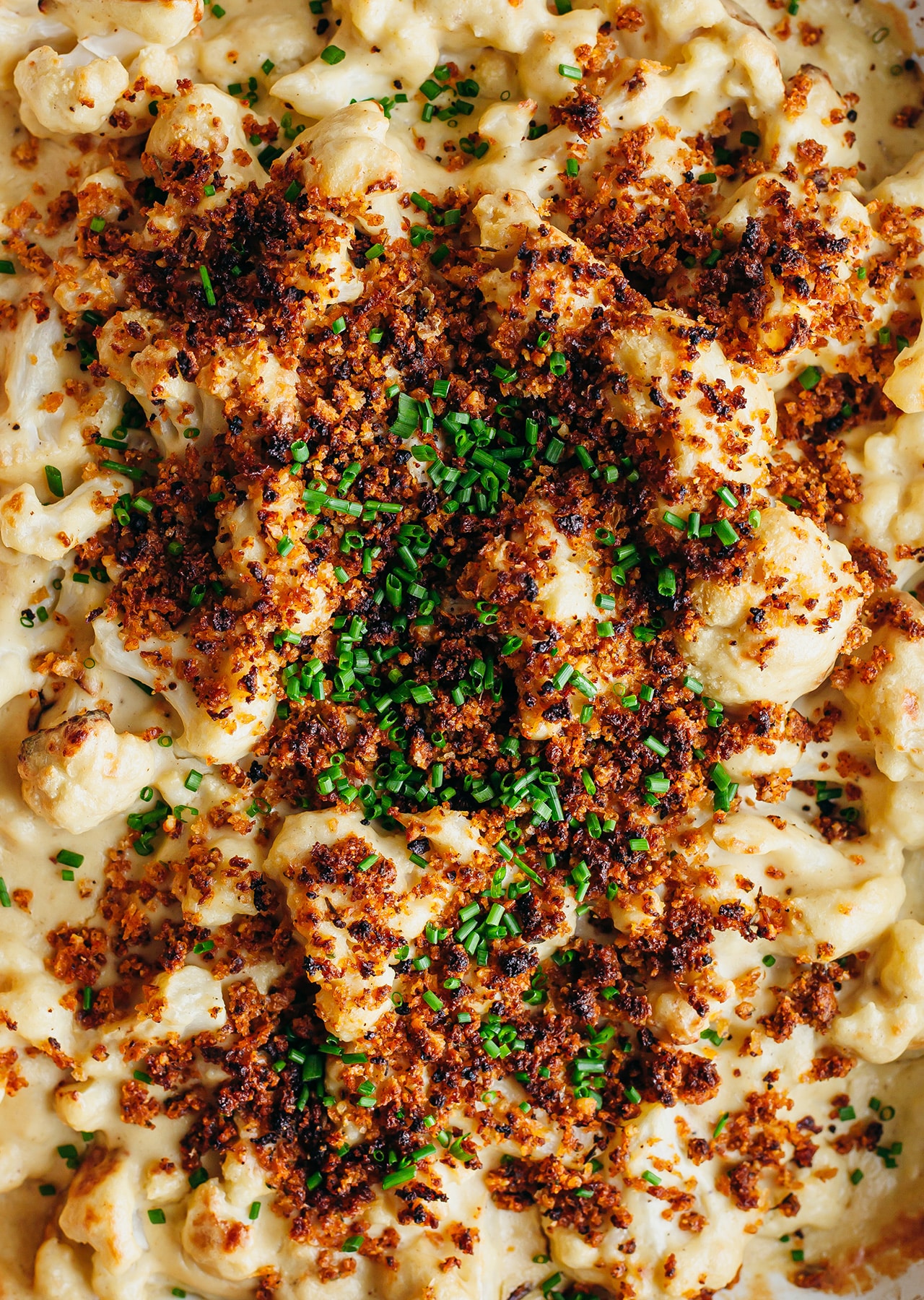 Creamy Cauliflower Cheese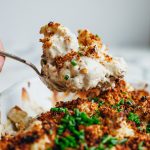 Ben, So Vegan
Cauliflower cheese is one of the most quintessentially-British dishes. It really is difficult to beat! Perfectly cooked cauliflower with a seriously creamy…
Print This
Ingredients
250g / 8.8oz cashews
1.5 large cauliflower heads
salt and pepper
olive oil
1 garlic clove
450ml / 15.2 fl.oz plant-based milk
3 tbsp nutritional yeast
1 tsp maple syrup
2.5 tsp Dijon mustard
pinch of salt and pepper
1/2 slice stale bread
1/2 tsp paprika
handful of walnuts
1/2 tsp dried mixed herbs
handful of fresh chives
Instructions
Preheat the oven to 200°C / 392°F fan and leave the cashews to soak in hot water for at least 15 minutes.
Break up the cauliflower heads into bite-sized florets. Transfer to a medium-sized roasting tray, season with pinches of salt and pepper and drizzle over a little olive oil. Mix, then roast for 30 minutes.
Peel and dice the garlic clove. Then drain the cashews and add them to a fast-powered blender along with the plant-based milk. Blend until smooth, then transfer to a saucepan over a low-medium heat. Add the garlic, nutritional yeast, maple syrup, Dijon mustard and pinches of salt and pepper. Stir and heat the sauce through for 2-3 minutes until the ingredients have combined and the sauce has thickened slightly, then remove the sauce from the heat.
Rinse out and dry the blender. Then add the stale bread, paprika, walnuts, dried mixed herbs, 1 tsp olive oil and pinches of salt and pepper. Blend into a crumb-like consistency, then leave to one side.
When the cauliflower is ready, pour the cashew sauce all over it and stir until fully coated in the sauce. Scatter the breadcrumb mixture over the top, then grill for 3-5 minutes until the breadcrumbs are golden brown.
Finely chop the chives and sprinkle them over the cauliflower cheese to serve.