The mixture will last for 2-3 days in an air-tight container in the fridge if you want to use this recipe as a meal-prep and simply assemble the sandwiches on the day.
Make this gluten-free using gluten-free bread. You can also make this soy-free using a soy-free vegan margarine and vegan mayonnaise.
We fry the sandwich 'tuna' side down first so when you flip the sandwich and fry the other side, the cheese will remain hot and gooey when you serve.
Once the sandwich is frying in the pan, we use a smaller heavy pan to press it down to get the cheese oozing.
Chickpea 'Tuna' Melt

Chickpea 'Tuna' Melt Did you know we also have a new cookbook? ONE POT VEGAN is out now 👉 sovegan.co/opva

Posted by So Vegan on Wednesday, 21 October 2020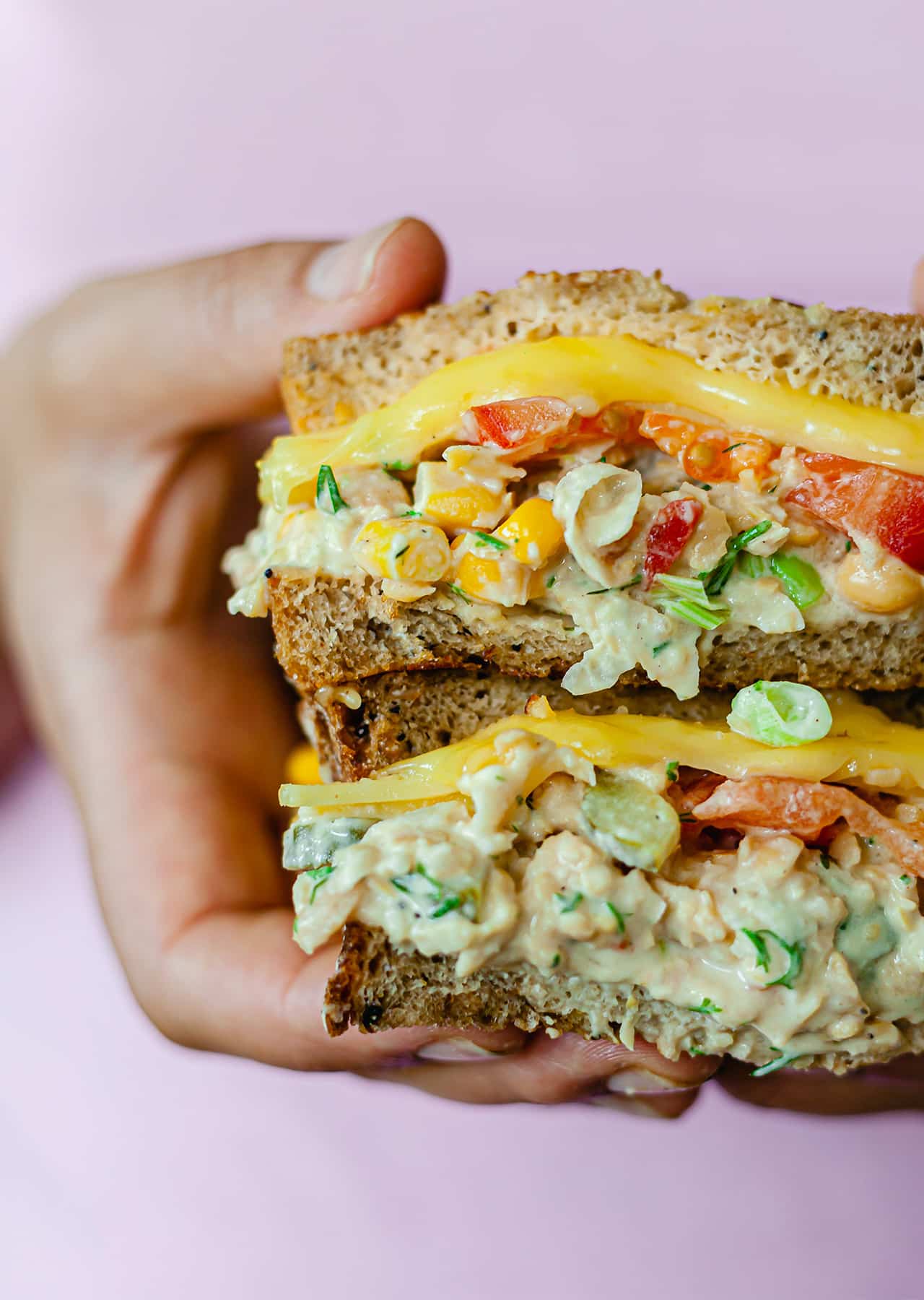 Ingredients
1 x 400g / 14.1oz tin of chickpeas
1 spring onion
handful of fresh dill
2 gherkins
60g / 2oz tinned sweetcorn, drained
2 heaped tbsp vegan mayonnaise
1/2 lemon
1 tsp Dijon mustard
salt and pepper
vegan margarine
4 slices of bread
1 tomato
6 slices of vegan cheese
Method
Drain and rinse the chickpeas, then transfer them to a mixing bowl and mash with a fork or potato masher until the chickpeas have broken down.
Thinly slice the spring onion, roughly chop the dill and dice the gherkins. Add them to the mixing bowl along with the sweetcorn, vegan mayonnaise, juice from the lemon half, Dijon mustard and generous pinches of salt and pepper. Stir until fully combined.
To make one sandwich, spread vegan margarine across both sides of two slices of bread. Then evenly spoon 2 heaped tablespoons of the chickpea 'tuna' mix onto one slice. Next slice the tomato and add a few slices to the sandwich. Finally top with three slices of vegan cheese, then close the sandwich with the second slice of bread. Repeat for the remaining sandwich(es).
Heat a frying pan over a medium heat. As soon as the pan is hot, add the first sandwich to the pan chickpea 'tuna' side down' and weigh it down with a heavy skillet or a frying pan with a tin on top. Fry for 4-5 minutes, then (carefully) flip and repeat until the cheese has melted.
Remove the sandwich from the frying pan, slice in half and add the next sandwich to the frying pan. Repeat step 4, then tuck in!
Did You Make This Recipe?
Don't forget to share your SO VEGAN creations on Instagram and tag us at
@SOVEGAN
!