It's time to upgrade those bland and boring instant noodles! For this amazing ramen we use peanut butter to create a delicious broth, which we serve with the noodles, crispy tofu and blanched pak choi. Incredible.
Not all instant noodles are vegan so it's always best to check the packet or quickly look up the product online to be sure. You can also pick whichever flavour you like – we tend to go for a chow mein style.
We usually use extra firm tofu which doesn't require pressing. But depending on your tofu, you might need to press it before coating it in the cornflour.
You can lower the calories and fat content by either reducing the amount of peanut butter or using a low-fat version.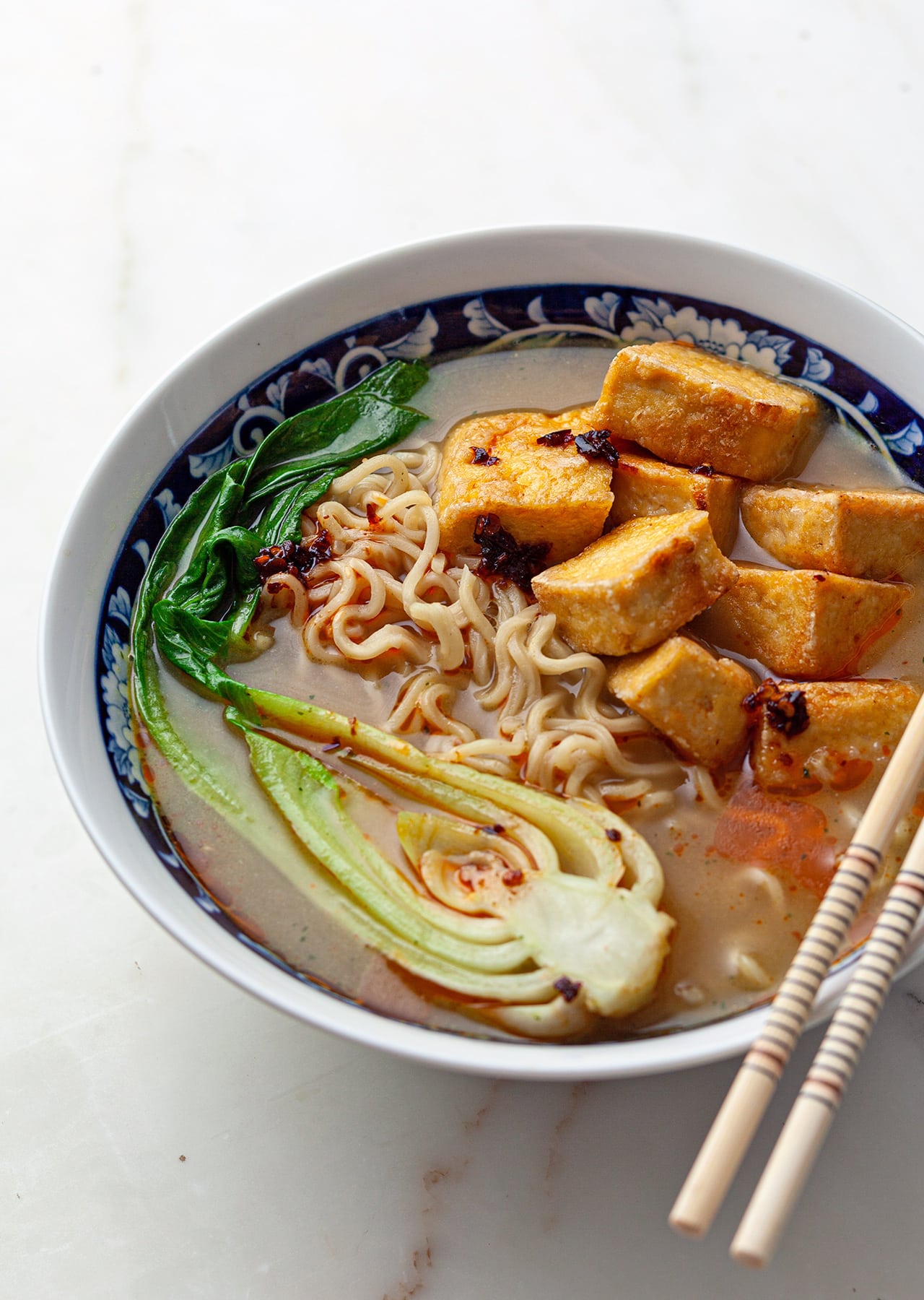 Ingredients
150g (5.3oz) firm tofu, pressed + sliced into cubes
1.5 tbsp cornflour (cornstarch in the US)
vegetable oil, we use rapeseed oil
1 pack of instant noodles, see notes
1/2 pak choi, rinsed
2 tbsp smooth peanut butter
1/2 tbsp soy sauce
chilli oil, for serving
Method
Add the tofu and cornflour to a mixing bowl. Stir until the tofu is covered in the cornflour.
Heat a drizzle of vegetable in a wok on a medium heat. When the oil is hot, add the tofu and fry on all sides for 10 minutes or until golden and crispy. Then transfer the tofu to a bowl.
Add 500ml (16.9fl.oz) of hot water to the wok. Stir in the seasoning sachet from the instant noodles and bring to a gentle boil.
Add the noodles and pak choi and cook for 2-3 minutes.
Transfer the pak choi to a plate. Then stir in the peanut butter and soy sauce into the noodles, loosening the noodles as you go.
Pour the noodles and all the liquid into a serving bowl, top with the pak choi and crispy tofu. Then spoon over some chilli oil for serving. Yum!
Did You Make This Recipe?
Don't forget to share your SO VEGAN creations on Instagram and tag us at
@SOVEGAN
!