Here's what you need to know:
You want the dough to be quite sticky which will help to capture lots of air in the bread, so always knead for a few minutes before working out if it needs more flour or water.
This is a jazzed up version of a recipe in our first cookbook SO VEGAN in 5. You can simplify this version by removing any toppings you like or go wild and add even more!
It's best to prove the dough somewhere relatively warm to help it rise, such as a kitchen cupboard. The more lift you get in the dough, the more pockets of air you'll capture and the fluffier the bread.
The oven tray we use is 30cm x 20cm and 5cm deep.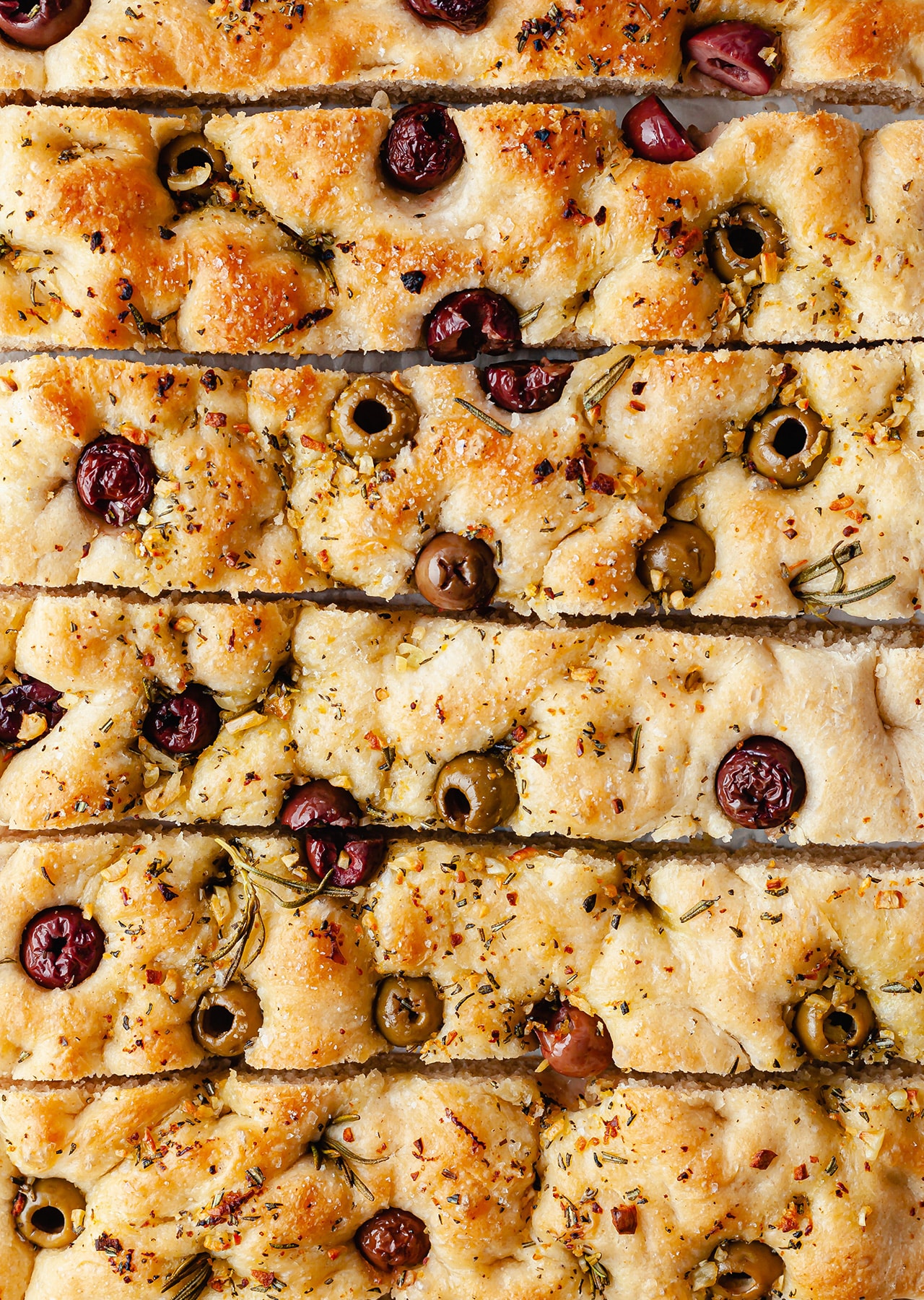 Ingredients
520g / 18.3oz strong white bread flour
1.5 tsp fast action dried yeast
salt
olive oil
2 fresh rosemary sprigs
1 lemon, zest only
2 garlic cloves, peeled and finely chopped
100g / 3.5oz mixed fresh olives pitted
Method
Stir together the flour, yeast and 1 teaspoon of salt in a large mixing bowl. Form a well in the middle and add 300ml (10.1 fl.oz) of tepid water and 3 tablespoons of olive oil. Mix the ingredients together to make a dough, then transfer to a clean surface and knead for 10 minutes. Transfer the dough to a lightly oiled bowl, cover with a damp tea towel and leave to prove for at least one hour or until it has doubled in size.
When the dough is ready, use your fists to lightly punch out most of the air then transfer to a well greased baking tray. Stretch it out to the corners then cover with the damp tea towel and prove again for another 30 minutes.
Meanwhile preheat the oven to 200C / 392F fan. Finely chop the leaves from one of the rosemary sprigs, then stir together the chopped rosemary, lemon zest, garlic and 2 teaspoons of olive oil in a bowl. Use your fingers to punch lots of holes in the dough and push the olives into holes. Then break up the remaining rosemary sprig and push the leaves into the dough, before pouring the olive oil mixture over the top and brushing it all across the top of the dough. Finally sprinkle with a generous pinch of salt and bake in the oven for 18-20 minutes until the bread is lightly golden on top.
Leave to rest for 10 minutes before cutting the focaccia into chunks to serve.
Did You Make This Recipe?
Don't forget to share your SO VEGAN creations on Instagram and tag us at
@SOVEGAN
!