A gorgeous creamy pasta is difficult to beat. We also throw in peas and asparagus to give this Alfredo a more veggie twist.
It's important you slice the asparagus thinly enough so they cook quickly in the pan. If your asparagus is quite thick, we'd recommend slicing twice lengthways and then slicing in half.
You can make this recipe gluten-free by using a gluten-free pasta.
If you want to make this recipe soy-free, we recommend using oat milk or almond milk when make the sauce.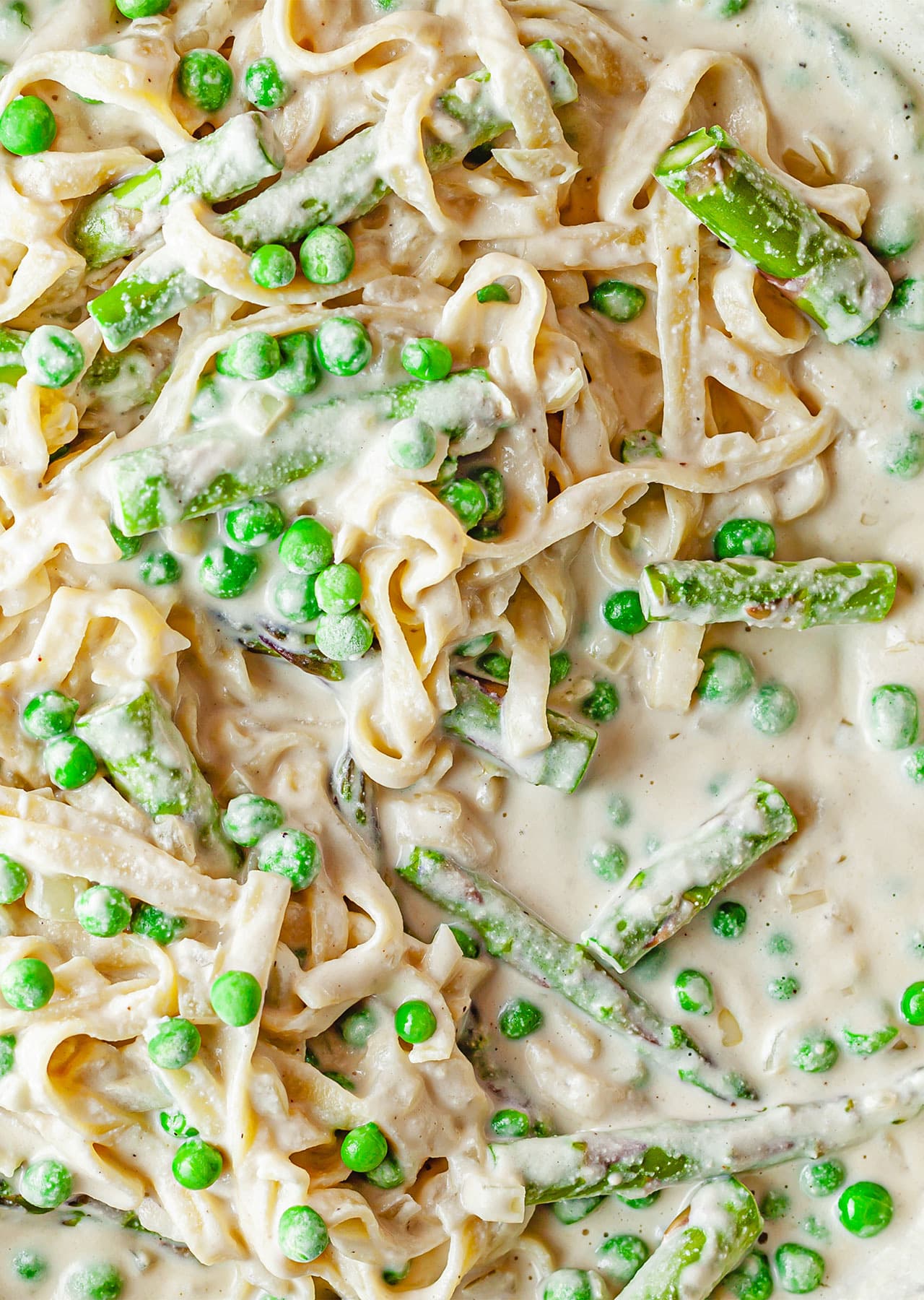 Ingredients
80g (2.8oz) cashews
olive oil
1/2 onion, peeled + sliced
3 garlic cloves, peeled + chopped
120g (4.2oz) frozen peas
100g (3.5 oz) asparagus, sliced (see notes)
160g (5.6oz) pasta, we use tagliatelle
250ml (8.5fl.oz) plant-based milk (1 cup)
3 tbsp nutritional yeast
2 tbsp lemon juice
salt + pepper
3 tbsp fresh mint, chopped (optional)
Method
Transfer the cashews to a small bowl and cover with hot water straight from the kettle, then set to one side.
Place a frying pan on a medium heat and drizzle with a little oil. Once hot, add the onion and fry for 5-6 minutes, stirring frequently until they begin to brown. Then add the garlic, peas and asparagus to the frying pan and fry for a further 2 minutes.
Meanwhile, cook the pasta as per the packet instructions. Drain the cashews and add them to a blender along with the milk, nutritional yeast, lemon juice, and a generous pinch each of salt and pepper. Blend until smooth, then pour into the frying pan and heat through for a minute.
Drain the pasta into the pan, adding a generous few splashes of pasta water as you go to help loosen the sauce.
Season to taste with another pinch of salt and pepper then, if you want to, serve with a sprinkling of mint.
Did You Make This Recipe?
Don't forget to share your SO VEGAN creations on Instagram and tag us at
@SOVEGAN
!