If you prefer a firmer texture, you can try adding chickpeas and reducing the amount of rice and mushrooms.
We also recommend cooking them in advance and simply heating on the BBQ if you want to enjoy these as part of a BBQ spread.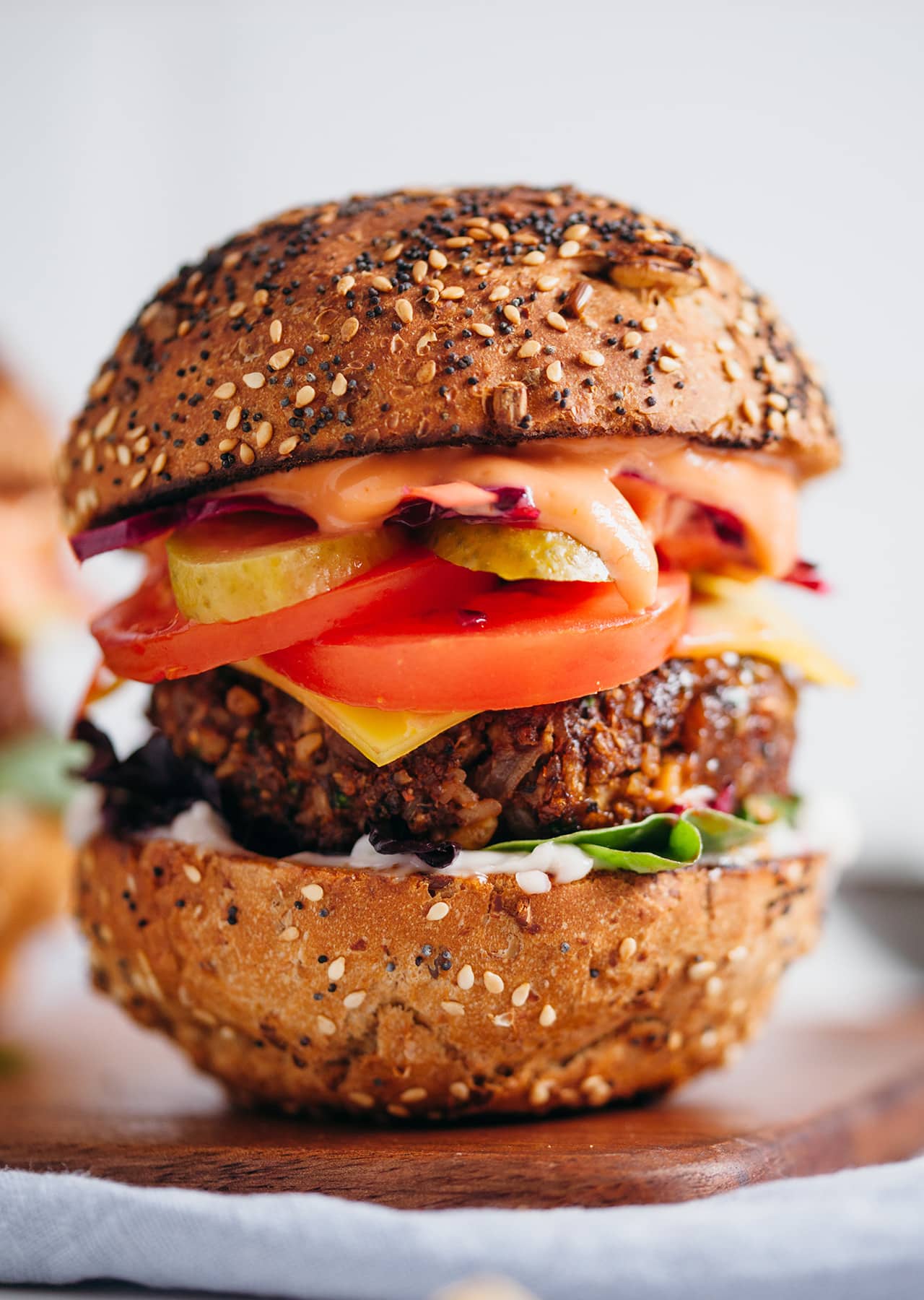 Easy Vegan Burger 🍔

Looking for tasty vegan recipes? Check out our cookbook So Vegan In 5: sovegan.co/cookbook

Posted by So Vegan on Wednesday, 17 July 2019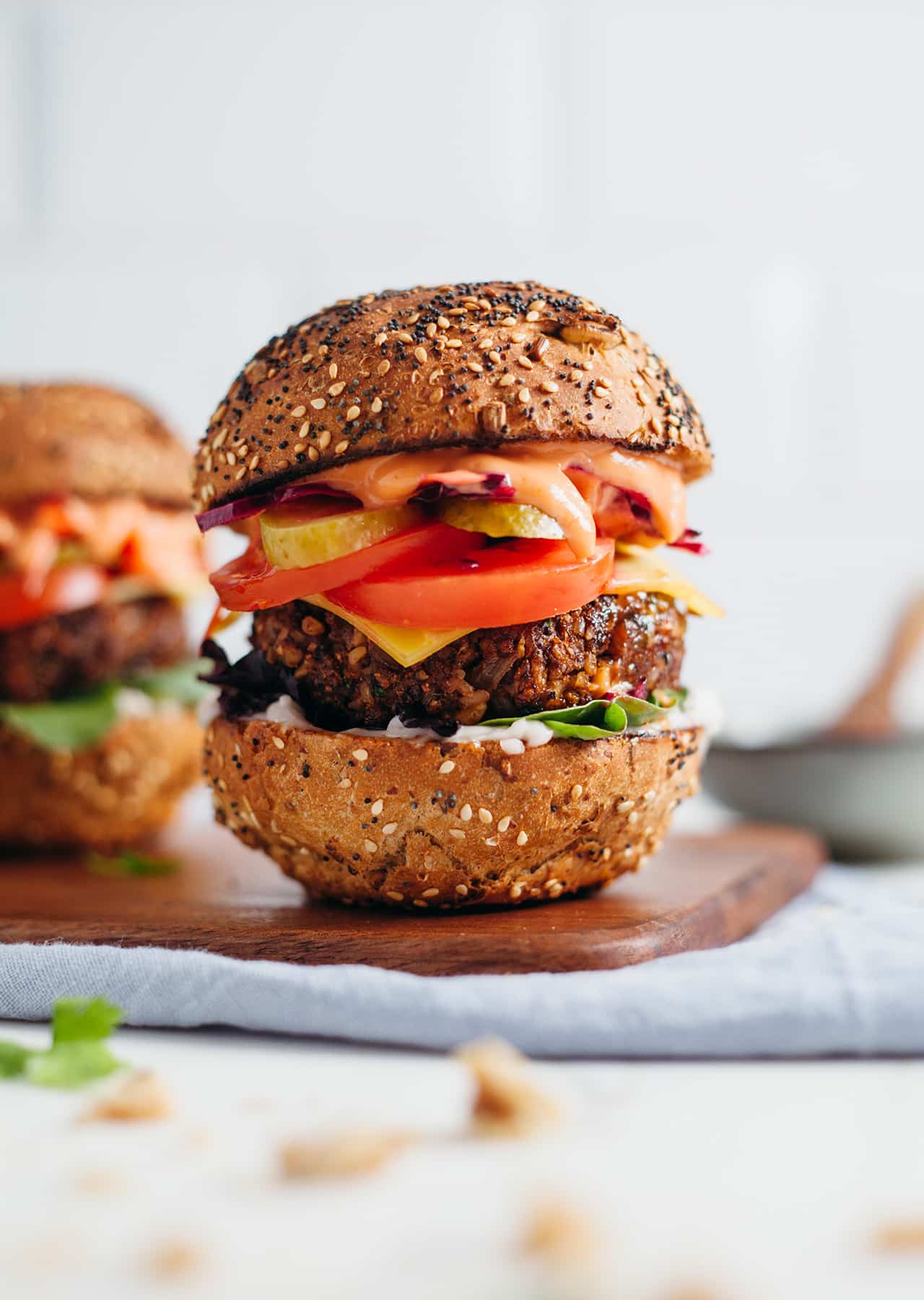 Ingredients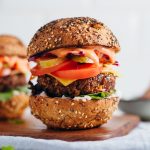 For the patties:
oil for frying

1/2 onion

2 garlic cloves

250g / 8.8oz mushrooms

2 tsp soy sauce

2 tsp cajun seasoning

2 tbsp bbq sauce, plus extra for glazing

1/2 tbsp maple syrup

50g / 1.7oz walnuts

2 tbsp ground flax seeds

1/2 cup brown rice

40g / 1.4oz panko breadcrumbs

handful of fresh parsley

salt and pepper
To serve:
4 vegan burger buns

4 vegan cheese slices

vegan mayonnaise

ketchup

2 handfuls lettuce leaves

gherkin slices

50g / 1.7oz red cabbage

1/4 carrot

1 tbsp apple cider vinegar

olive oil
Method
Cook the brown rice in just over 1 cup of lightly salted water.

Heat a little oil in a frying pan on a medium - high heat. Peel and dice the onion, then add to the frying pan and fry for 5 minutes, stirring occasionally.

Meanwhile dice the mushrooms into small pieces, and peel and dice the garlic. Add both to the frying pan and season with a generous pinch of salt and pepper. Sauté for 10 minutes or until all the water has evaporated and the mushrooms have started to brown.

Add the fried mushroom mixture to a food processor along with the soy sauce, cajun seasoning, BBQ sauce, maple syrup, walnuts, flax seeds, panko breadcrumbs, parsley and generous pinches of salt and pepper. Add the cooked brown rice (this should now measure roughly 1 cup) and add it to the mixture. Pulse the mixture a dozen or so times until the mixture has mostly broken down but has not turned into a puree! Note: to check if the texture is correct, try shaping the mixture into a patty. If there are a few cracks, pulse the mixture a little more to break it down, but be careful not to over process it into a mush.

Line a plate or baking tray with baking paper. Then shape the burger mixture into 4 evenly-sized patties and place on the prepared dish. If you have time to leave the burgers to sit, pop them in the refrigerator until you need to cook them (ideally for a minimum of 2 hours or overnight). This will help the patties hold together and also improve the flavour.

Before cooking the patties, slice the gherkins. Then finely slice the red cabbage and carrot, and add both to a mixing bowl along with the apple cider vinegar and a light drizzle of olive oil. Stir and leave to one side while you fry the burger.

Add a little oil to a frying pan on a low - medium heat. Once hot, add the patties and fry for 5 minutes on each side or until crispy. Brush each side with a little more bbq sauce as you go and add a slice of cheese to the top of the patties.

To build the burger, cut the burger buns in half and spread a generous spoonful of mayo to the bottom half. Add a few lettuce leaves on top, followed by a patty, slices of tomato and gherkin, and finally the coleslaw. 

To make the burger sauce combine a few spoonfuls of ketchup with the same amount of vegan mayonnaise in a small bowl until smooth. Spread the burger sauce over the inside of the top half of the burger bun and place the burger bun on top of the burger. Now tuck in!
Did You Make This Recipe?
Don't forget to share your SO VEGAN creations on Instagram and tag us at
@SOVEGAN
!