Roasting carrots in maple syrup and spices, which we then blend into the hummus, brings a wonderfully sweet aroma to this seriously delicious dip.
Notes:
This hummus will last for 2-3 days in the fridge if stored in an air-tight container.
We rarely peel our carrots, but we do here because it helps to create a smoother hummus. Instead of throwing away your carrot skins (peels), you can freeze them and add them to your smoothies. Carrot skin contains lots of nutrients, including vitamin C and vitamin B3.
Making hummus is very much a personal thing! With this recipe, you can add more tahini or aquafaba (juice from the tin of chickpeas), depending on how rich and creamy you like your hummus.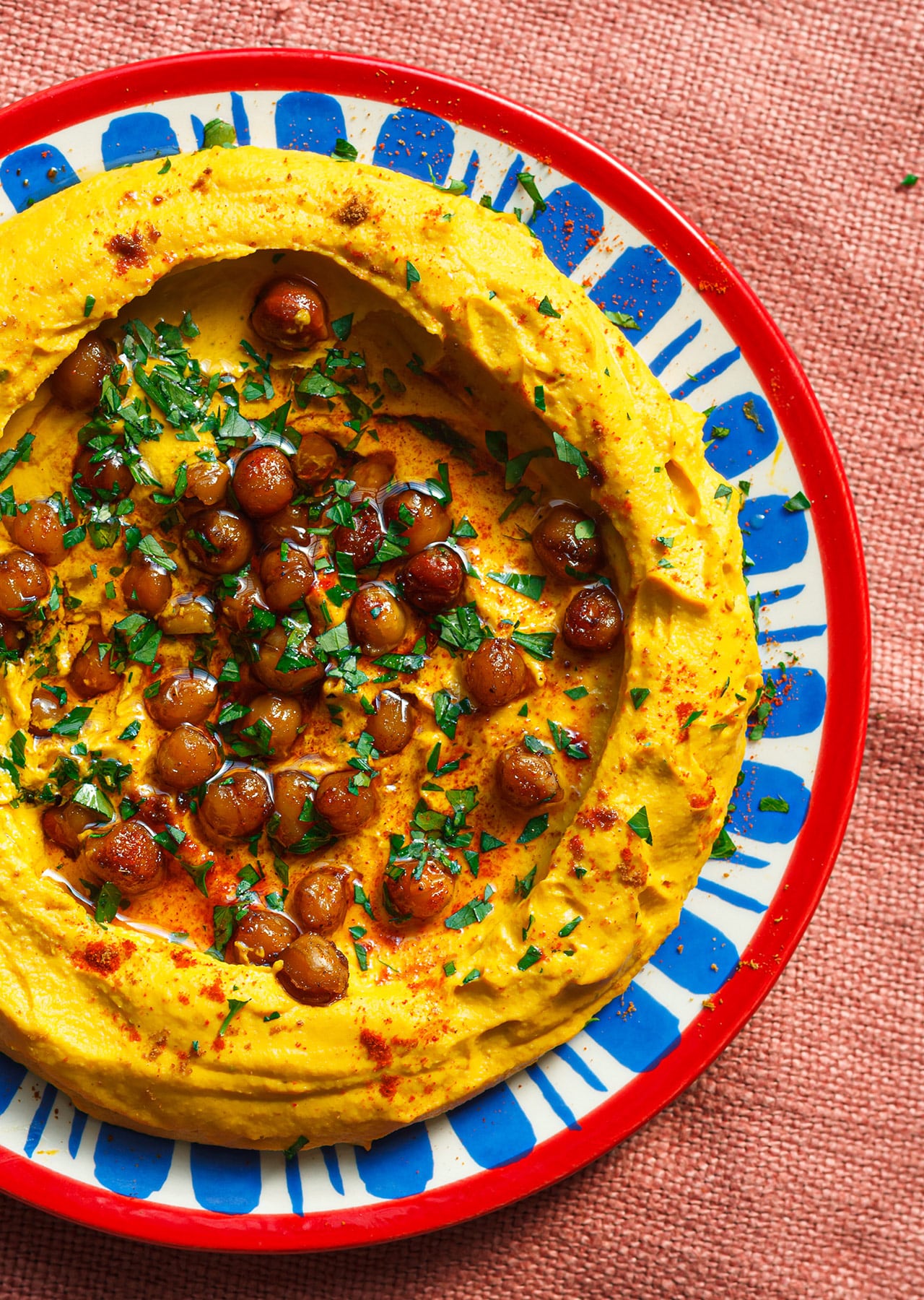 Ingredients
650g (23oz) carrots, peeled
1 x 400g (14.1oz) tin of chickpeas
1 tbsp ground cumin
1 tbsp smoked paprika
1.5 tbsp maple syrup
salt + pepper
olive oil
2 garlic cloves
6 tbsp tahini
1 lemon, juice only
3 ice cubes
1 small handful of fresh parsley, chopped
toasted bread or flatbread, to serve (optional)
Method
Preheat the oven to 200°C fan / 425°F and line a baking tray with baking paper.
Roughly chop the carrots into 1cm (0.5") pieces and add them to the baking tray. Open the tin of chickpeas and drain the aquafaba (juice from the tin) into a bowl, then set the aquafaba aside for later.
Add a couple spoonfuls of chickpeas to the tray with the carrots, followed by the ground cumin, smoked paprika, maple syrup, pinches of salt and pepper, and a drizzle of olive oil. Mix well, then throw in the garlic cloves (with their skins on). Cook for 20 minutes, then remove the garlic cloves and set them aside for later. Give the carrots a stir and return the tray to the oven for another 20 minutes or until the carrots are soft.
Meanwhile, add the remaining chickpeas to a clean tea towel. Fold the edges of the tea towel on top of the chickpeas and use the towel to rub them so the skins begin to fall off. Remove as many of the skins as possible, then add the chickpeas to a saucepan of boiling water and simmer for 15 minutes or until soft. As the chickpeas are cooking, remove any more skins which float to the top using a spoon.
Drain the boiled chickpeas, add them to a food processor and process them until they've completely broken down. Next add the roasted carrots from the tray (leave the roasted chickpeas to one side for topping with later) and process again until the carrots have completely broken down.
Next remove the skins from the garlic and add the cloves to the food processor, along with the tahini, lemon juice and pinches of salt and pepper. Turn on the food processor and let it run for 30 seconds while adding 4 tablespoons of aquafaba and 3 ice cubes. Give the hummus a taste and add more tahini or salt and pepper, if necessary. Then keep processing for a few minutes and drizzle in more aquafaba until the hummus reaches a smooth and creamy consistency.
Serve in a bowl and top with olive oil, pinches of ground cumin and smoked paprika, the roasted chickpeas from earlier and chopped parsley. Then dip and enjoy!
Did You Make This Recipe?
Don't forget to share your SO VEGAN creations on Instagram and tag us at
@SOVEGAN
!