Inspired by the Italian dish 'pasta e fagioli', aka 'pasta and beans', this broth-like pasta soup is a super simple and hearty dish, and for us it's the quintessential weeknight dinner.
Notes:
The key to this recipe is adding some of the ingredients at the last stage of the cooking process, specifically the basil, lemon and olives. This helps to preserve their fresh flavours so they cut through the broth.
We use borlotti beans, also known as cranberry beans, but really any type of tinned bean will do fine, such as butter beans, red kidney beans or cannellini beans.
Simply use gluten-free pasta to make this recipe gluten-free.
This pasta will keep well in an airtight container in the fridge for 2-3 days, or freeze in an airtight container for up to 3 months.
We love to use pitted green olives which are marinated in herbs and garlic, which add an extra layer of flavour at the end of the cooking.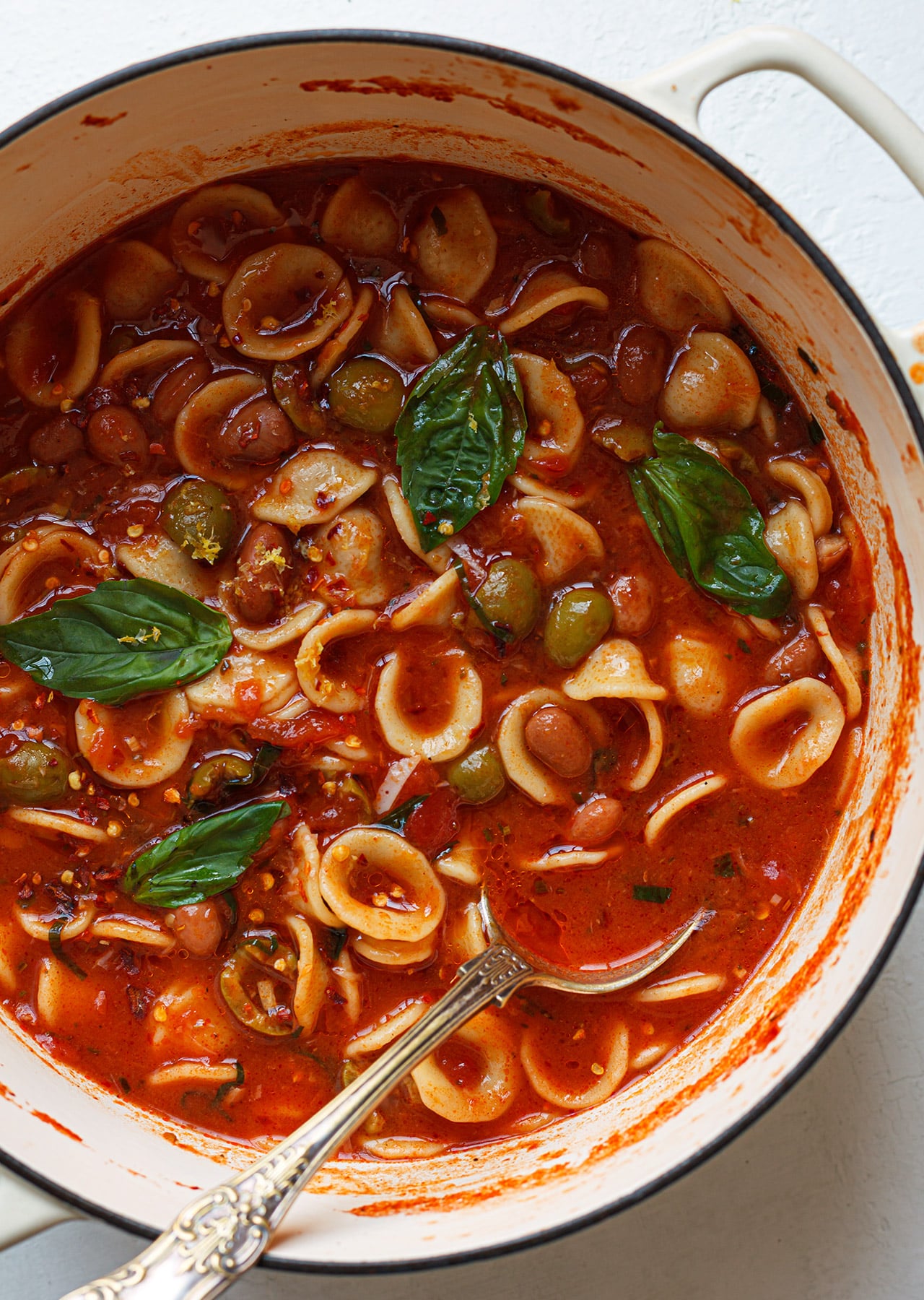 Ingredients
olive oil
4 garlic cloves, peeled + grated
2 tsp smoked paprika
1/4 tsp chilli flakes, plus more for topping
2 x 400g (14.1oz) tins of plum tomatoes
1 litre (4 cups) vegetable stock
3 sprigs of fresh rosemary, chopped
salt
350g (12.3oz) pasta, we use orecchiette (or GF pasta)
1 handful of fresh basil
1/2 lemon, zest + juice
2 x 400g (14.1oz) tins of borlotti beans, drained + rinsed
100g (3.5oz) pitted green olives, torn in half (see notes)
vegan parmesan, for topping (optional)
Method
Add a splash of olive oil to a large saucepan or pot on a medium heat. Next add the garlic, smoked paprika and chilli flakes, then cook for 1-2 minutes, stirring occasionally until the garlic turns golden brown.
Next add the tinned tomatoes, crushing the tomatoes in your hands as you go (be careful not to splash tomato juice everywhere). Then fill half of the empty tins of tomatoes with water and swirl it around to collect any leftover tomato juices, before pouring the water into the pan, followed by the vegetable stock, rosemary and a pinch of salt.
Increase the heat and bring it to a boil, then stir in the pasta. Now lower the heat and bring the pasta to a gentle boil, then cook for 10-14 minutes or until the pasta is almost al dente. You'll need to stir regularly to prevent the pasta sticking to the bottom (orecchiette also has a habit of stacking together if it's not stirred regularly).
Chop most of the basil leaves, then stir them into the pasta along with the lemon juice (save the zest for topping), beans, green olives and season to taste with more salt, if necessary.
The pasta should have a fairly thick soup-like consistency, but if it's too thick you can add a splash of hot water from a kettle. Then cook through for a minute or two, before serving in bowls and topping with a drizzle of olive oil, lemon zest, some chilli flakes and grated vegan parmesan. See notes for storing leftovers.
Did You Make This Recipe?
Don't forget to share your SO VEGAN creations on Instagram and tag us at
@SOVEGAN
!