This is a sponsored post by More with Mushrooms
Not only are mushrooms tasty as hell, they're also one of the few natural food sources of Vitamin D.
If you didn't know, mushrooms can synthesise Vitamin D when exposed to sunlight (just like we do!), so at this time of year – when the days get shorter – mushrooms are a key ingredient in our diet.
So today we're celebrating all-things fungi and we're teaming up with More with Mushrooms to get you eating more mushrooms with these delicious noodles, which features the amazing portobello mushroom.
First we sear the mushrooms, then combine them with our favourite Asian-inspired flavours.
To make things even better, mushrooms also play a crucial role in keeping our bones nice and healthy because Vitamin D helps the body absorb nutrients like calcium – making this dish simple, delicious AND nutritious.
Notes
We use a combination of 1 tbsp light soy sauce and 1.5 tbsp dark soy sauce. This isn't entirely necessary and you could use one or the other – or simply products labelled 'soy sauce' only. But we find the combination of light and dark adds a more complex seasoning and flavour profile to the noodles.
The straight-to-wok udon noodles we use only require a minute to heat up in the pan. But depending on the brand you use, they might require boiling in water for a few minutes, then draining and adding to the wok.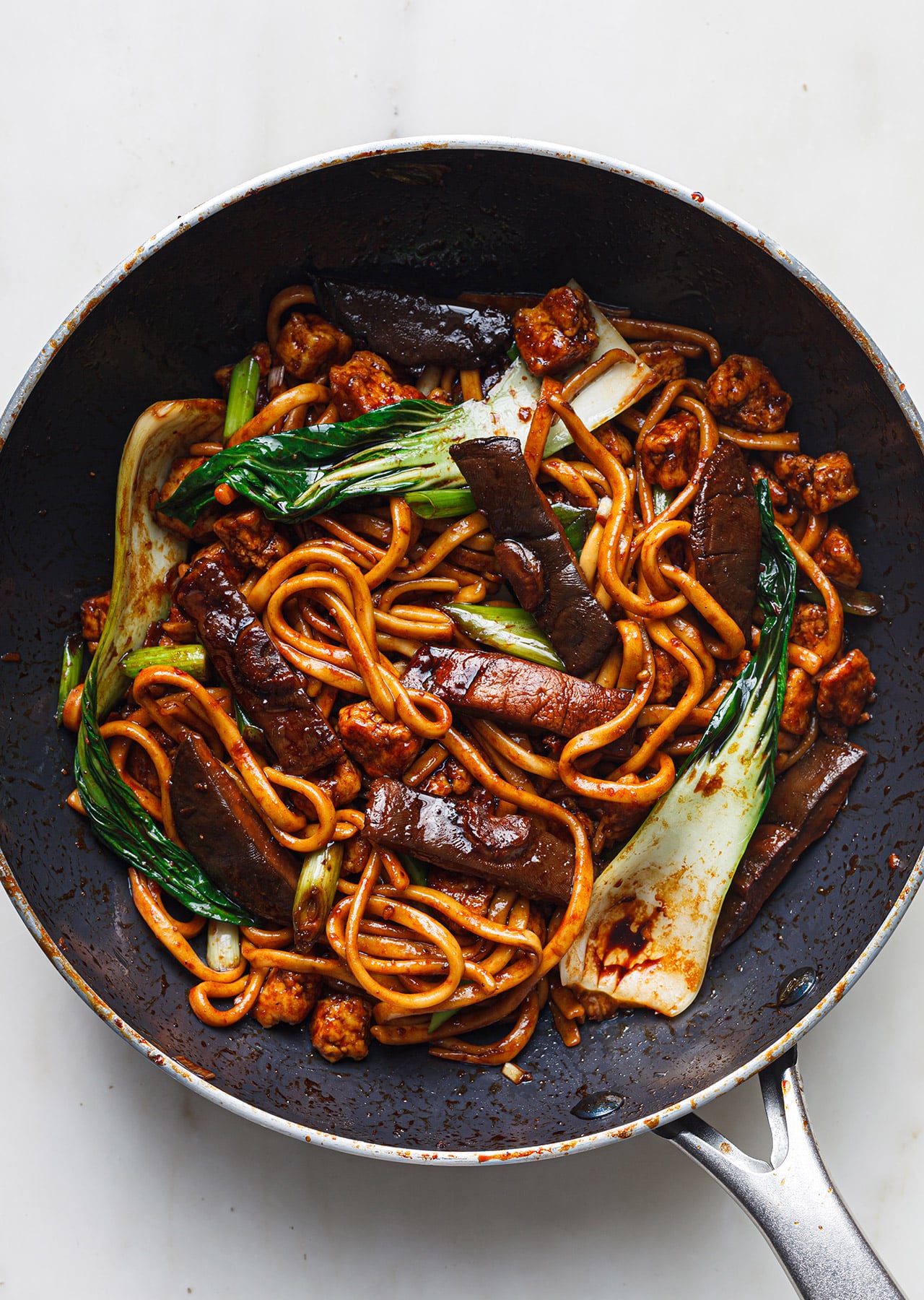 Ingredients
4 portobello mushrooms
1 tsp Chinese 5 spice
salt
vegetable oil
300g block of extra-firm tofu, drained
2 tbsp cornflour
1/2 a thumb of fresh ginger
2.5 tbsp soy sauce, see notes
2 tsp sesame oil
2 tbsp maple syrup
3 spring onion, chopped
300g straight-to-wok udon noodles, see notes
1 pak choi, leaves separated + rinsed
Method
Trim the mushrooms, then scoop out and discard the dark gills. Combine them in a mixing bowl with the Chinese 5 spice, a pinch of salt and a drizzle of oil - making sure the mushrooms are fully coated in the spices.
Add a splash of oil to a pan on a medium-high heat. Cook the mushrooms on each side for 5-6 minutes or until charred and tender, then cut into thick slices and set aside.
Tear the tofu into small chunks and combine them in a mixing bowl with the cornflour and a pinch of salt. Add a splash of vegetable oil to a wok on a medium-high heat and add the tofu, then cook for 10-12 minutes or until golden and crispy all over.
Combine the ginger, soy sauce, sesame oil and maple syrup in a small bowl. Remove the tofu from the wok, wipe the wok clean, then pour the sauce into the wok along with the white ends of the spring onion. Cook for 1-2 minutes or until the sauce just starts to thicken.
If necessary, cook the noodles to loosen them, then add them to the wok with the pak choi leaves, crispy tofu and cooked mushrooms from earlier. Stir to combine and heat through for a couple of minutes or until everything is cooked, then stir in the remaining spring onion and serve.
Did You Make This Recipe?
Don't forget to share your SO VEGAN creations on Instagram and tag us at
@SOVEGAN
!