This wonderful ramen is an adaptation of a recipe by our friend Ellie from Mayse Artisan Bakery.
We serve our ramen with fried tofu and pak choi, as well as some fresh veggies. But you can simplify the dish by skipping the tofu and pak choi.
You can also make this even easier using ready-to-go noodles. Simply add them to the broth and heat through.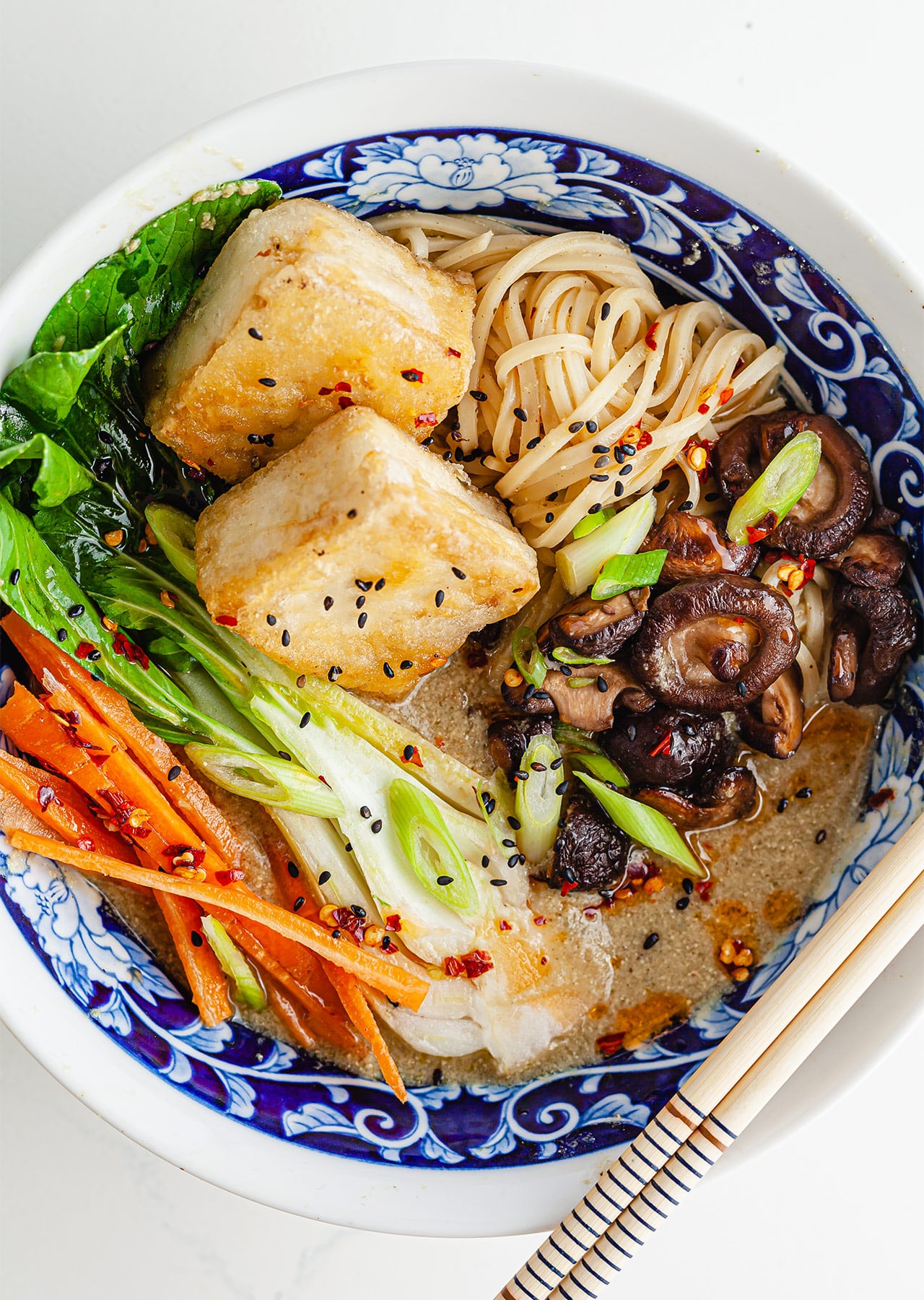 Ingredients
1 shallot, peeled + sliced
3 garlic cloves, peeled + chopped
250g / 8.8oz shiitake mushrooms, sliced
4 tsp sesame oil
1/2 thumb of fresh ginger, peeled + chopped
1 tbsp miso paste (we use red)
1 litre / 33.8 fl.oz vegetable stock
100g / 3.5oz vegan-friendly ramen noodles
salt
300g / 10.6oz firm tofu, sliced into squares
cornflour
vegetable oil
1 pak choi, halved + rinsed
Optional toppings: carrot, spring onion, chilli oil and sesame seeds
Method
Pour 2 tsp of sesame oil into a wok on a medium heat.
Add the shallot and garlic and fry for 5 minutes. Transfer the cooked shallot and garlic to a blender (leave the blender to one side) and return the wok to the heat.
Turn the heat up and pour the remaining 2 tsp of sesame oil into the wok. Add the mushrooms to the wok and fry for 12-15 minutes until cooked.
Coat the tofu squares in cornflour, then fry with a splash of vegetable oil in a hot pan for 6-8 minutes until crispy. Add the pak choi to the pan for the final few minutes.
Cook the noodles as per the packet instructions.
Add a third of the fried mushrooms to the blender and leave the rest to use as a topping later. Add the fresh ginger, miso paste and vegetable stock to the blender and blend until smooth.
Pour the broth into the wok and heat through. Season to taste with extra salt.
To serve, add the noodles, followed by the broth, then top with the pak choi, tofu and your chosen toppings: we go with sliced carrot and spring onion, a drizzle of chilli oil and a sprinkle of sesame seeds.
Did You Make This Recipe?
Don't forget to share your SO VEGAN creations on Instagram and tag us at
@SOVEGAN
!