We have to say, we're so chuffed with how this recipe has turned out. Who knew making an awesome taco ring could be so easy?
We decided to use a sheet of puff pastry, which is cut into 16 triangles, but you can use dough already shaped into triangles, if this is easy to find in your local supermarket. Just be sure to check it's vegan-friendly!
The taco seasoning is packed with spicy flavours. Remember, we like our recipes ever-so-slightly on the hot side, so dial the chilli up or down, depending on how you like it.
Enjoy!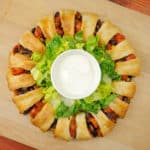 Taco Ring
Print
Ingredients
1

white onion

2

garlic cloves

,

finely chopped

150 g (5.3 oz)

cooked sweetcorn

1 x 400 g (14.1 oz)

tin of kidney beans

,

drained and rinsed

250 g (8.8 oz)

cherry tomatoes

,

quartered

300 g (10.6 oz)

vegan puff pastry

,

or 16 crescent dough triangles

1

tbsp

vegan milk

oil

,

for frying
For the taco seasoning
1/2

tsp

chili powder

1/2

tsp

oregano

1/2

tsp

paprika

1/2

tsp

cumin

1/4

tsp

garlic powder

1/4

tsp

onion powder

1/4

tsp

salt
Method
Preheat oven to 200°C fan / 425°F and line baking tray with greaseproof paper.

Drizzle a little oil in a frying pan on a high heat and fry the onion for 5 minutes.

Add the garlic and taco seasoning, and fry for a further 2 minutes.

Next, add the kidney beans, sweetcorn and tomatoes, and cook on a medium heat for 10 minutes.

If using a sheet of puff pastry, roll out the pastry horizontally and slice it in half vertically. Then, create 8 equal rectangles by making three horizontal slices, ensuring the spacing between each slice is equal.

Create sixteen triangles of pastry by cutting each pastry rectangle in half diagonally.

Arrange the pastry triangles in a circle alongside each other, ensuring the widest edges are at the centre and there is an overlap between the triangles. There should be a gap in the middle with a roughly 12cm diameter.

Where the pastry triangles overlap, press down with your fingers to push the pastry into the middle, creating more surface area for the taco mix.

Spoon the taco mixture on top of the pastry and build the mixture as high as possible.

Bring the outer edges of each pastry triangle over the taco mix, tucking the pastry under itself.

Brush the pastry with almond milk.

Bake in the pre-heated oven for 20-25 minutes or until golden brown.

Remove from oven, serve with our cashew sour cream and decorate with your favourite salad.
Notes
Cashew Sour Cream
Ingredients:
1/2 cup cashews
1/4 cup water
2 tbsp lemon juice
Method:
Soak cashews in hot water for 10 minutes, then drain.
Combine all ingredients in a blender until smooth.