If you love apple crumble and you love mince pies, then be prepared for a flavour sensation like never before.
These gloriously festive treats are a total joy.
Don't fret, mincemeat doesn't actually contain meat! It's usually mixture of chopped fruit, spices and spirits.
We combine the shop-bought mincemeat with stewed apples, then we top the pies with a sweet crumble.
Simple and yum!
The pastry is really simple, too.
All you need are flour, sugar, vegan margarine and a pinch of salt.
Roll it into a ball, then leave it to chill while you prepare the remaining components.
Here's what you need to do:
Some brands of mincemeat include suet, which isn't vegan. But lots of supermarkets will stock vegan-friendly brands so make sure you check the labels.
We use Bramley apples which are perfect for cooking because they keep their tangy flavour. But you can use any apple you can get your hands on.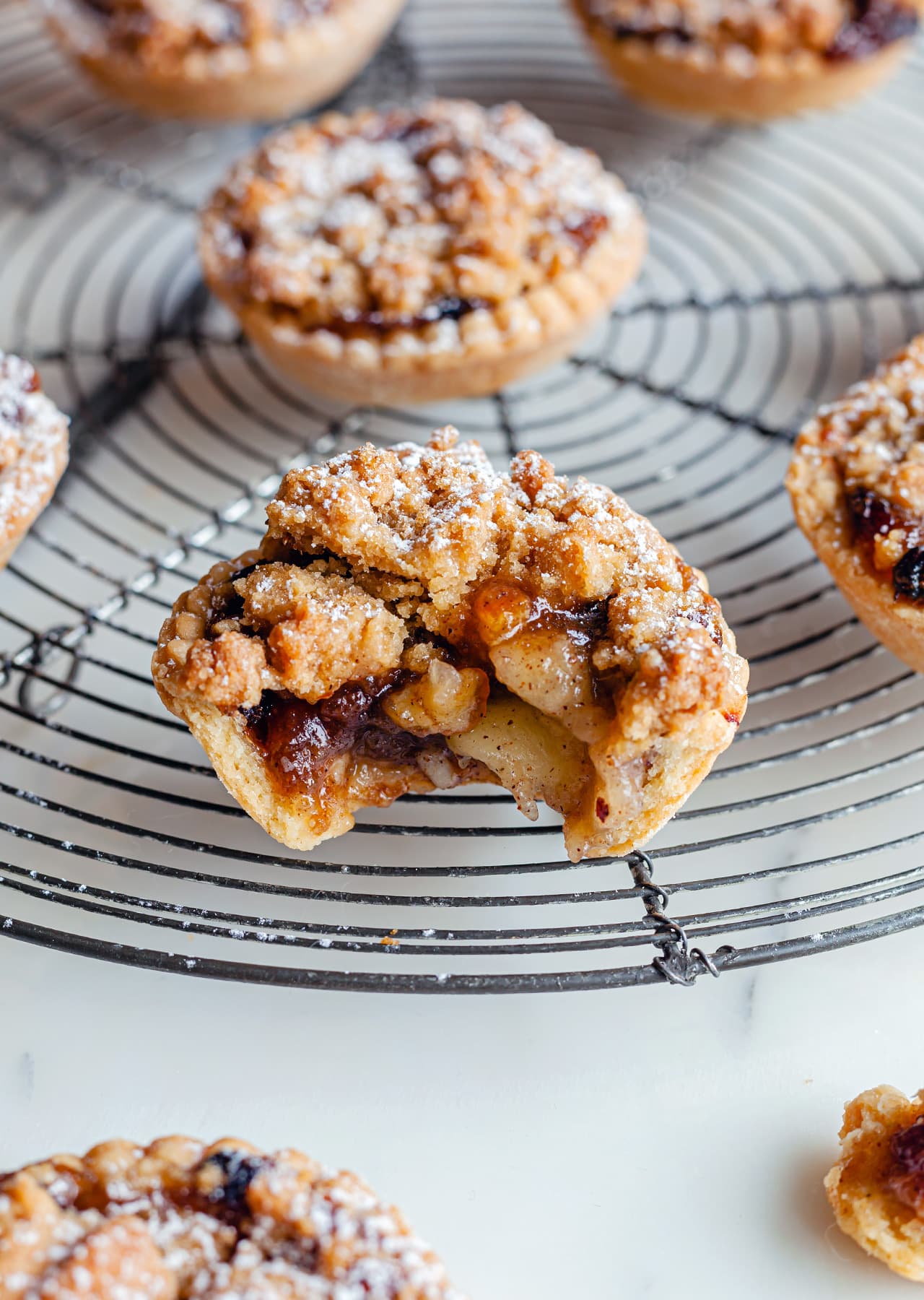 Ingredients
For the pastry:
150g / 5.3oz vegan margarine, plus extra for greasing
230g / 8.1oz plain flour
40g / 1.4oz caster sugar
pinch of salt
For the apples:
2 Bramley apples
2 tbsp light brown sugar
1/2 tsp cinnamon
squeeze of lemon juice
For the crumble:
75g / 2.6oz plain flour
50g / 1.7oz light brown sugar
50g / 1.7oz vegan margarine
12 tsp vegan mincemeat
Method
For the pastry, combine flour, sugar and a pinch of salt in a mixing bowl. Rub in the margarine (add 1-2 tsp of water if the pastry doesn't hold). Knead briefly then roll into a ball and wrap in baking paper and refrigerate while you carry out the next steps.
Peel apples, remove cores and dice into 1cm chunks. Add to a small saucepan along with sugar, cinnamon, lemon juice and 4 tbsp of water. Simmer on low for 10 mins, stirring occasionally until apples are soft.
For the crumble, add flour, sugar and margarine to a mixing bowl. Rub the margarine between your fingers into the dry ingredients until you reach a crumble like consistency.
Preheat the oven to 180°C fan / 400°F and grease a 12-hole muffin or mince pie tray with vegan margarine.
Next flour a worktop and rolling pin and roll out pastry to 3mm thick. Use a 7cm / 2.8" round cutter to cut out 12 circles of pastry. Re-roll the pastry as you go.
Line base and sides of each muffin hole with a circle of pastry. Add a teaspoon or so of apple mixture into each hole followed by a heaped tsp of vegan mincemeat. Finish with a sprinkling of crumble. Bake for 25 - 30 minutes until golden. It's important to the mince pies from the tray while they're still hot. These are best when eaten warm!
Enjoy all year – not just at Christmas.
Did You Make This Recipe?
Don't forget to share your SO VEGAN creations on Instagram and tag us at
@SOVEGAN
!