A delicious vegan butter that spreads perfectly on toast? That's right. This butter is rich, creamy and it's super simple, too.
We use carrot juice – which we make fresh using a juicer – to give the butter it's slightly yellow colour. This is completely optional and you can simply leave it out. We also tested this butter using turmeric but we found the flavour slightly overpowering.
It's important the soya milk and coconut oil are room temperature, otherwise they might react when blended together and the consistency might change (the butter will be fairly soft). Ideally you want the mixture to be runny when you pour it into the butter dish, though this isn't essential and doesn't impact the flavour.
You can use any plant-based milk you like – however soya milk will curdle the best when combined with apple cider vinegar. This will give the butter a creamier consistency.
The butter will last for up to 2 weeks in the fridge. Alternatively you can freeze the block in smaller blocks and simply defrost a block when you need it.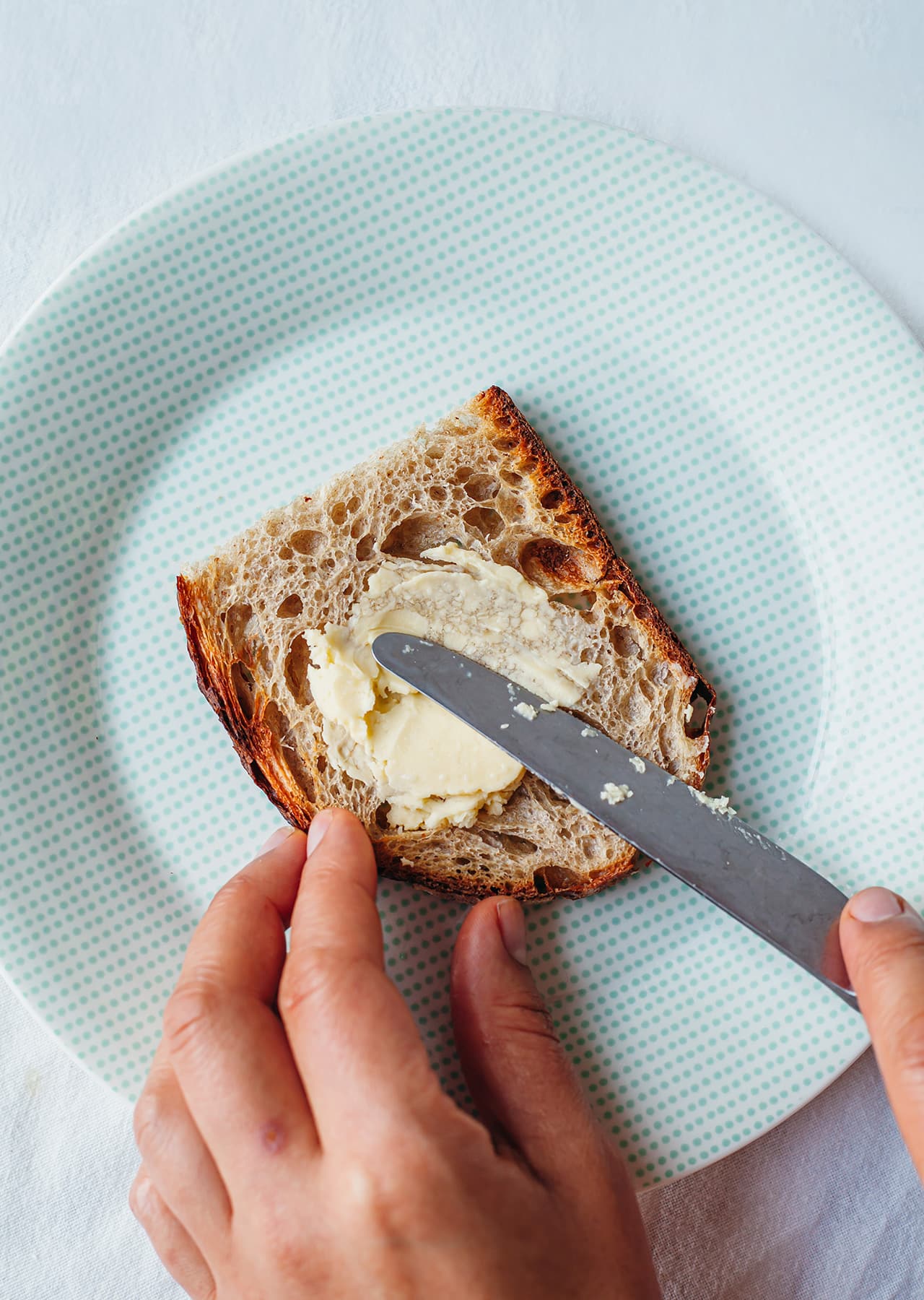 Ingredients
225g / 7.9oz refined (odourless) coconut oil
3 tbsp light olive oil
1 tsp nutritional yeast
1/2 tsp salt
1 tbsp carrot juice (optional, for colour)
130ml / 4.4fl.oz soya milk (at room temperature)
1 tsp apple cider vinegar
Method
Line the base and sides of a butter dish with greaseproof paper.
Add the coconut oil to a heatproof bowl and microwave for 30 - 60 seconds until it has almost melted, then stir to melt the remaining coconut oil. Make sure it's at room temperature, then add it to a blender along with the light olive oil, nutritional yeast, salt and carrot juice.
Next combine the soya milk (make sure it's at room temperature) and apple cider vinegar in a jug and leave to sit for 1 minute then add straight to the blender. Blend until smooth then pour the vegan butter into the prepared butter dish.
Refrigerate for a minimum of 4 hours or until set.
Did You Make This Recipe?
Don't forget to share your SO VEGAN creations on Instagram and tag us at
@SOVEGAN
!