This is without doubt one of our favourite ways to cook aubergine. In fact, it might be our favourite aubergine recipe ever. It's inspired by the classic Italian dish 'veal Milanese' aka a breaded cutlet, and we serve it with spaghetti in a super simple tomato sauce.
Notes
We try to find aubergines which are straight and less 'curvy', which means there's less leftover when we cut it into slices. But if we are left with lots of leftover aubergine, we simply put it to good use in a curry or pasta.
If you prefer, you can substitute the cornflakes for panko breadcrumbs. Also, not all cornflakes are vegan so be sure to check the label. We use gluten-free brands which also happen to be vegan.
You can easily make this gluten-free using gluten-free pasta, cornflour and gluten-free cornflakes.
Any type of plant-based milk will do. We tend to use oat or soy.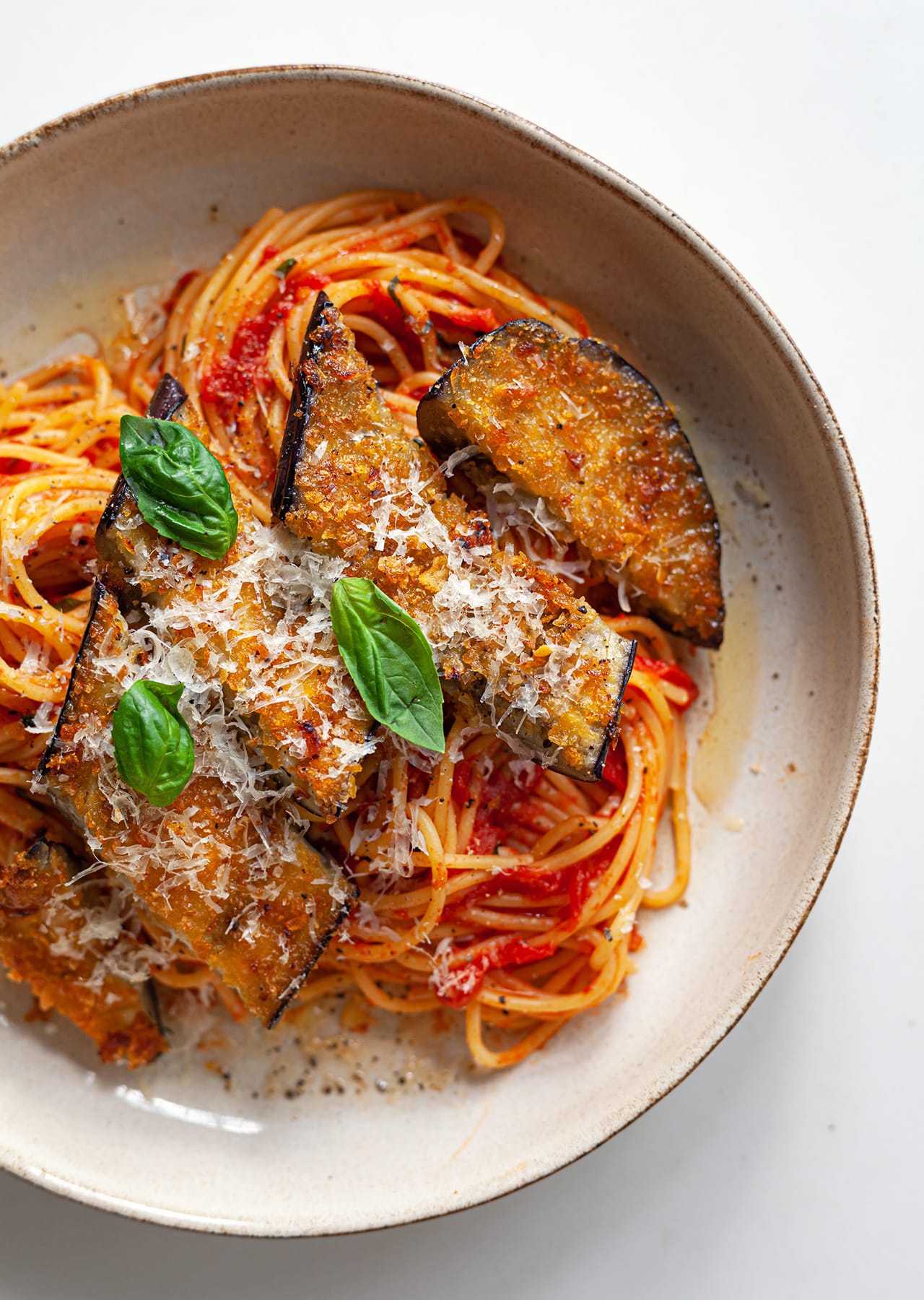 Ingredients
1 aubergine
salt + pepper
1/2 tsp dried oregano
1 tbsp plain flour, or cornflour
3 tbsp plant-based milk
40g (1.4oz) vegan-friendly cornflakes (2/3 cup), see notes
olive oil
2 garlic cloves, peeled + finely chopped
1 x 400g (14.1oz) tin of whole tomatoes
1 handful of fresh basil
160g (5.6oz) spaghetti, or gluten-free pasta
vegan parmesan, optional
Method
Preheat the oven to 180°C fan / 400°F and line a baking tray with baking paper.
Trim the ends off the aubergine, then cut it into two 2cm-thick pieces. Save any leftover pieces for another meal. Season both sides of each slice with salt and pepper, as well as the dried oregano, and rub the seasoning into the flesh of the aubergine as you go.
Add the flour to a large plate, then pour the milk into a large shallow bowl. Next place the cornflakes inside a clean tea towel and bash them using a rolling pin until they're mostly broken down, then pour the cornflakes onto a separate large plate.
One at a time, dip the aubergine slices into the flour, followed by the milk, then the cornflakes, making sure the fresh on the aubergine slices is fully coated each time.
Heat a drizzle of olive oil in a frying pan on a medium-high heat. When the oil is hot, add the aubergine slices and cook for 2 minutes on each side. Add more oil if you like to make sure the cornflakes turn a lovely golden brown, then transfer to the baking tray and bake for 15-20 minutes or until the aubergine is tender.
Meanwhile, wipe the frying pan clean and return it to a medium heat. Add the garlic and cook for a minute or until it begins to brown, then add the tinned tomatoes. Swirl some water around the tin to collect any leftover tomato juices, then pour it into the pan and cook for 10-12 minutes on a low-medium heat, letting the tomatoes break down naturally into the sauce.
While the sauce is simmering, start cooking the pasta in a large saucepan of salted boiling water.
When the sauce is ready, chop most of the basil (save half a dozen leaves for topping) and stir it into the sauce, along with pinches of salt and pepper. Use a spoon to break down any tomatoes which are still whole, then use a pair of tongs to transfer the pasta into the pan, adding splashes of pasta water as you go to help loosen the sauce.
To serve, add the pasta to plates, then slice the aubergine and add it on top of the pasta, followed by freshly ground black pepper, a drizzle of olive oil, grated vegan parmesan and the remaining basil leaves.
Did You Make This Recipe?
Don't forget to share your SO VEGAN creations on Instagram and tag us at
@SOVEGAN
!