Silken tofu gives this family-friendly pasta its wonderfully creamy texture, as well as lots of protein – the dish has 21g of protein per person. Also the hemp seeds are a great source of omega-3 and omega-6 essential fatty acids.
Notes
Silken tofu is generally always soft, but sometimes it's also labelled 'soft' or 'hard', in which case we recommend buying the soft version.
You can easily make this recipe gluten-free using gluten-free pasta.
We use rigatoni pasta, which is one of our favourites – but any type of pasta will do.
If you don't have a high speed blender, we recommend soaking your cashews in hot water for at least 30 minutes to help soften them.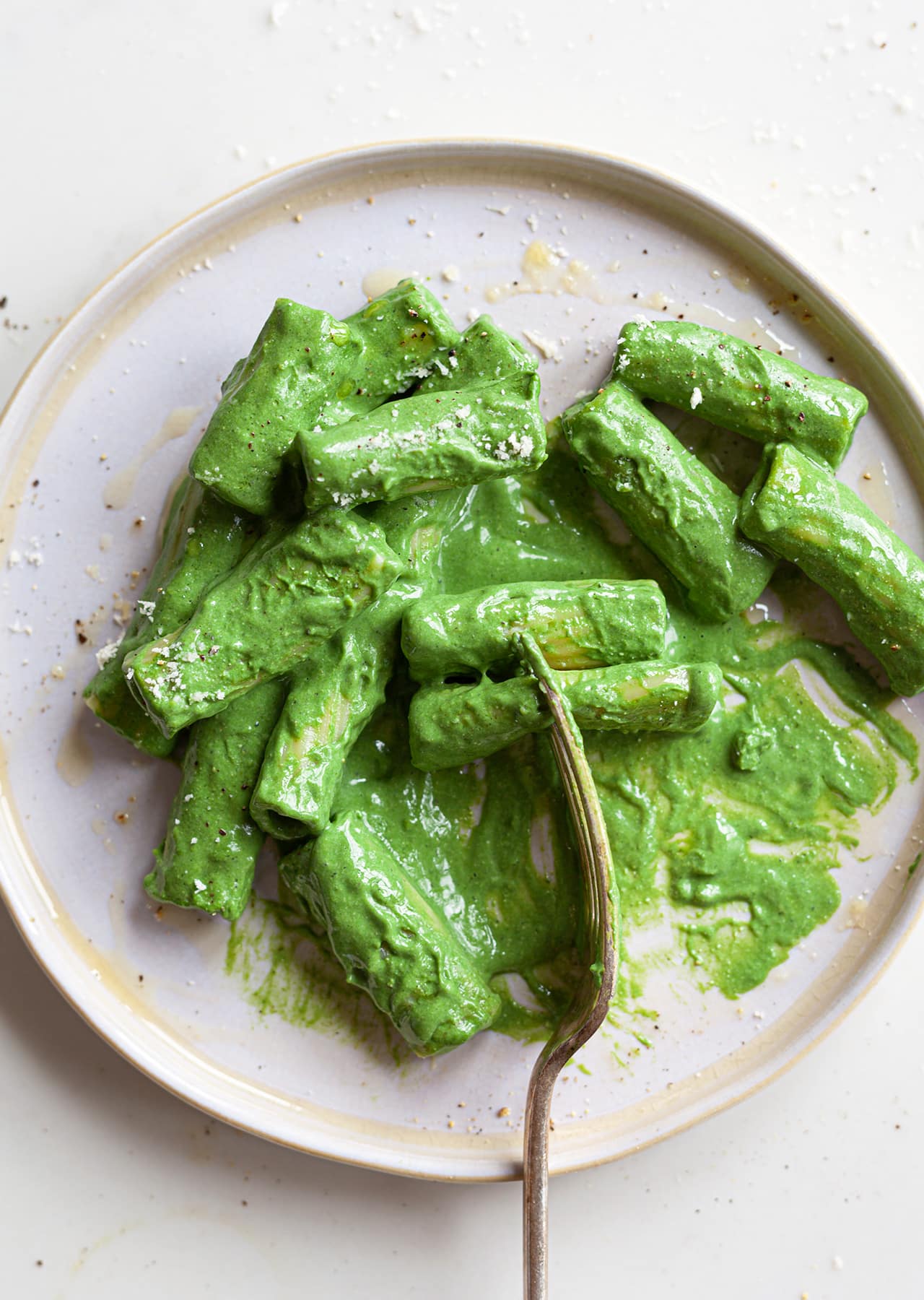 Ingredients
320g (11.3oz) pasta, or use gluten-free pasta
salt + pepper
250g (8.8oz) baby spinach
350g (12.3oz) silken tofu
4 tbsp nutritional yeast
40g (1.4oz) cashews, see notes
60g (2.1oz) hemp seeds, shelled or milled
2 garlic cloves, peeled
olive oil
vegan parmesan, to serve (optional)
Method
Cook the pasta in a pot of salted boiling water as per the packet instructions. Once the pasta is ready, drain it and reserve about half a cup of the pasta water for later.
Meanwhile, add the spinach to a pan on a medium heat and cook for 2-3 minutes or until wilted. Add a tablespoon of pasta water to the spinach if it's sticking to the pan.
Next, transfer the spinach to a high speed blender along with the silken tofu, nutritional yeast, cashews, hemp seeds, garlic, 2 tablespoons of olive oil and generous pinches of salt and pepper. Blend until the sauce is smooth, adding a tablespoon or so of the reserved pasta water to the sauce, if needed, to loosen it up.
Pour the spinach sauce into the pan you used earlier and heat it on a low temperature until warm. Tip the pasta into the sauce and stir to combine.
Serve the pasta with a drizzle of olive oil, an extra pinch of pepper and some grated vegan parmesan, if you like.
Did You Make This Recipe?
Don't forget to share your SO VEGAN creations on Instagram and tag us at
@SOVEGAN
!