Say goodbye to January blues and say hello to your new favourite soup!
Soup is the ultimate winter warmer and it's so easy to make. We often make a big pan at the beginning of the week to dip into whenever we fancy.
The lentils in this recipe make it really nice and filling, but it also goes down really well with some crusty bread dunked in.
We love immune boosting foods, which is why this creamy curried soup is packed with fresh garlic and ginger spices to help with those lingering stuffy noses.
Butternut squash is a real crowd pleaser, so impress your friends and family with a flavoursome bowl of love.
Curried Butternut Squash Soup 😌
Full recipe: sovegan.co/squashsoup

Posted by So Vegan on Monday, 14 January 2019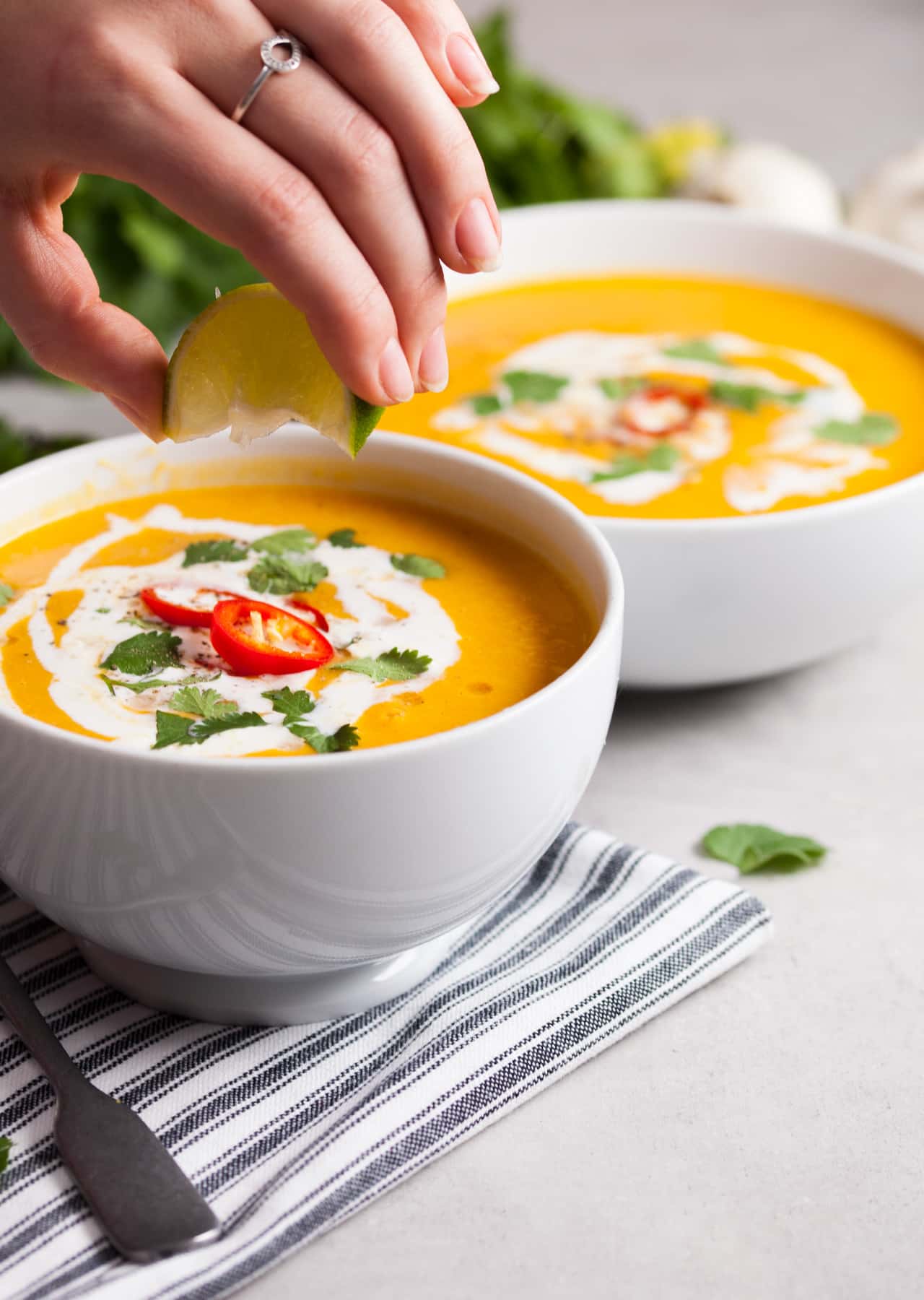 Ingredients
1 butternut squash

1 onion

1 thumb of ginger

2 cloves of garlic

handful of coriander

1 red chilli, plus extra for decoration
1 tsp curry powder

500ml (16.9fl.oz) vegetable stock 

300ml (10.1fl.oz) tinned coconut milk

200g (7oz) red lentils

juice of 1/2 a lime
The cupboard essentials
Method
Preheat the oven to 200°C fan / 425°F.
Peel and deseed the butternut squash and dice into 2cm chunks. Transfer to a baking tray. Season with a pinch of salt and pepper, and drizzle with a little olive oil, then roast in the oven for 35 minutes.
Meanwhile, drizzle a little olive oil in a large saucepan on a medium heat. While the saucepan heats up, peel and dice the onion, add to the saucepan and fry for 5 minutes, stirring occasionally.
While the onion is cooking, peel and finely dice the garlic and ginger. Slice the chilli in half and remove the seeds, (you can keep a few of the seeds if you like it spicy). Finely chop a small handful of coriander stalks. Add the garlic, ginger, most of the chilli, coriander stalks and curry power to the pan and fry for a further 3 minutes.
Add the lentils, vegetable stock, 200ml (6.7fl.oz) coconut milk and 500ml (16.9fl.oz) of water and season generously with salt and pepper. Bring the soup to the boil, and simmer for 15 minutes with the lid on, or until the lentils are cooked.
Remove the squash from the oven and transfer it to a blender along with the soup and the juice of half a lime. Blend until completely smooth.
Ladle the soup into bowls and finish with a drizzle of the remaining coconut milk, some coriander leaves, a few slices of chilli and some cracked black pepper.
Did You Make This Recipe?
Don't forget to share your SO VEGAN creations on Instagram and tag us at
@SOVEGAN
!