It's really up to you what you serve with the tofu in the bowl. We've tried to keep things super simple by reusing lots of ingredients, such as maple syrup and rice vinegar, which are used in the marinade and the slaw.
When you marinade the tofu, it's important to use a relatively small dish so the tofu pieces fit snuggly inside in one layer. This way the tofu pieces will be mostly submerged in the marinade and you'll get more flavour into the tofu.
You'll need paper towels to soak up and leftover oil on the sesame-crusted tofu. This will help to keep the tofu super crispy.
Sesame Crusted Satay Tofu

Sesame Crusted Satay Tofu 😋 Did you know we also have a new cookbook? ONE POT VEGAN is out now 👉 sovegan.co/opva

Posted by So Vegan on Sunday, 4 October 2020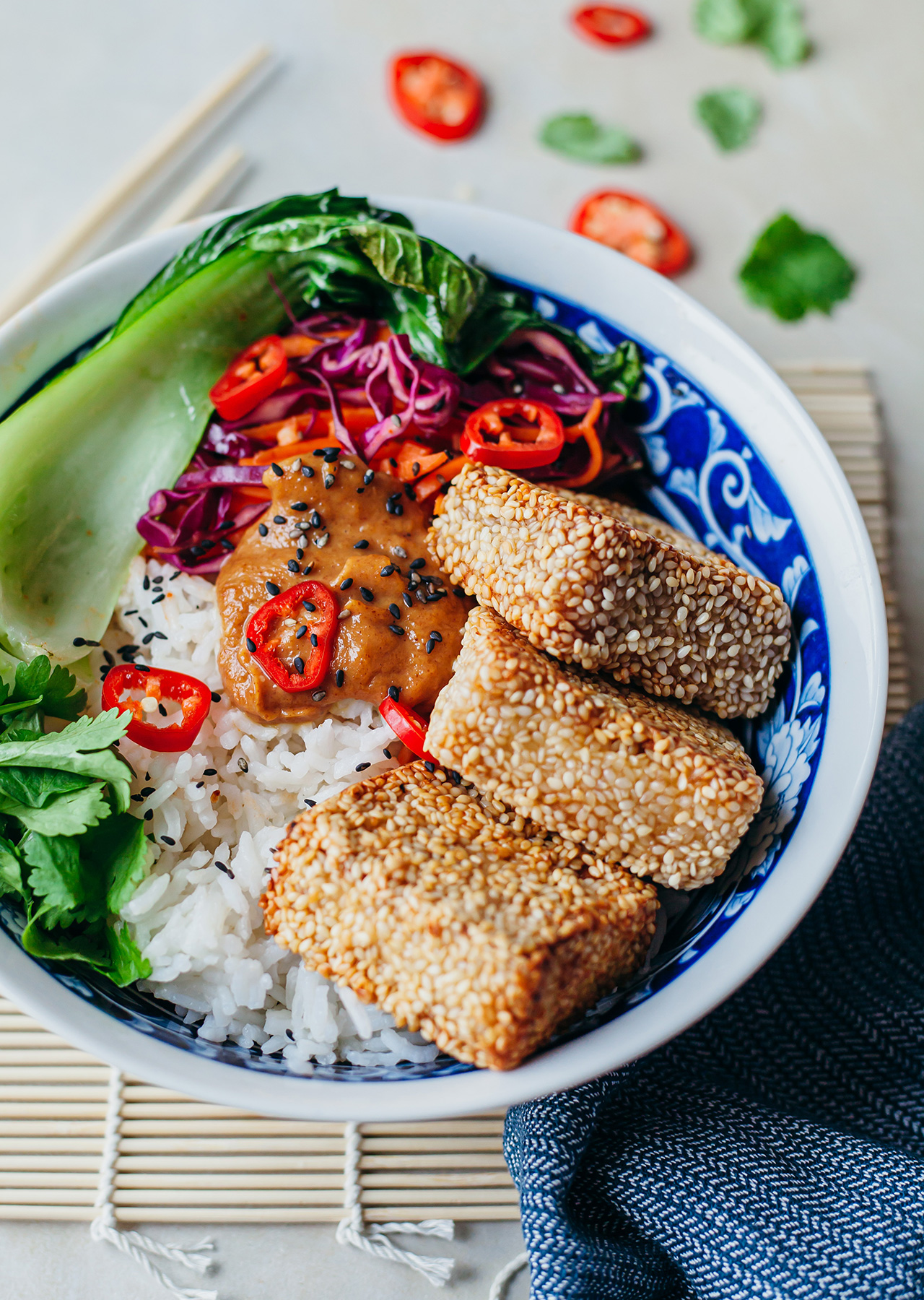 Sesame Crusted Satay Tofu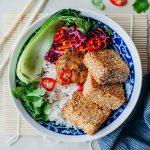 Ben, So Vegan
This is the ultimate tofu recipe. Spongey marinated tofu encased in a crunchy sesame crust. They're like crispy golden nuggets, served with a homemade spicy slaw, jasmine rice and our favourite extras.
Print This
Ingredients
1 block of firm tofu (see notes)
1/4 cup cornflour
1/2 cup plant-based milk
1/3 cup sesame seeds
vegetable oil
2 small portions of jasmine rice
1 head of pak choi
1 red chilli
handful of fresh coriander
For the marinade:
1 tbsp smooth peanut butter
3 tbsp soy sauce or tamari
1 tbsp rice vinegar
1 tbsp maple syrup
For the spicy slaw:
80g carrot
80g purple cabbage
1/2 thumb of fresh ginger (15g / 0.5oz)
2 tbsp sriracha
1/2 tbsp maple syrup
1.5 tbsp rice vinegar
pinch of salt
Satay sauce:
2.5 tbsp peanut butter
1 tsp soy sauce or tamari
1 tsp maple syrup
Instructions
If you're freezing the tofu, first remove it from its packaging and discard any water. Add the block to a Tupperware box, close with a lid and freeze overnight. The next morning, remove the tofu from the box and place it on a cooling rack over a tray or a plate to defrost for 5 hours. Alternatively defrost the tofu in a microwave to speed up this process.
When the tofu is ready, use your hands to squeeze out any remaining water over a sink, then slice it into 8 squares or rectangles and transfer it to a small dish. Combine the marinade ingredients in a small bowl, then pour it over the tofu making sure all the pieces are covered. Cover the dish and leave to marinade in the fridge for a minimum of 2 hours but ideally overnight.
When you're ready to start preparing the dish, start by slicing the carrot and purple cabbage, then peel and dice the ginger. Transfer them to a large bowl and add the remaining slaw ingredients. Give everything a mix, then leave the slaw to one side.
Next cook the jasmine rice as per the packet instructions, then keep it covered and leave to one side. Next break up the head of pak choi into its separate leaves, rinse them and leave them to one side.
Add the cornflour, plant-based milk and sesame seeds to three separate shallow bowls. Coat the marinated tofu first in the cornflour, then in the plant-based milk and finally in the sesame seeds. Note: don't throw away the marinade because you'll need it for the satay sauce.
Add a generous amount of vegetable oil to a pan over a medium heat (2-3mm deep). Test it's hot enough by dropping a seed into the oil. If the seed sizzles as soon as it hits the oil, then you're good to go. Cooking it batches of 4, shallow fry the tofu for 2-3 minutes on each side or until the sesame seeds begin to turn golden brown, then transfer to a plate lined with kitchen paper to soak up any excess oil.
Next, carefully remove the oil from the pan, wipe it clean and return it to a medium-high heat. Add a small drizzle of vegetable oil, then fry the pak choi leaves for 2 minutes.
Meanwhile, pour the leftover marinade into a small bowl (pick out any small pieces of tofu that might have broken off) and add the remaining satay sauce ingredients, followed by 1 tbsp of water. Stir to combine. The sauce should be runny but not watery. If necessary, add more peanut butter or water until it reaches the desired consistency.
When you're ready to start building the bowls, first add the cooked rice, followed by the spicy slaw, sesame crusted tofu, pak choi and fresh coriander leaves, then pour the satay sauce into the middle. Slice the red chilli and sprinkle over the top of the bowls, followed by some sesame seeds. All done!