Chickpeas. We're obsessed with them.
Since turning vegan, we've devoured tons of these magical beans (or 'legumes', if we're being technical).
They tick a lot of boxes.
They're rich in protein, improve digestion and they're incredibly versatile.
You'll see us throwing them into salads, blending them into dips, or – more often than not – simmering them in fragrant curries just like this one.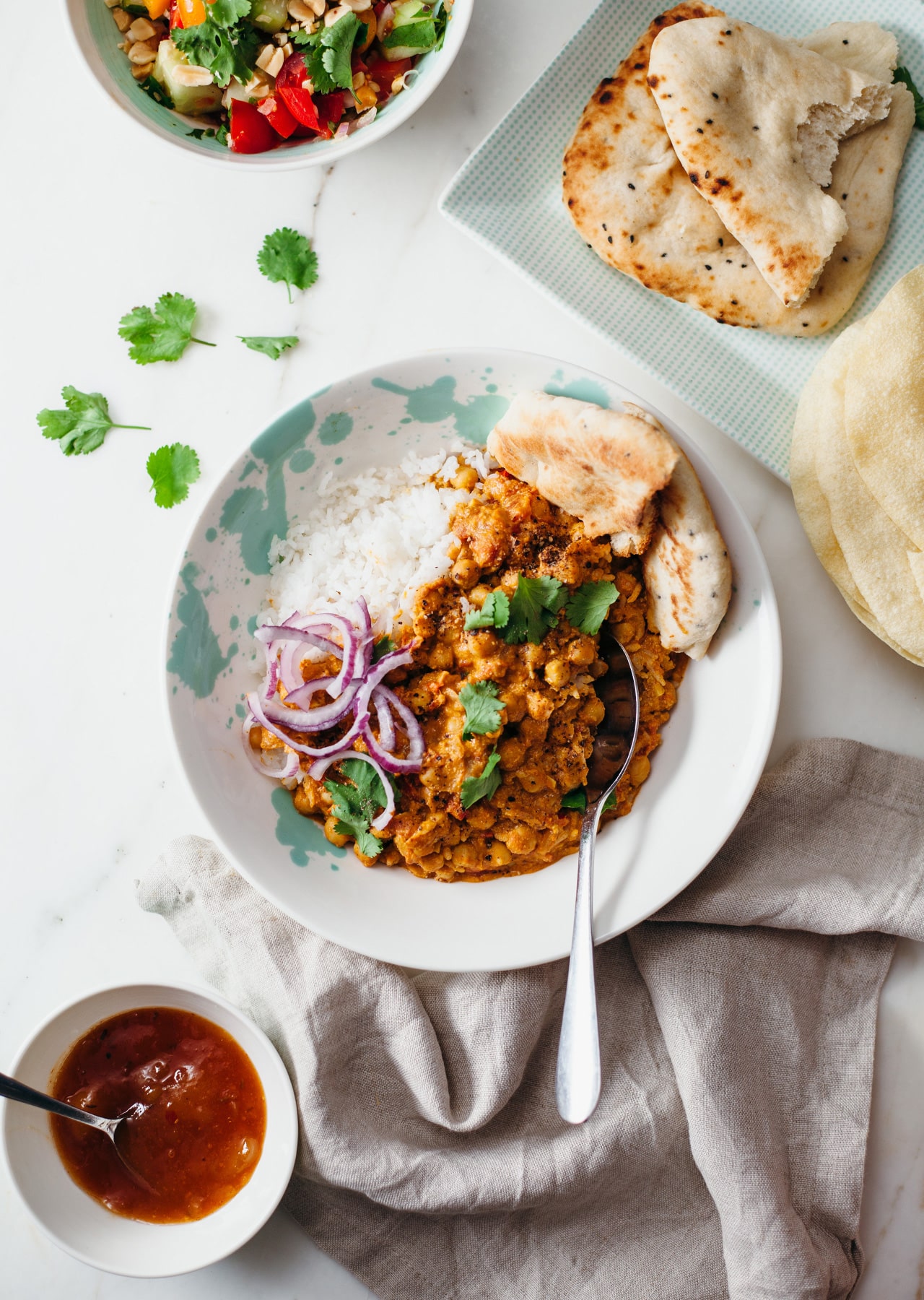 We're also pretty stoked to say that we've teamed up with our friends at Royal Doulton to create this recipe in time for Veganuary.
Starting as a small pottery company in 1815 on the banks of the River Thames, London, Royal Doulton still to this day embrace the urban life and culture of the city.
They make absolutely gorgeous tableware and their new range – Pacific Mint – takes its inspiration from the sea.
The new range is available in January 2020. Find out more here.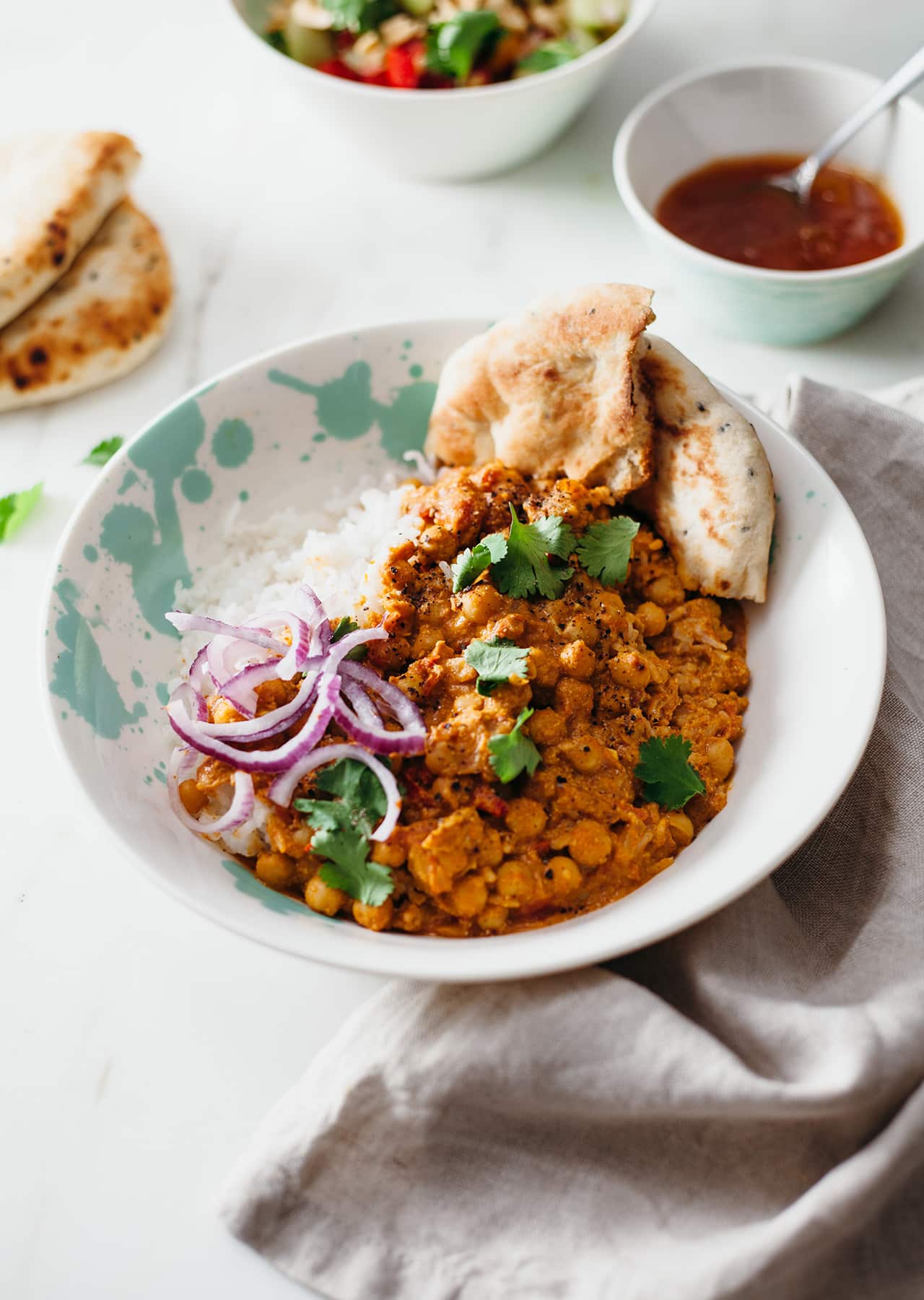 You'll know by now that we're allll about making things easy.
Instead of using a long list of spices, we stick to curry powder and garam masala.
They pair perfectly to give this chickpea curry a wonderful warmth.
You can easily dial the heat up or down using either mild, medium or hot curry powder.
We also serve this with a refreshing salad and some choice toppings.
Enjoy!
Roxy & Ben
This recipe is supported by Royal Doulton
Things to note:
This recipe is perfect for meal prep. Make a big batch ahead of time and keep in the fridge for 3 – 4 days or in the freezer.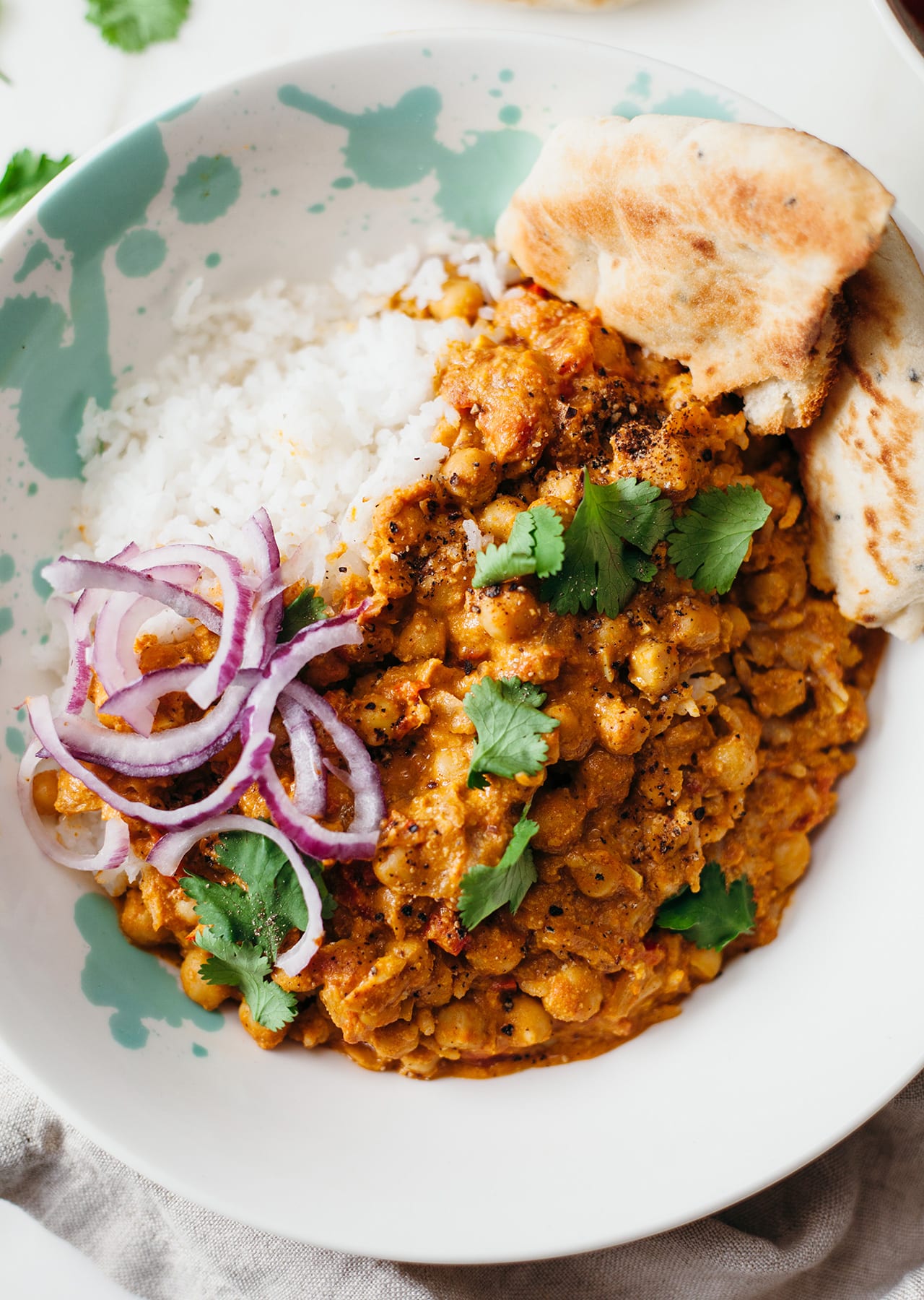 Ingredients
1 tbsp coconut oil

1 onion

4 garlic cloves

thumb of fresh ginger

1 fresh red chilli

1 tbsp medium curry powder

1 tbsp garam masala

2 x 400g / 14oz tins chickpeas

1 x 400g / 14oz tin plum tomatoes

1 x 400g / 14oz tin coconut milk

5 tbsp ground almonds

1 tsp maple syrup

1 lime 

large handful of fresh coriander

salt & pepper
For the salad:
1/2 cucumber

1 red onion

100g / 3.5oz tomatoes 

1 green chilli

olive oil 
To serve in Royal Doulton Pacific Mint Bowls:
2 vegan naans

basmati rice for 4 people

poppadoms

mango chutney
Method
Add the coconut oil to a saucepan on a medium heat. While the oil heats up, peel and slice the onion then add it to the pan and fry for 8 minutes.

Meanwhile peel and dice the garlic and ginger, and finely slice the chilli (keeping the seeds in if you like it hot). Then add the garlic, ginger, chilli, curry powder and garam masala to the pan, and fry for 2 minutes.

Drain and rinse the chickpeas, then add them to the pan along with the tin of plum tomatoes, coconut milk, ground almonds, and generous pinches of salt and pepper. Give everything a good stir and bring the curry to the boil, then reduce the heat and simmer for 30 minutes, stirring occasionally. 

Meanwhile cook the rice as per packet instructions.

Next, to prepare the salad, peel and dice the cucumber and red onion, then dice the tomatoes, a small handful of coriander and slice the chilli. Add everything to a mixing bowl, along with the juice of 1/2 the lime, a drizzle of olive oil, and pinches of salt and pepper.

Squeeze the juice of the remaining lime half into the curry and add the maple syrup. Stir, then taste and season to perfection with salt and pepper.

Serve the curry in Royal Doulton Pacific Mint Bowls with the rice, salad, naans, poppadoms and mango chutney.

Finish with a sprinkling of coriander leaves.
Did You Make This Recipe?
Don't forget to share your SO VEGAN creations on Instagram and tag us at
@SOVEGAN
!