This isn't any ordinary 'fish' sandwich.
Firstly, it's vegan. Obviously.
Secondly, it's a double-decker whopper.
Say hello to our Filet-Faux Fish.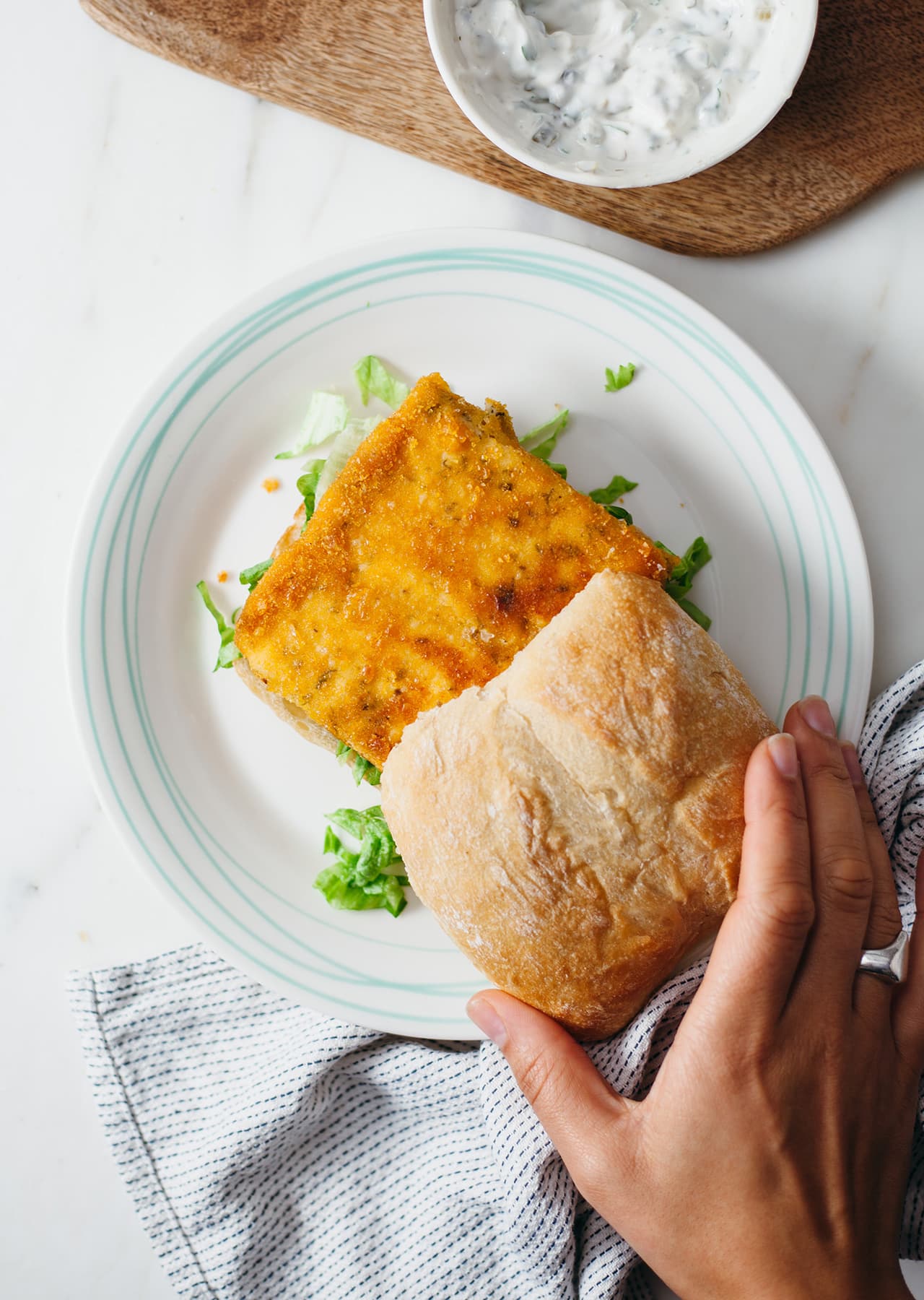 When our friends at Royal Doulton asked us to develop a recipe for their new 'Pacific Mint' collection, which takes its inspiration from the seas, we had one thing in mind.
Sandwiches and burgers are always fun to develop.
We marinate tofu in caper brine, lemon juice and punchy ingredients to give the 'tofish' its robust flavour.
But what makes all the difference is nori aka seaweed. You'll find this in most supermarkets.
It gives our Filet-Faux-Fish it's distinctive flavour of the sea.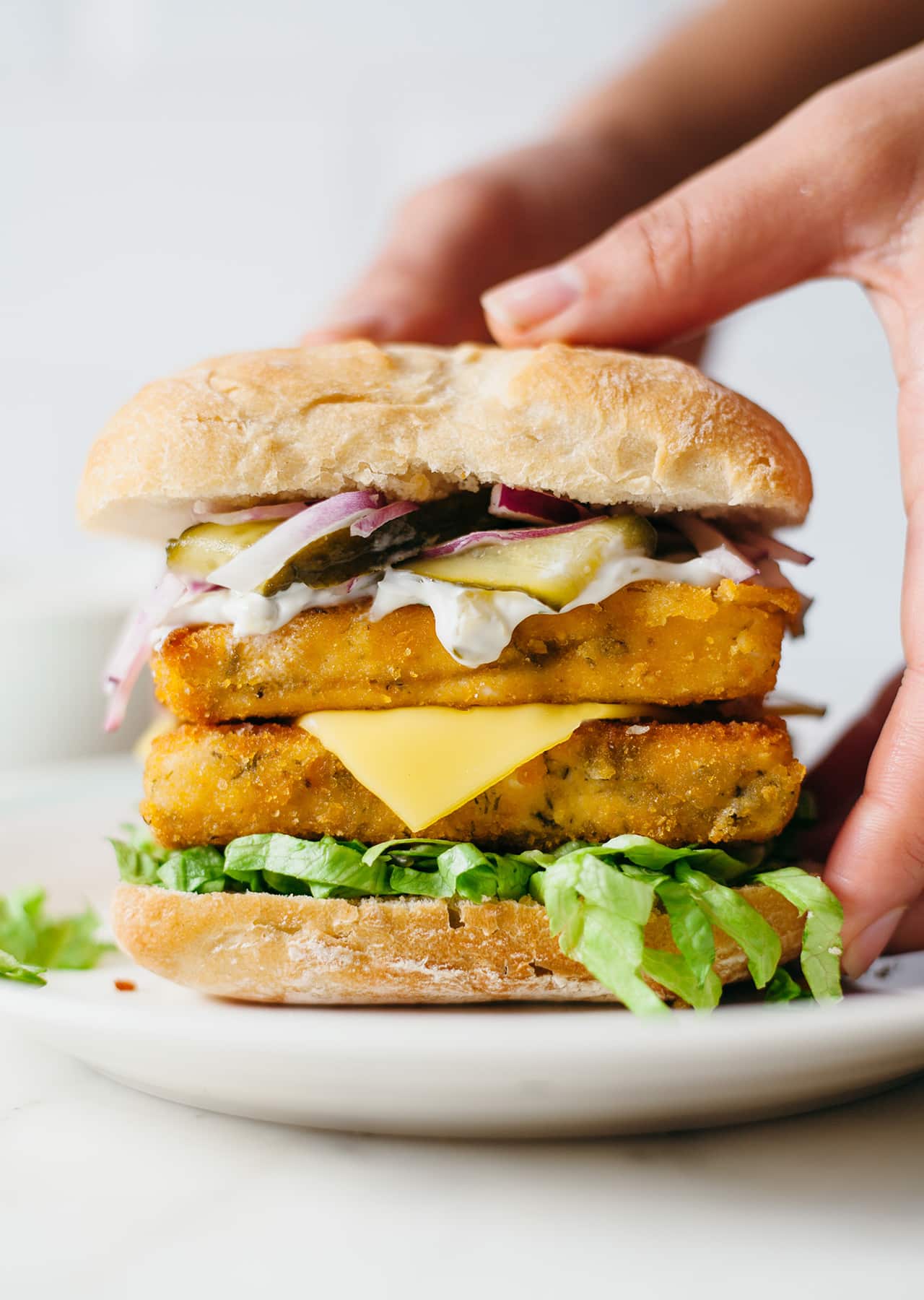 In case you guys missed it, we've teamed up with the guys at Royal Doulton for Veganuary to develop a couple of delicious plant-powered recipes.
First up was our Easy Chickpea Curry, which we've already seen loads of you recreate at home.
And this delicious sandwich inspired by the sea is our latest creation.
Starting as a small pottery company in 1815 on the banks of the River Thames, London, Royal Doulton still to this day embrace the urban life and culture of the city.
They make stunning tableware and their new range – Pacific Mint – takes its inspiration from the sea.
Find out more about the new range here.
Things you need to know:
Opt for soy free milk and vegan mayonnaise if you need to make this soy free.
Filet-Faux-Fish

Filet-Faux-Fish…yes please! If you know anyone taking part in Veganuary this year, tag them in the comments below ✌️

Posted by So Vegan on Saturday, 18 January 2020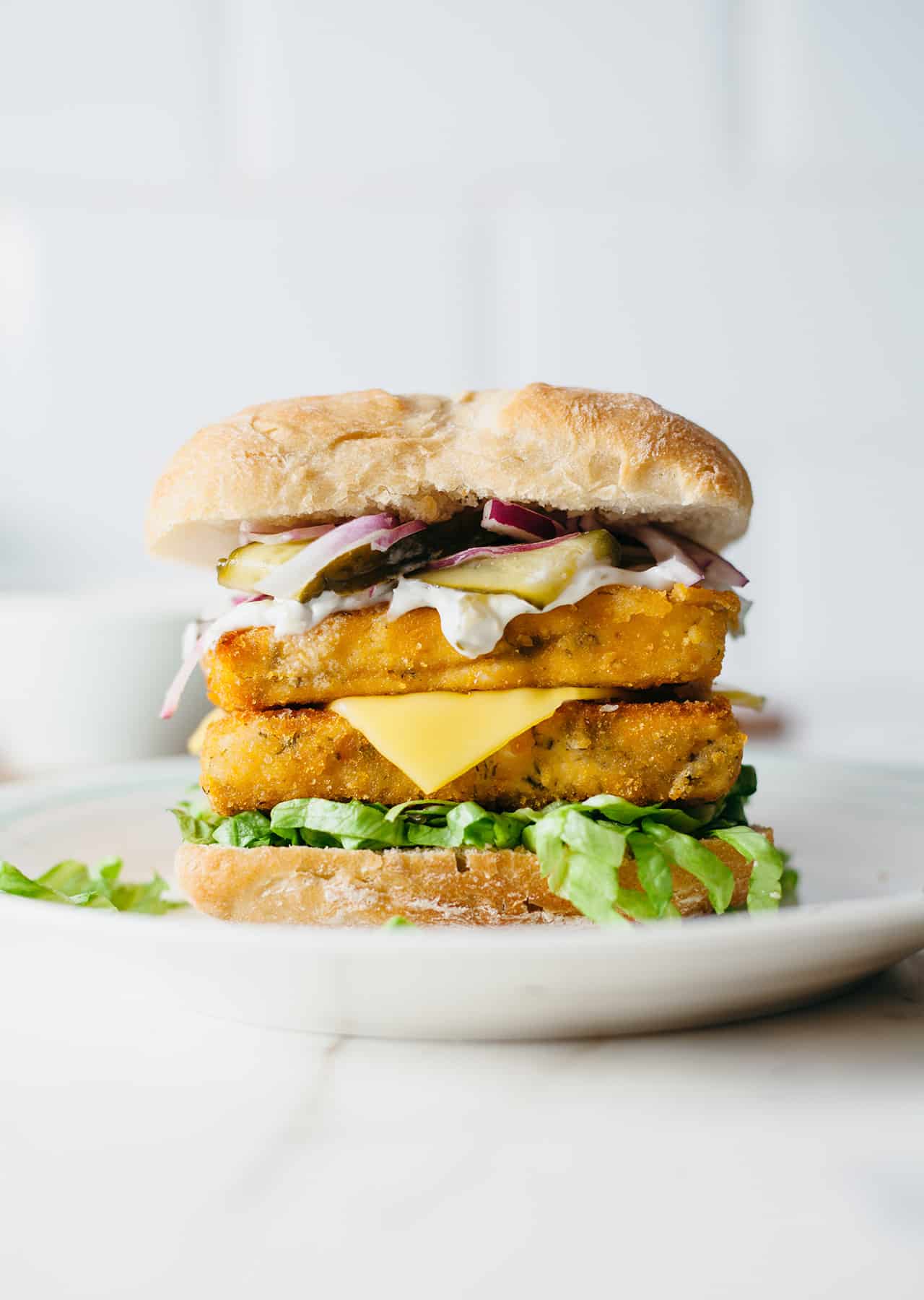 Ingredients
200g / 7oz extra-firm tofu
1 large sheet of nori
2 tbsp plain flour
80ml / 2.7 fl.oz plant-based milk
60g / 2.1oz vegan-friendly cornflakes
For the marinade:
2 tbsp caper brine
1 tbsp apple cider vinegar
1 lemon
1 tbsp dried dill
salt + pepper
For the tartare sauce:
1 tsp capers
1/2 gherkin
small handful of fresh parsley
2 tbsp vegan mayonnaise
To serve on Royal Doulton Pacific Mint Plates:
vegan cheese slice
ciabatta bun
iceberg lettuce
gherkins
red onion
Method
Drain the tofu, slice it into two filets and add them to a dish (see note on pressing tofu below). Add the caper brine, apple cider vinegar, juice of the lemon, dried dill, pinches of salt and pepper, and 1 tbsp vegetable oil to the dish, and toss everything through with your hands, making sure the tofu is well covered. Cover the dish and leave to marinade in the fridge for as long as possibly, but ideally at least 2 hours, turning halfway through. 

Add the plain flour to a small plate along with pinches of salt and pepper, then add the plant-based milk to a separate plate. Next, put the cornflakes in a tea towel and hold the ends closed, then bash the cornflakes with a rolling pin until fine and transfer to another separate bowl.

Once the tofu has finished marinating, use a pair of scissors to cut the nori

into 2 squares the same size as the largest side of the tofu.

Then line one side of each slice of tofu with a square piece of nori. Dip the nori side of the tofu into the marinade to coat it in liquid, then coat the entire piece of tofu in the flour mixture, next dip it in the plant-based milk and finally coat it with the crushed cornflakes. Repeat this step for the other slice of tofu.

Add a generous glug of vegetable oil to a frying pan on a medium heat. Once the oil is hot, fry the filets for 5-7 minutes until golden brown, turning halfway. Then transfer the filets to some kitchen towel and sprinkle with salt to make them extra crispy.

For the tartare sauce, roughly chop the capers and parsley, and finely dice the gherkin. Add everything to a small mixing bowl along with the vegan mayonnaise. Stir to combine, then set to one side.

Finley chop the iceberg lettuce, gherkins and red onion. To build the Filet-Faux-Fish, slice the ciabatta in half then add some chopped iceberg lettuce to the bottom half, followed by one of the filets, a slice of vegan cheese and then the second filet. Next spoon a generous helping of tartar sauce over the top filet and add slices of gherkin and red onion. And there you have it!
Notes
We use extra firm tofu that doesn't need pressing. But if you can't find extra firm tofu, we recommend pressing it on a plate between kitchen paper and covering with some books or a heavy pot. Then leave it press for 20-30 minutes.
Did You Make This Recipe?
Don't forget to share your SO VEGAN creations on Instagram and tag us at
@SOVEGAN
!