You can add other veggies, too. We've tested this with grated carrot and cauliflower, and it works really well. If you're going to add more grated veggies, simply reduce the amount of potato or add a little extra flour.
Switch plain flour for chickpea flour if you want a gluten-free version.
You can also leave out the melted vegan margarine if you want something slightly healthier. If the mixture is too dry, simply add a splash of water to help bind all the ingredients.
We usually save the potato skins and roast them in salt and vegetable oil until crispy to make a simple snack.
Make sure you choose soy-free cheese and mayonnaise to make this recipe soy-free.
Make these ahead of time and store them on baking paper in an air-tight container either in the fridge or in the freezer and cook them when you need.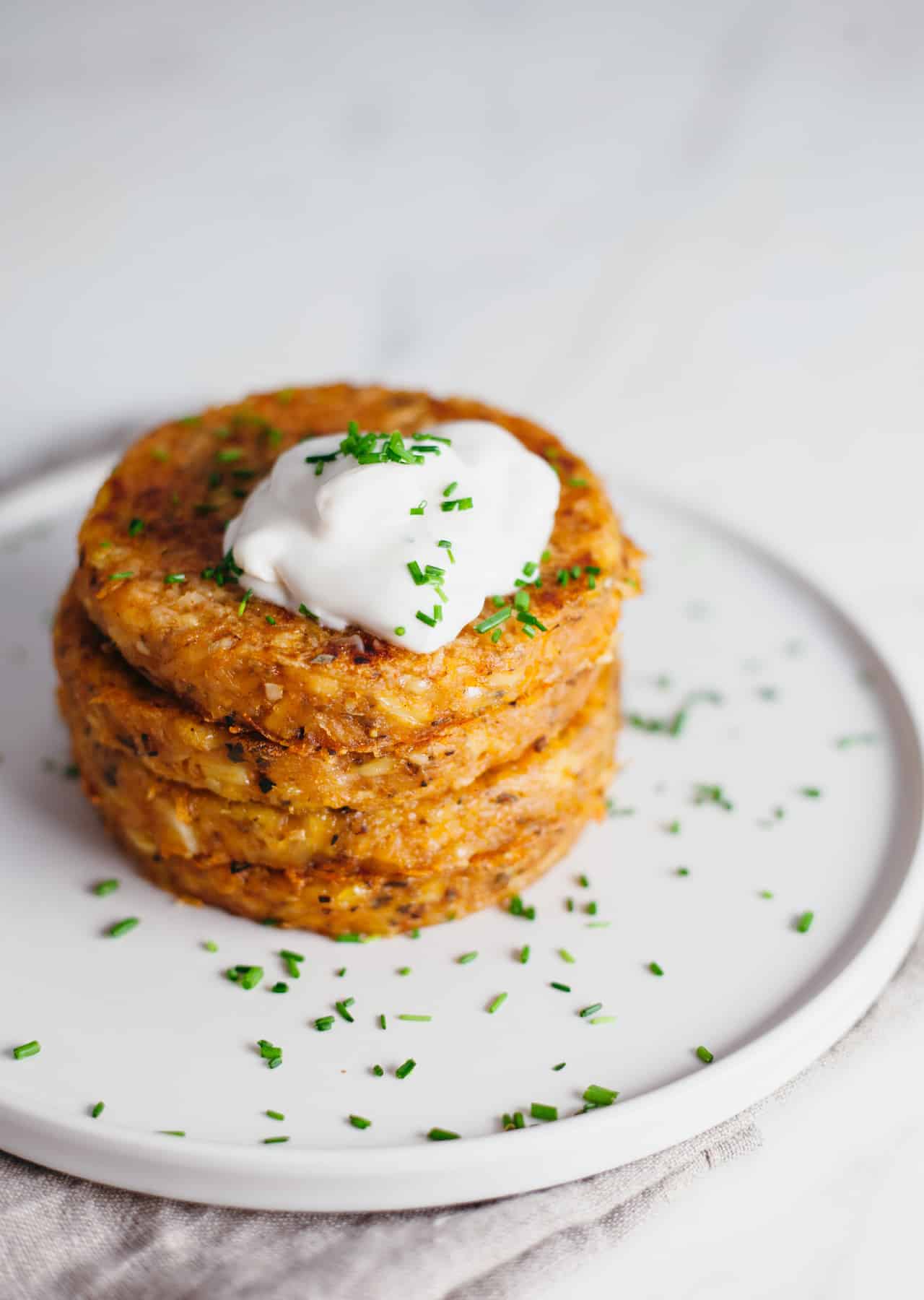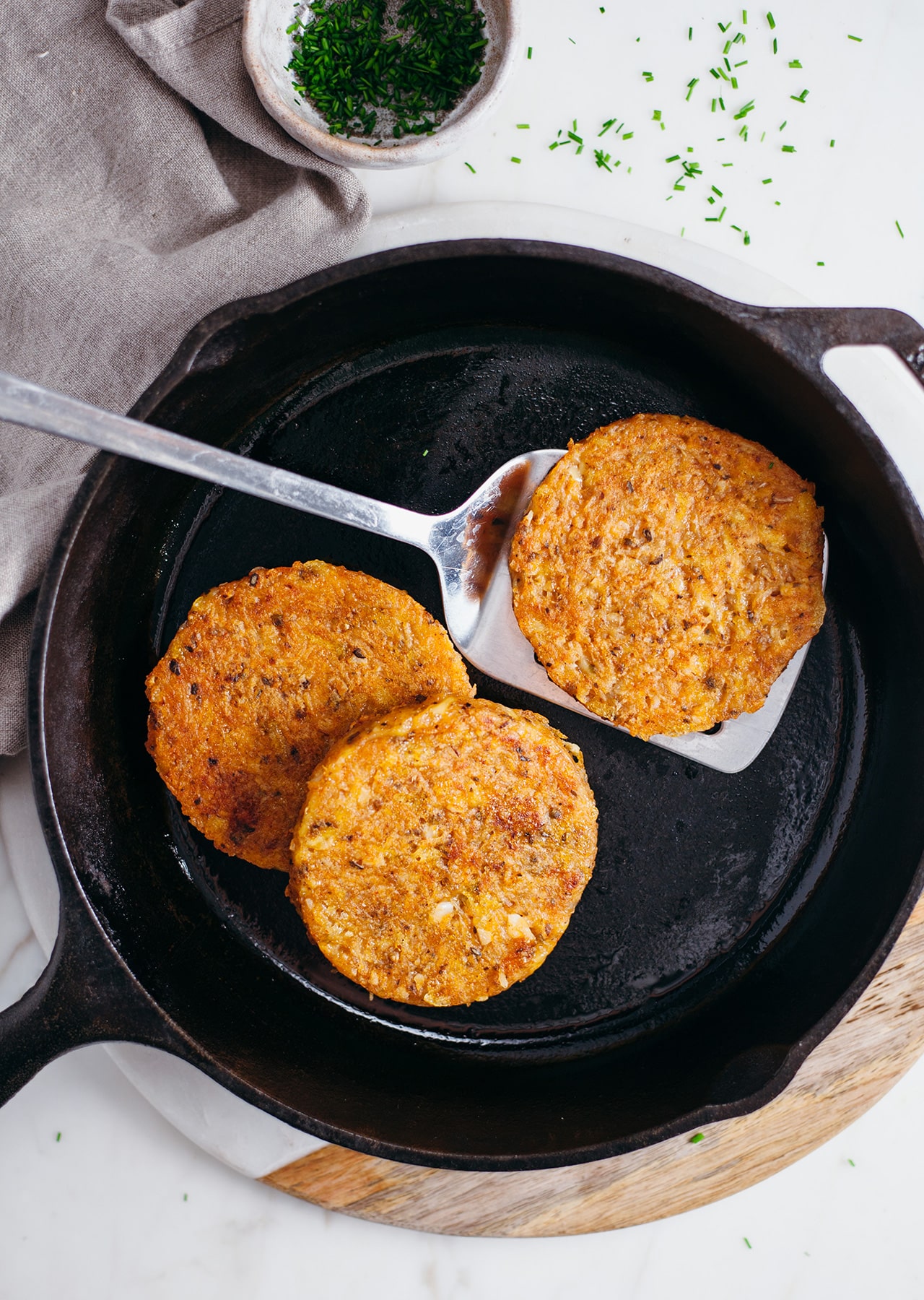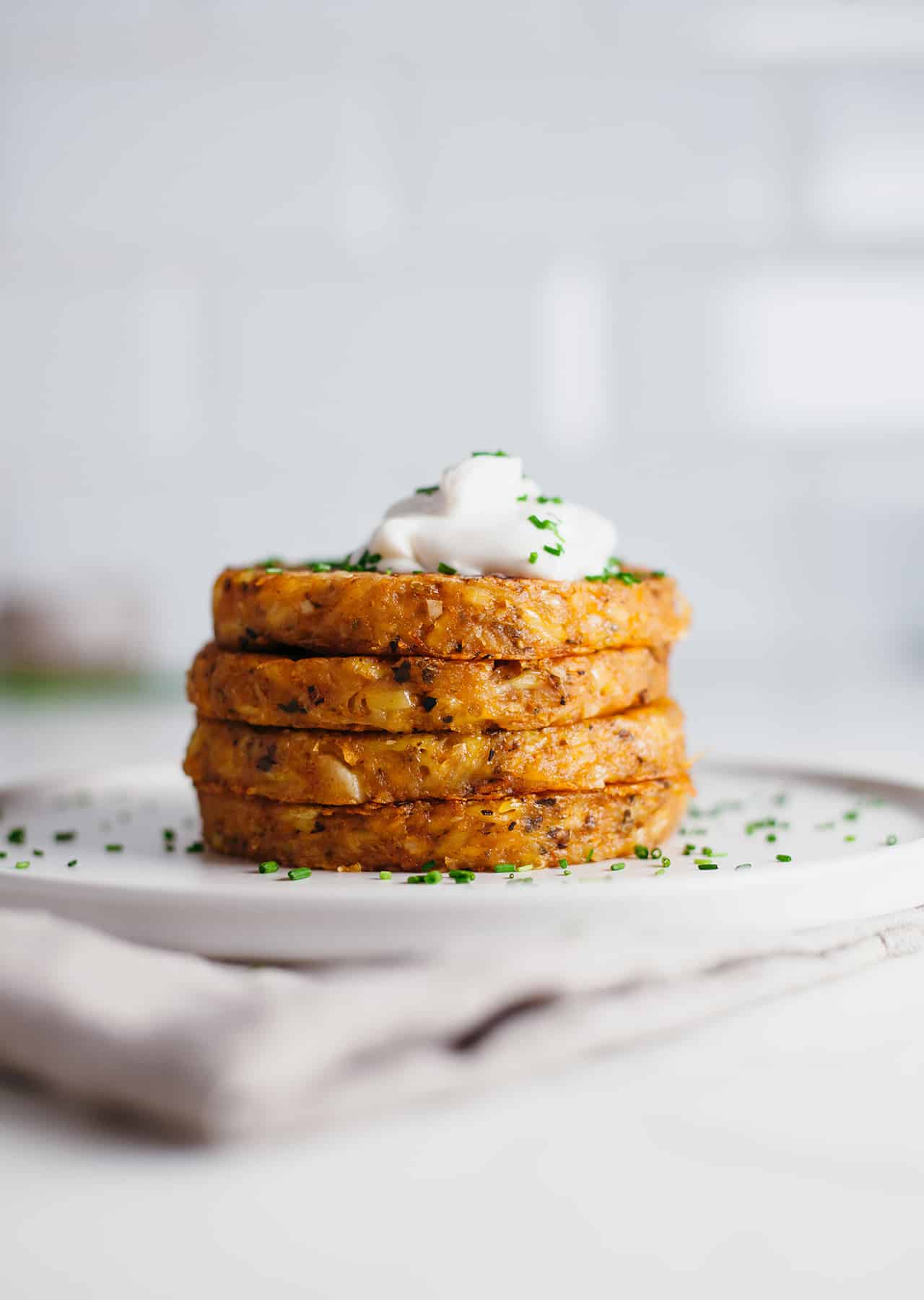 Ingredients
650g / 23oz potatoes
4 garlic cloves
50g / 1.8oz grated vegan cheese
1.5 tbsp dried oregano
1/4 tsp chilli powder
1/2 tbsp paprika
1/2 tsp salt
pinch of pepper
2 tbsp vegan margarine or butter
4 tbsp plain flour
oil for frying
To serve (optional):
vegan mayonnaise
fresh chives
You will also need baking paper and a circle cutter approximately 9cm (3.5") in diameter.
Method
Prepare 4 square pieces of baking paper approximately 15cm x 15cm (6" x 6") in size.
Peel the potatoes (we usually save the skins and roast them in salt and vegetable oil until crispy to make a simple snack). Coarsely grate the potato then transfer to a large mixing bowl. Cover with cold water and use your hands to rinse the shredded potato to remove the starch. Drain and repeat a few times until the water runs clear, then use your hands to squeeze as much moisture out of the shredded potato as possible, leaving the potato in the mixing bowl.
Peel and dice the garlic cloves, then add to the mixing bowl along with the vegan cheese, oregano, chilli powder, paprika, salt and pepper.
Melt the vegan margarine in a small saucepan over a low heat, then transfer to the mixing bowl along with the plain flour.
Use your hands to combine all the ingredients together, then divide the mixture into four. Pick up one quarter of the mixture and transfer to one of the square pieces of baking paper. Then, if you have one, use a circle cutter approximately 9cm (3.5") in diameter to mould the mixture into a patty. Alternatively just use your hands. Repeat until you've created four hash browns.
Heat a little oil in a frying pan over a medium heat. Then cook the hash browns with a lid on for 8-12 minutes on each side, or until the potato is cooked and crispy. Make sure you don't overcrowd the pan. Cook the hash browns in batches if necessary.
Serve with vegan mayonnaise and chopped fresh chives. Best eaten immediately!
Did You Make This Recipe?
Don't forget to share your SO VEGAN creations on Instagram and tag us at
@SOVEGAN
!