We'll find any excuse to develop a new meal-prep recipe and our latest obsession is oatmeal.
It's such a satisfying way to start the day and it'll last for at least 4-5 days in the fridge.
And this apple pie oatmeal bake ticks all the right boxes.
It's reassuringly filling, it's nutritious and it has a lovely 'spiced' apple pie flavour.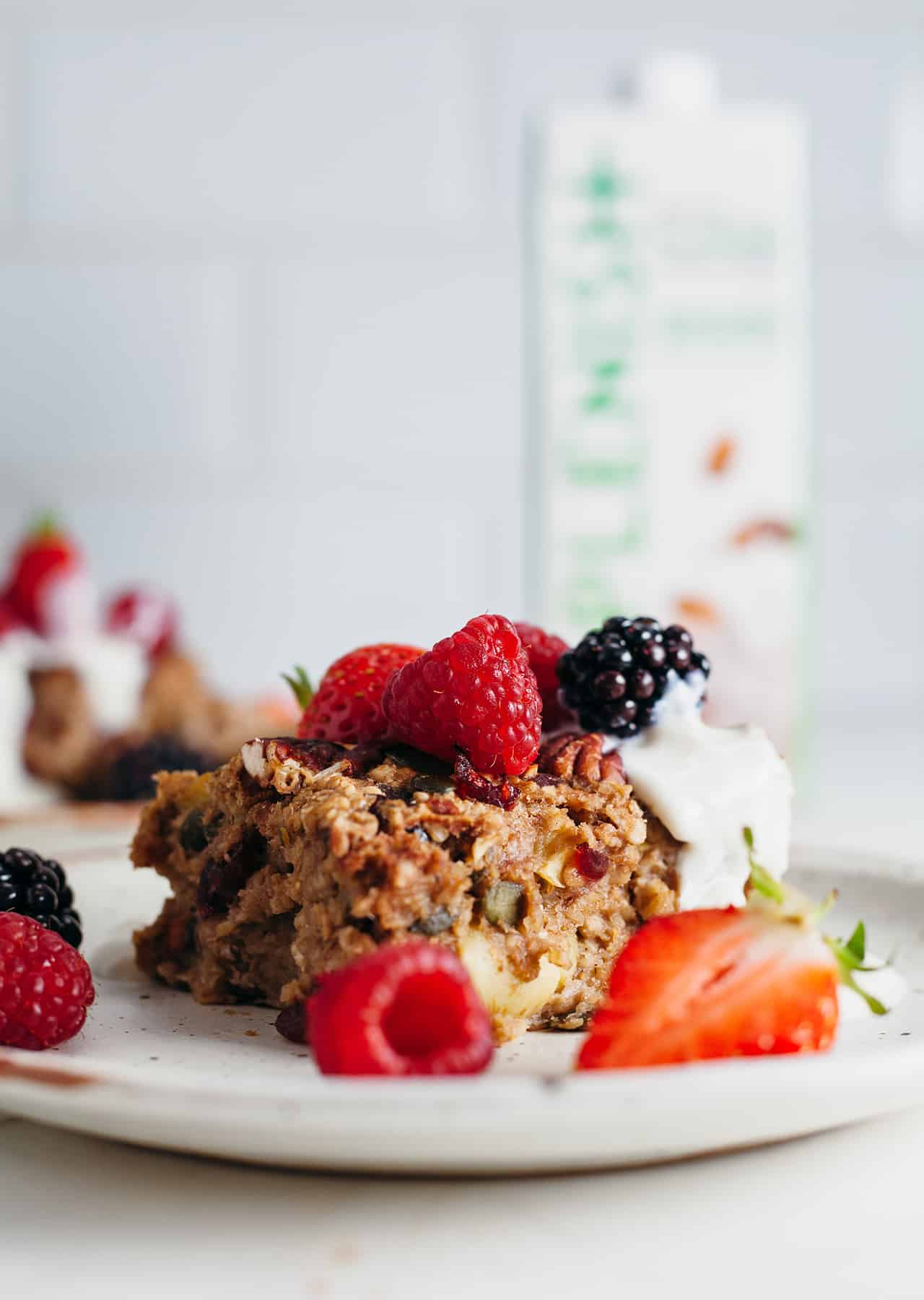 We've also teamed up with our friends at Plenish to use their delicious almond milk, which contains 95% less sugar than dairy.
Better yet, their almond milk even produces 70% fewer carbon emissions than dairy. Win.
We're big advocates of encouraging people to make simple swaps, and switching from dairy to a plant-based milk can have a big impact on the planet.
For the average person, making that switch for 1 year would save 145kg of CO2 emissions – the equivalent of taking a car off the road for 17 days!
Enjoy,
Roxy & Ben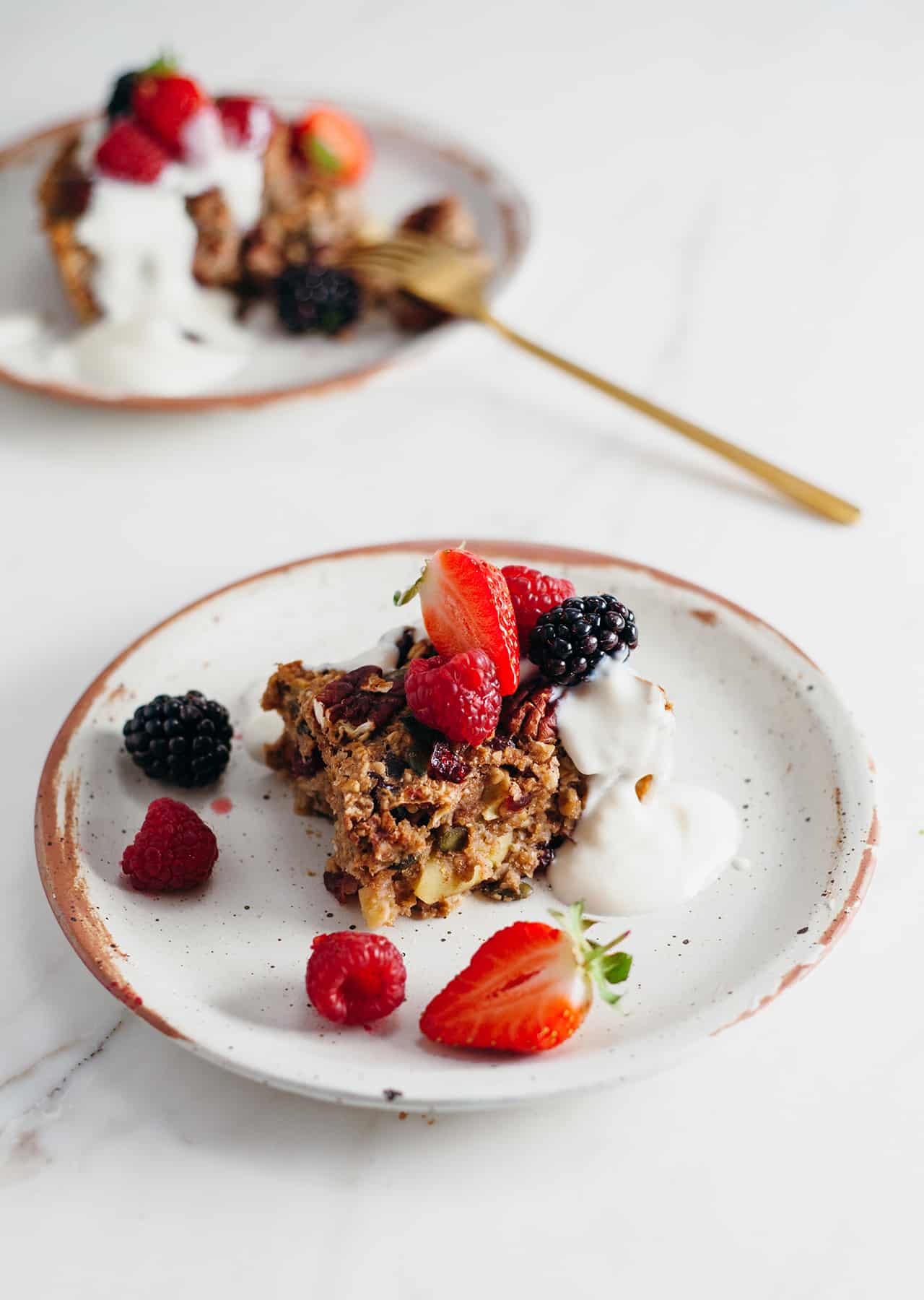 Ingredients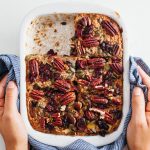 2 bananas

4 tbsp maple syrup

350ml / 12.3oz Plenish Almond milk

1 tbsp coconut oil, plus extra for greasing

200g / 7oz rolled oats

1 tsp cinnamon

1 tsp ground ginger

1/2 tsp ground nutmeg

1/2 tsp baking powder

50g / 1.8oz pumpkin seeds, plus extra for decoration

50g / 1.8oz pecan nuts, plus extra for decoration

50g / 1.8oz dried cranberries, plus extra for decoration

pinch of salt

1 apple
To serve (optional)
vegan yoghurt

fresh berries 
Method
Preheat the oven to 180°C / 356°F fan-assisted and grease an 8-inch oven dish with coconut oil.

Peel the bananas and add them to a large mixing bowl. Mash with a fork until smooth and runny. Then add the maple syrup and almond milk to the mixing bowl. 

Add the coconut oil to a small saucepan and heat on a low heat for a few minutes until melted, then add to the mixing bowl and stir the wet ingredients until combined.

Add the oats, cinnamon, ginger, nutmeg, baking powder, pumpkin seeds, pecan nuts, dried cranberries and a pinch of salt to the mixing bowl. 

Remove and discard the core of the apple, then dice it and add the apple slices to the mixing bowl. Stir until the ingredients are all fully combined.

Transfer the oatmeal mixture to the greased baking dish and smooth out the top with a spatula. 

Top with extra pumpkin seeds, dried cranberries and pecans - pushing them into the mixture slightly - then bake for 30 -35 minutes or until the edges have started to go golden brown and the oatmeal has set.

Remove the oatmeal bake from the oven and leave to cool for 10-20 minutes, then slice into squares. 

Once fully cooled, store the oatmeal squares in an airtight container in the fridge for 4-5 days.

We love to serve our oatmeal squares with a dollop of yoghurt and fresh berries.
Did You Make This Recipe?
Don't forget to share your SO VEGAN creations on Instagram and tag us at
@SOVEGAN
!