Matcha is finely ground tea powder and it gives our muffins their lovely vibrant green colour, as well as a wonderfully subtle umami flavour.
Keep an eye on the muffins in the oven and make sure they don't over-bake because the tops will go from a lovely green to a browny-green quite quickly.
You can substitute the raspberries with another berry such as blueberries or blackberries.
Store these muffins in an airtight container for 3-5 days.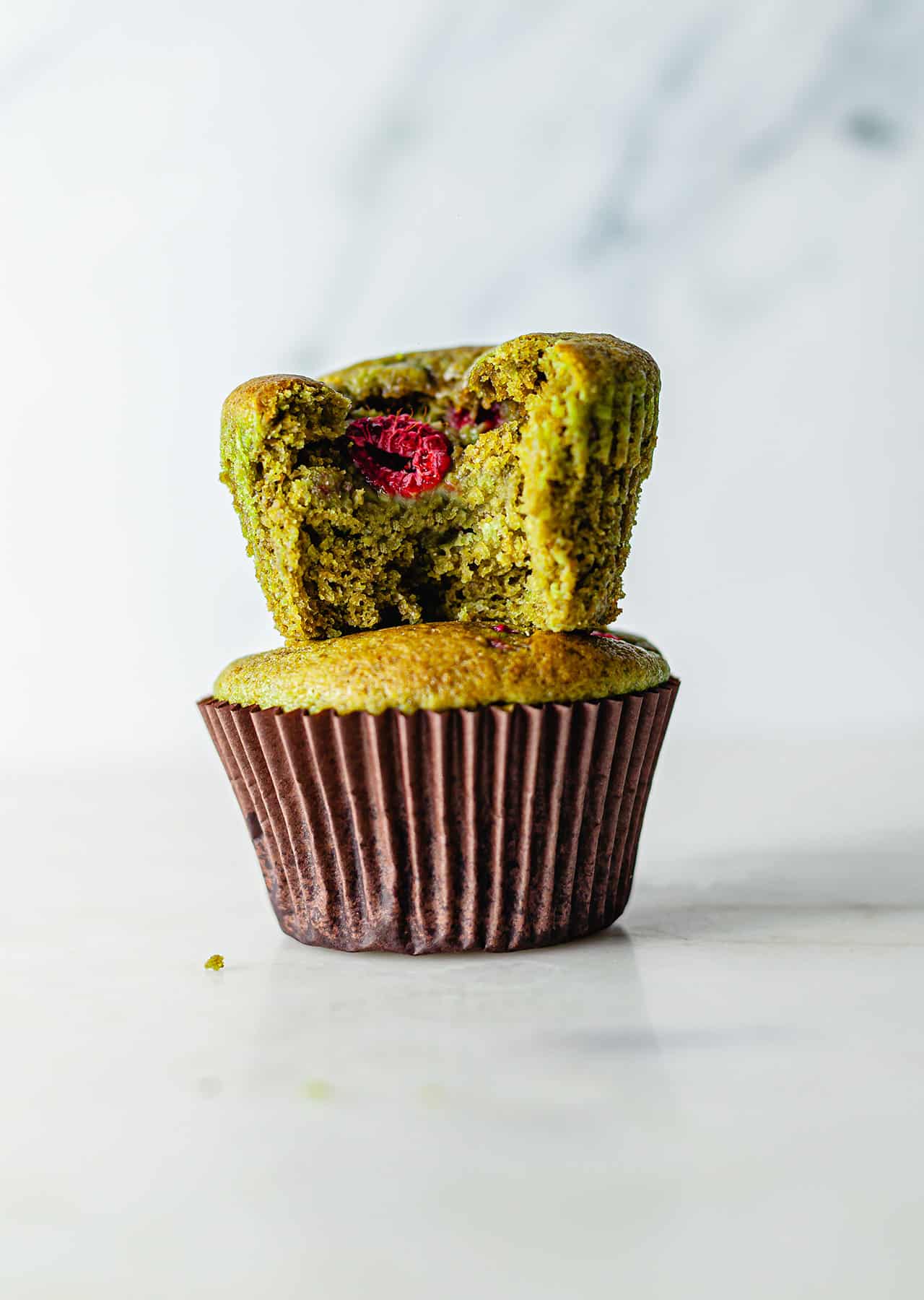 Ingredients
280 g (9.9 oz) plain flour
2 tsp baking powder
1 tsp bicarbonate of soda (baking soda in the US)
salt
1.5 tbsp matcha powder
180 g (6.3 oz) golden caster sugar
180 ml (6.1 fl.oz) plant-based milk
1 tsp vanilla extract
2 tbsp lemon juice
1 tbsp apple cider vinegar
4 tbsp coconut oil, melted, plus extra for greasing
1 cup raspberries
Method
Preheat the oven to 180ºC fan / 400ºF and place 12 paper (or silicone) muffin cups in a 12 hole muffin tray. 

In a large bowl combine the flour, baking powder, bicarbonate of soda powder, a pinch of salt, and matcha powder.

In another separate bowl, mix the sugar, plant-based milk, vanilla extract, lemon juice, apple cider vinegar, and coconut oil.

Pour the wet mixture into the dry mixture and stir to combine making sure you don't over mix.

Next fold in the raspberries and divide the mixture evenly between the 12 paper muffin cases. Bake for 13 - 15 minutes or until a toothpick comes out clean. Be careful not to over bake the muffins as they will go from a vibrant green to a dull green very quickly.

Remove the muffins from the tray and leave to cool before serving.
Did You Make This Recipe?
Don't forget to share your SO VEGAN creations on Instagram and tag us at
@SOVEGAN
!