The pineapple juice really helps to give our homemade vegan fish sauce that 'tangy' flavour. Shout out to our favourite Asian vegan street food gurus Eat Chay for suggesting this. You can also use nori (aka seaweed), but to be honest you'll still miss that tangy flavour which is typical of pad thai.
'What is black salt?' you're probably thinking. Black salt is in fact called 'kala namak' and it's used in South Asian cooking. It has a strong sulphurous flavour, which gives our silken tofu its 'eggy' taste. Alternatively you can use regular salt.
We love tofu puffs. They're deep fried pieces of tofu and they're just the greatest thing ever. You'll find them in your local Asian supermarket, but simply substitute for firm tofu if you're struggling to find any.
Vegan Pad Thai

How To Make Vegan Pad Thai 🇹🇭 Order our new cookbook ONE POT VEGAN 👉 sovegan.co/opva This classic dish perfectly sums up why we absolutely adore Thai food. Pad thai is all about fresh ingredients, vibrant flavours and – when it's done right – it's unbelievably delicious. It's traditionally made using fish sauce, so it's practically impossible to recreate a truly authentic version using vegan ingredients. But that doesn't stop us trying!

Posted by So Vegan on Friday, 4 September 2020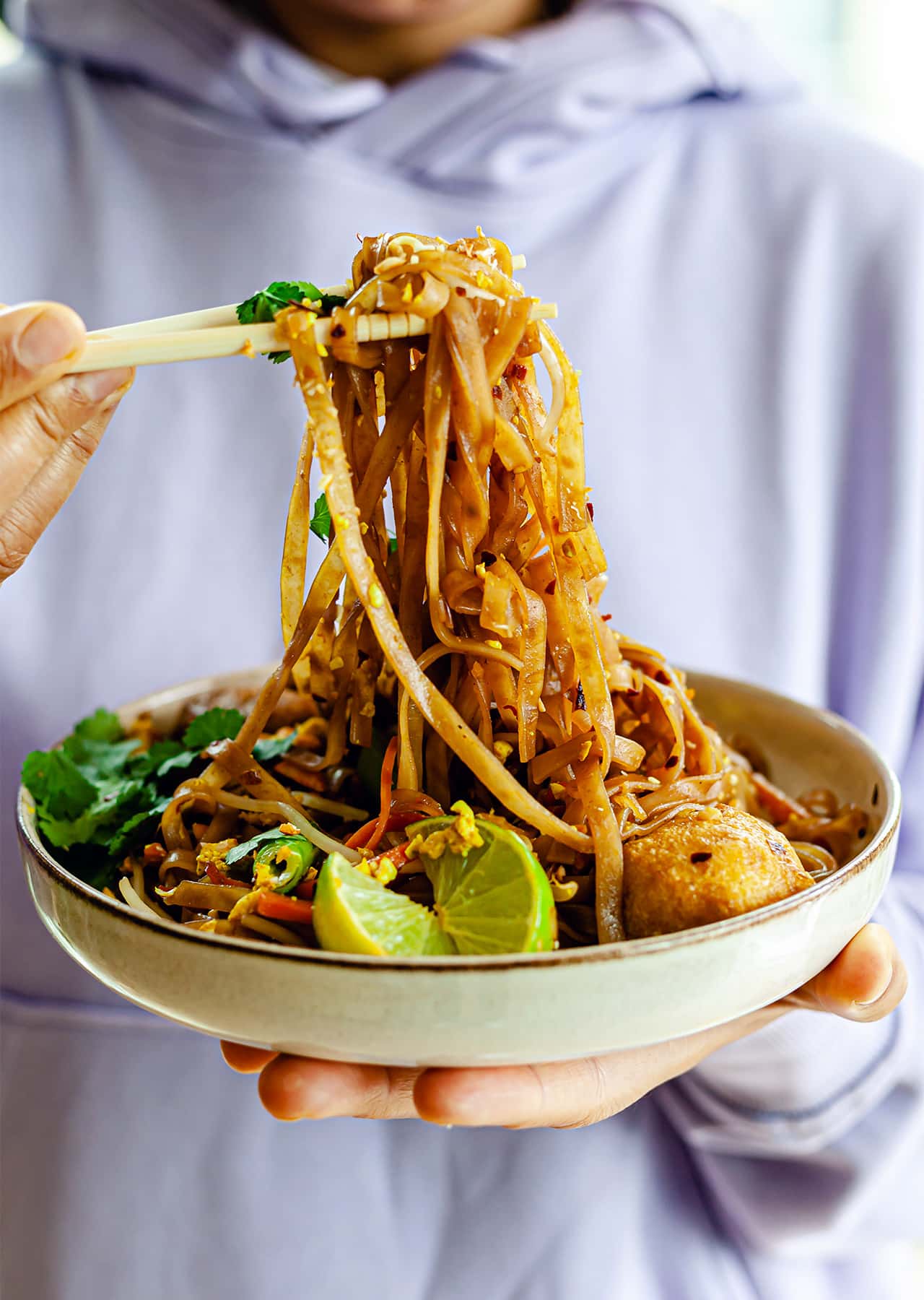 Ingredients
150g / 5.3oz dry rice noodles
vegetable oil
200g / 7oz silken tofu
1/4 tsp turmeric
1/4 tsp black salt
salt & pepper
1 shallot
3 garlic cloves
1 carrot
2 spring onions
100g / 3.5oz tofu puffs (or firm tofu, cubed)
handful beansprouts
handful peanuts, plus extra for topping
1 lime
handful of fresh coriander
For the sauce:
2 tsp tamarind paste
2 tbsp granulated sugar
3 tbsp soy sauce or tamari
3 tbsp pineapple juice
4 tbsp water
1 tsp chilli flakes
Method
Transfer the rice noodles to a large bowl and submerge them in warm water. Leave to soak for 10 minutes.
Next, add a drizzle of vegetable oil to a wok on a high heat. Once hot, add the silken tofu, breaking it between your fingers as you add it to the pan to create a scrambled egg-like consistency. Add the turmeric, black salt, and pinches of salt and pepper. Fry for 8 mins.
Meanwhile peel and dice the shallot and garlic cloves, thinly slice the carrot, roughly chop the spring onion and slice the tofu puffs into bite-sized pieces.
Once the silken tofu is ready, transfer the scramble tofu mixture to a bowl. Wipe down the wok and return to the heat.
Add another drizzle of vegetable oil to the wok and once hot add the shallot, garlic and tofu puffs, and fry for 3 minutes.
Meanwhile combine all the sauce ingredients in a mixing bowl.
Next add the carrot to the wok and fry for 1 minute.
Drain the noodles and add them to the wok along with the sauce and cook for around 5 minutes or until the noodles are soft and ready.
Stir in the vegan egg, spring onion and bean sprouts. Then roughly chop the peanuts and throw them in.
Divide the pad thai between two bowls. Slice the lime into wedges and pick the coriander leaves off their stalks, then add both to the serving bowls to decorate. We like to top with extra chopped peanuts.
Did You Make This Recipe?
Don't forget to share your SO VEGAN creations on Instagram and tag us at
@SOVEGAN
!