Filo pastry comes in various sizes. We use Jus Rol Filo Pastry, which are 270g (9.5oz) and approximately 48cm (50″) x 25cm (10″) per pack. After each sheet is sliced in half lengthways, they're the perfect size because you'll be able to fold enough times to fully encase the samosas. Jus Rol also happens to go golden and crisp up far better than other brands!
It's important you cook the spinach for long enough until almost all the moisture has escaped, otherwise the mixture will be too wet and the steam inside the samosas might cause them split slightly when they're in the oven.
These samosas are great as meal prep for when you're on the go. Just refrigerate them in an air tight container and take them with you for when you're out.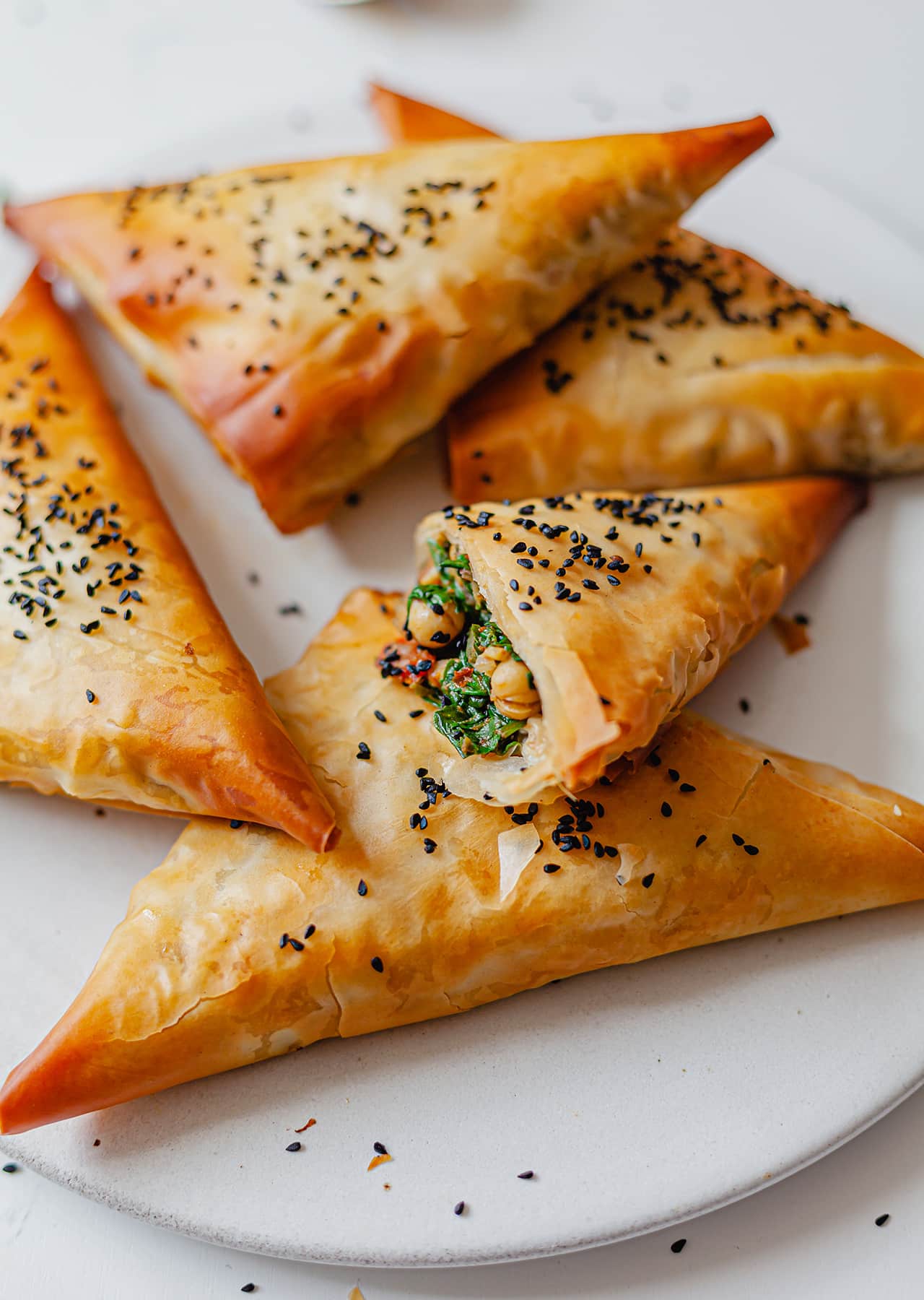 Ingredients
1 onion
coconut oil
thumb of ginger (30g / 1oz)
4 garlic cloves
1 green chilli
salt
2 tsp cumin seeds
1/2 tsp fennel seeds
2 tsp garam masala
2 medium tomatoes
1 x 400g / 14.1oz tin of chickpeas
200g / 7oz baby spinach
1/2 lemon
handful of fresh coriander (15g / 0.5oz)
1-2 packs of filo pastry sheets
nigella seeds for topping
mango chutney (optional)
Method
Peel and dice the onion. Add 1 tbsp of coconut oil to a frying pan over a medium heat. As soon as the oil has melted, add the onion and fry for 8 minutes.
Meanwhile peel and dice the garlic cloves and fresh ginger. Dice the green chilli (we like to keep the seeds in, but discard them if you prefer things less spicy). Add the garlic, ginger, green chilli, 1/2 tsp of salt, cumin seeds, fennel seeds and garam masala to the pan. Fry for 3 minutes.
Dice the tomatoes. Add them to the pan and fry for 5 minutes.
Drain and rinse the chickpeas and roughly chop the baby spinach. Add them to the pan and fry for 5 minutes or until the spinach has wilted and almost all the liquid is gone. Meanwhile pick the coriander leaves off their stalks, roughly chop them and add them to the pan with the juice from the lemon half. Stir, then remove the pan from the heat and leave to cool completely.
When you're ready to start building the samosas, first preheat the oven to 180°C / 356°F fan-assisted. Then unroll the filo pastry on a clean worktop. Slice the sheets in half lengthwise, then pull out one sheet to work with. Tip: cover the remaining pastry sheets with a tea towel to prevent them drying out. Brush your pastry sheet with coconut oil (you'll need to melt it down if the oil is solid), then place another sheet on top. Brush the second sheet with coconut oil, then spoon 3 generous tablespoons of the curry mixture into a bottom corner to create a triangle. Next fold the pastry over the curry mixture to create a triangle, then repeat this fold until you've run out of pastry and have an inch or so left. Finally, using a pair of scissors, cut a semi-circle into the remaining inch of pastry from each corner, then tuck the pastry into the samosa. Repeat until you've used up all the curry mixture and assembled 7-8 samosas.
Transfer the samosas to a baking tray. Brush them with coconut oil, then sprinkle one side with nigella seeds. Bake for 25-30 minutes or until the filo is golden brown and crispy all over. Serve with mango chutney. Yum!
Did You Make This Recipe?
Don't forget to share your SO VEGAN creations on Instagram and tag us at
@SOVEGAN
!