This one-pot curry soup is exactly what we love to eat on a weeknight. Not only is it one-pot, but it contains ingredients we usually already have in the kitchen. We love to serve this with thick slices of toasted bread, but you can also serve it with naan or even rice if you prefer.
Notes:
This is a really simple recipe but there are a couple of important steps to get maximum flavour. First, you'll want to make sure you cook the garlic and ginger until they caramelise and reach a lovely golden brown colour. Just before they burn. Likewise, after you add the spices you'll want to cook them until they begin to smoke. This way they'll release lots of their lovely aromas.
Some recipes will ask you to grind the whole coriander seeds because they can be quite hard. But if you cook them long enough, as per the above, they'll begin to soften. This means they'll break down as you chew them and their intense flavours will burst out, which we think adds a lovely feature to the dish. But you can grind them first if you prefer.
You can bulk this out with vegetables, if you prefer. Sometimes we add carrot, sweet potato and red peppers, which we fry for a couple of minutes before the red lentils and chop small enough so they cook in the 20-25 minutes.
Leftovers will keep well in the fridge in an airtight container for 2-3 days. Alternatively you can freeze this soup for 3-4 months.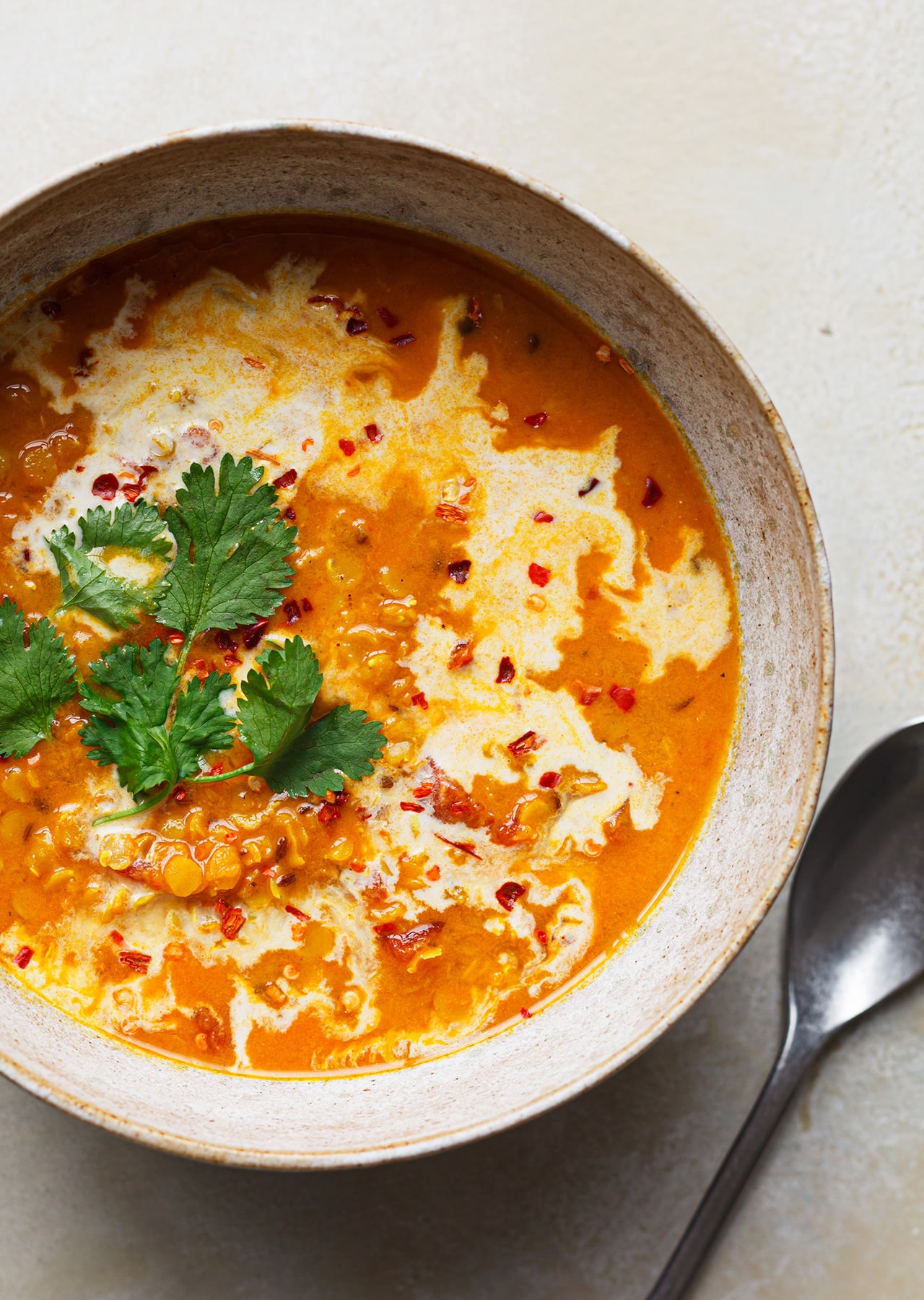 Ingredients
coconut oil
4 garlic cloves, peeled + finely chopped
1 thumb of fresh ginger, peeled + finely chopped
2 tsp cumin seeds
1 tsp coriander seeds
1 tsp ground turmeric
200g (7oz) red lentils (1 cup)
1 x 400g (14.1oz) tin of chopped tomatoes
750ml (25.4fl.oz) vegetable stock (3 cups)
1 x 400ml (13.5fl.oz) full-fat coconut milk
salt + pepper
1 handful of fresh coriander
red chilli flakes, optional
Method
Add 2 tablespoons of coconut oil to a large saucepan or casserole pot on a medium heat. Add the garlic and ginger, then cook for 2-3 minutes or until they turn a golden brown.
Stir in the cumin seeds, coriander seeds (see notes about grinding the seeds first, if you prefer) and turmeric. Cook for another 2 minutes or so, until the spices begin to smoke and turn a dark brown.
Rinse the red lentils under cold water in a fine sieve, then stir them into the pot and cook for another minute.
Next add the chopped tomatoes, vegetable stock and roughly 3/4 of the coconut milk. Give it a good stir, bring to a boil, then lower the heat and simmer for 20-25 minutes or until the lentils are tender and it resembles a thick-soup consistency.
Give the soup a taste and season with however much salt you think is necessary, along with a generous pinch of pepper.
To serve, drizzle over the remaining coconut milk and top with fresh coriander, along with some red chilli flakes if you prefer things a little spicy. We also love to serve with thick slices of toasted bread.
Did You Make This Recipe?
Don't forget to share your SO VEGAN creations on Instagram and tag us at
@SOVEGAN
!