This pasta is like a warm hug! Our creamy and tangy roasted red pepper sauce is the perfect antidote when it's cold and rainy outside.
The jar of mixed herbs that we use contains thyme, parsley, oregano, sage and basil.
We love to use fresh veggies as often as possible, but you can use jarred roasted peppers if you want to speed things up.
It's important to remove the skins because otherwise the sauce will be bitter and unpleasant.
Use gluten-free pasta to make this recipe gluten-free.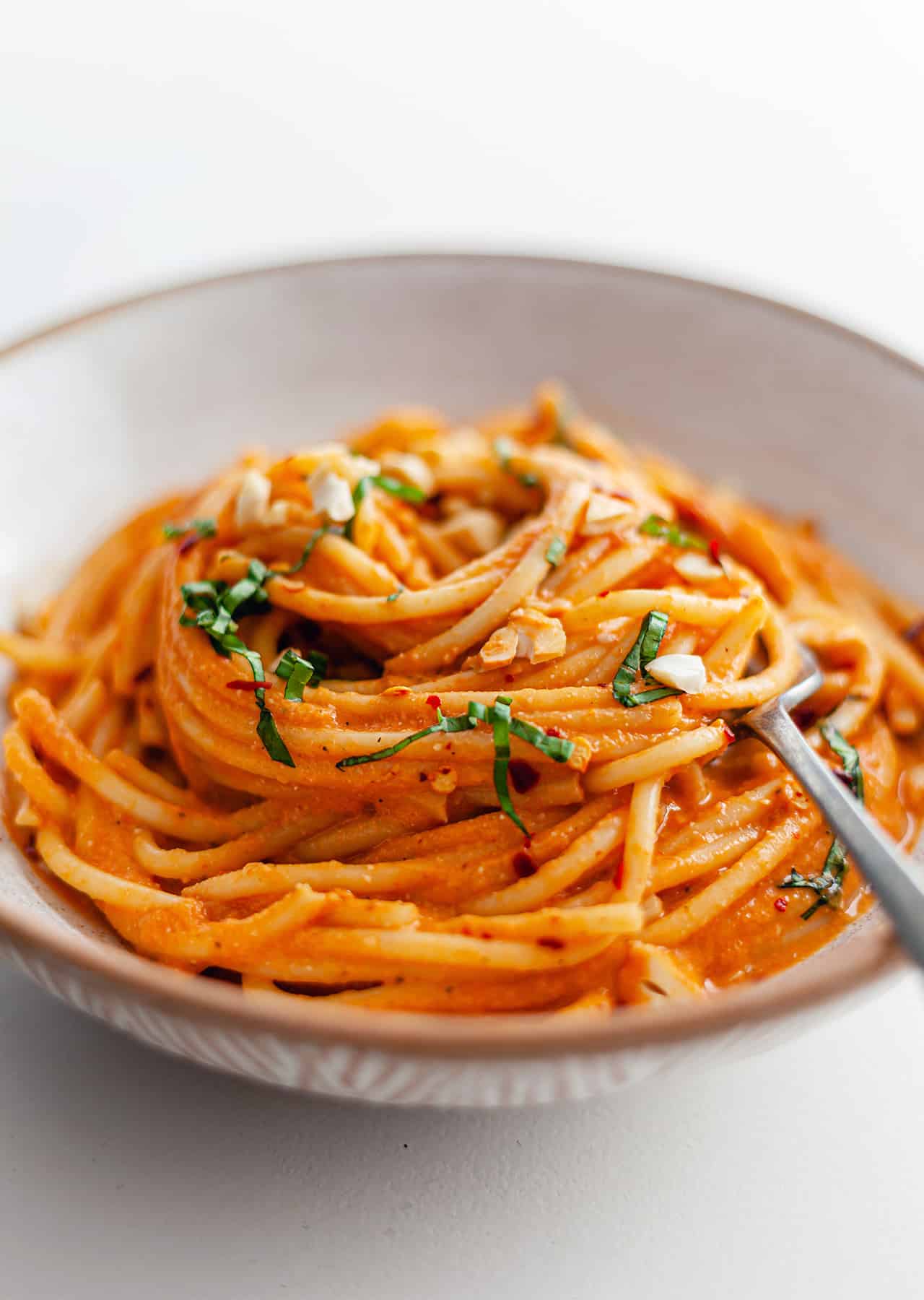 Ingredients
4 red peppers
1 onion, quartered
4 garlic cloves
50g / 1.7oz cashews
320g / 11.3oz spaghetti (or any other pasta)
250ml (1 cup) unsweetened plant-based milk
1 tbsp dried mixed herbs (thyme, parsley, oregano, sage, basil)
50g / 1.7oz sun-dried tomatoes in oil, drained
1 tsp balsamic vinegar
3 tbsp nutritional yeast
salt and pepper
For topping:
handful of fresh basil
handful of cashews
red chilli flakes
Method
Preheat the oven to 230°C fan / 500°F.
Transfer the cashews to a bowl and cover in hot water straight from a kettle. Leave to one side to soak.
When the oven is hot enough, add the red peppers to a roasting tray and roast for 15 minutes.
Remove the tray from the oven. Add the quartered onions and garlic cloves to the tray and return to the oven for another 15 minutes, then leave the veggies to cool for 5 minutes.
Cook the pasta in boiling salted water as per packet instructions and make sure you reserve some pasta water.
Carefully peel the skin off the red peppers, remove the stalks and scrape out any of the seeds. 
Transfer the roasted red peppers to a blender along with the onion and garlic (peeling and discarding the skins of the onion and garlic as you go).
Next drain the cashews and add them to the blender, along with the milk, 250ml (1 cup) of the pasta water you reserved earlier, dried mixed herbs, sun-dried tomatoes, balsamic vinegar, nutritional yeast, and very generous pinches of salt and pepper.
Blend everything until the sauce reaches a lovely smooth consistency, which can take a minute or so. Give the sauce a taste and add more seasoning if necessary.
Pour the sauce into a large saucepan on a low-medium heat. Gently heat the sauce until it begins to bubble, then add the cooked spaghetti.
Meanwhile roughly chop the cashews and toast them in a pan on a medium-high heat until they begin to brown. This should take a couple of minutes.
When you're ready to serve, distribute the pasta into bowls. Roughly chop the basil leaves and sprinkle them on top, followed by the toasted cashews and red chilli flakes. Divine!
Did You Make This Recipe?
Don't forget to share your SO VEGAN creations on Instagram and tag us at
@SOVEGAN
!