We use fresh corn but you can easily sub with frozen, which is often nearly as good.
If you want to make this healthier, sub the homemade ranch dressing for a simple vinaigrette or possibly even a plain vegan yoghurt.
You can also use wholemeal bread instead of white bread if you prefer.
Go wild with your salad! Add your favourite raw veggies to bring even more nutrition to the salad. Peppers and celery would work really well.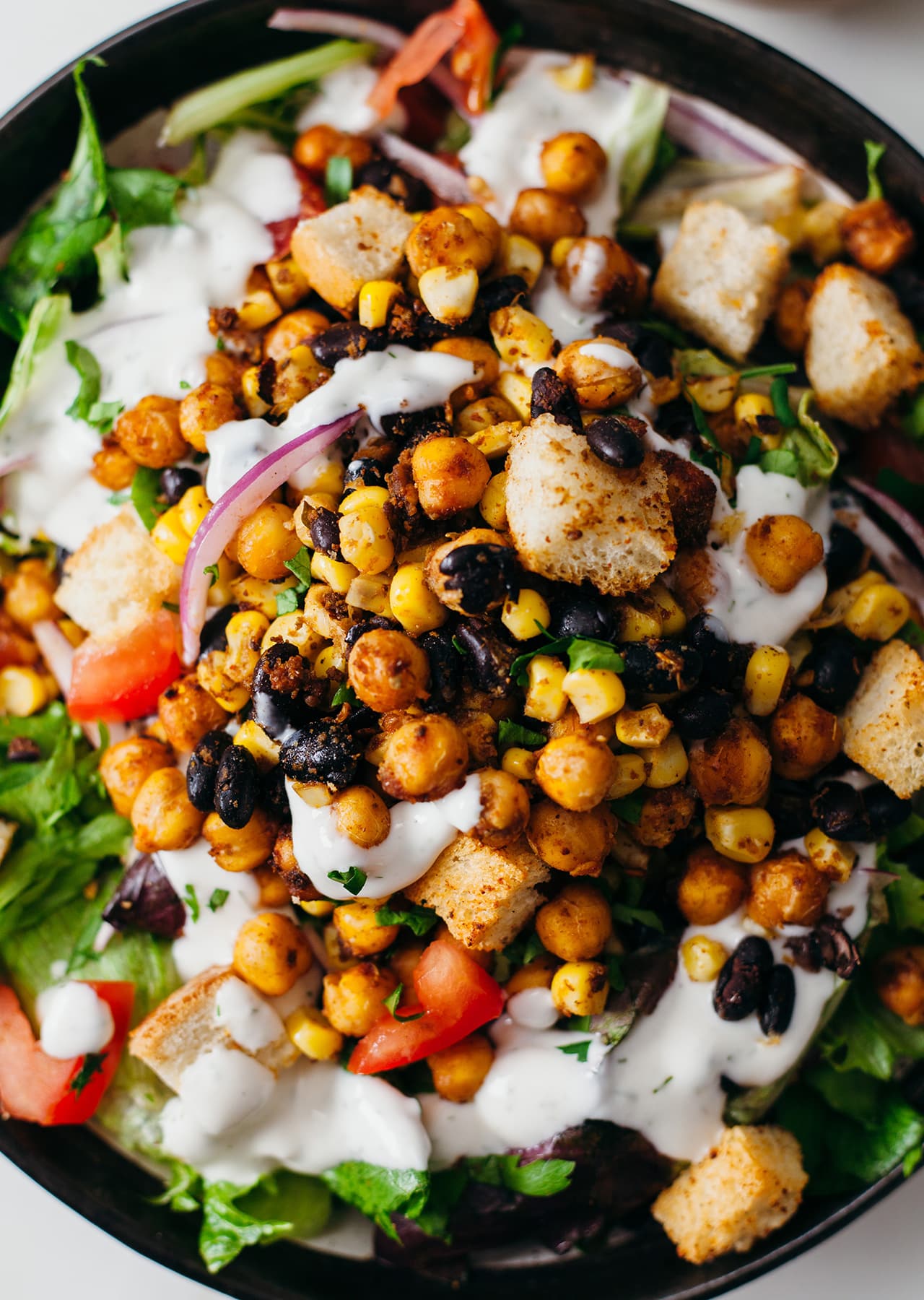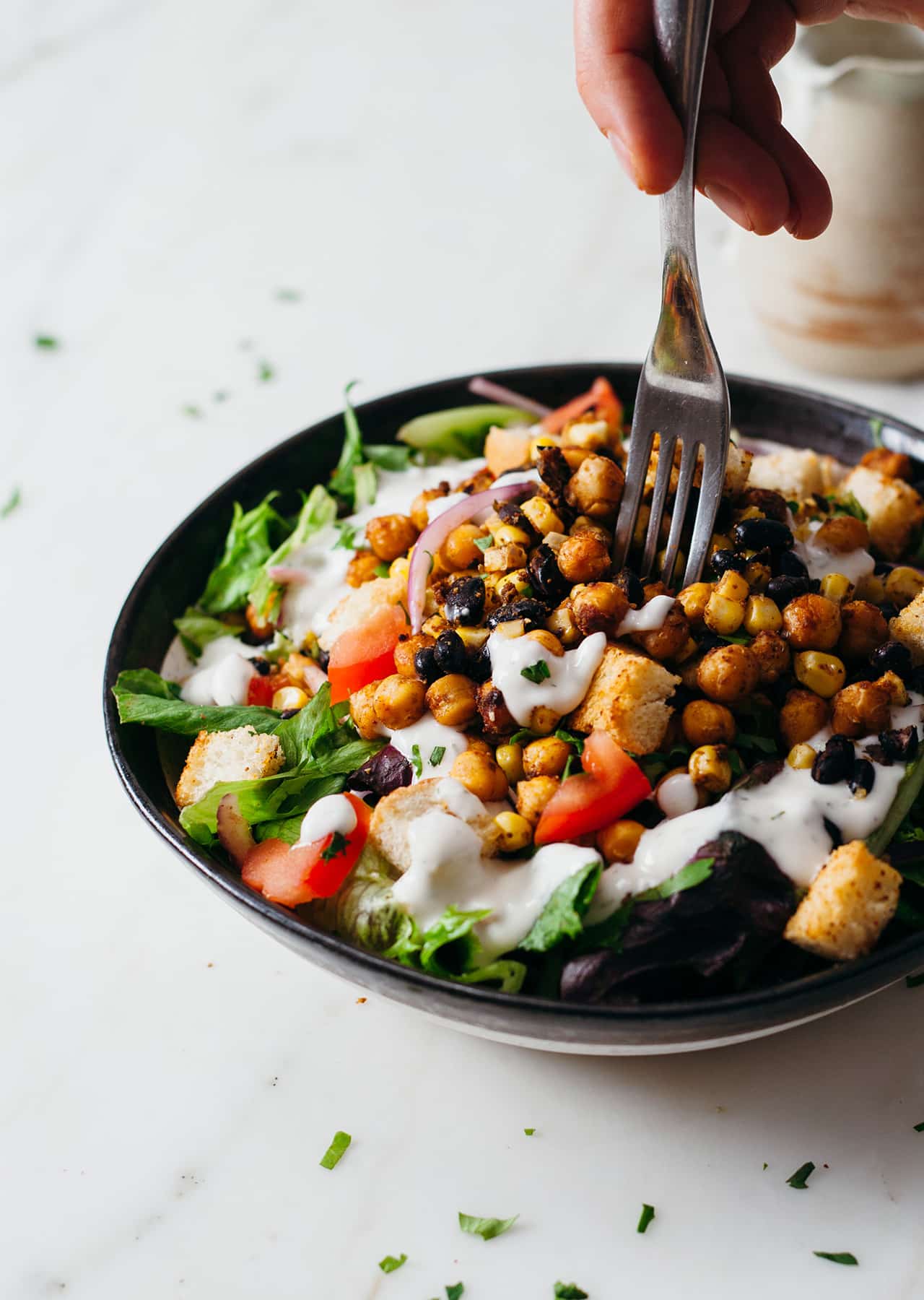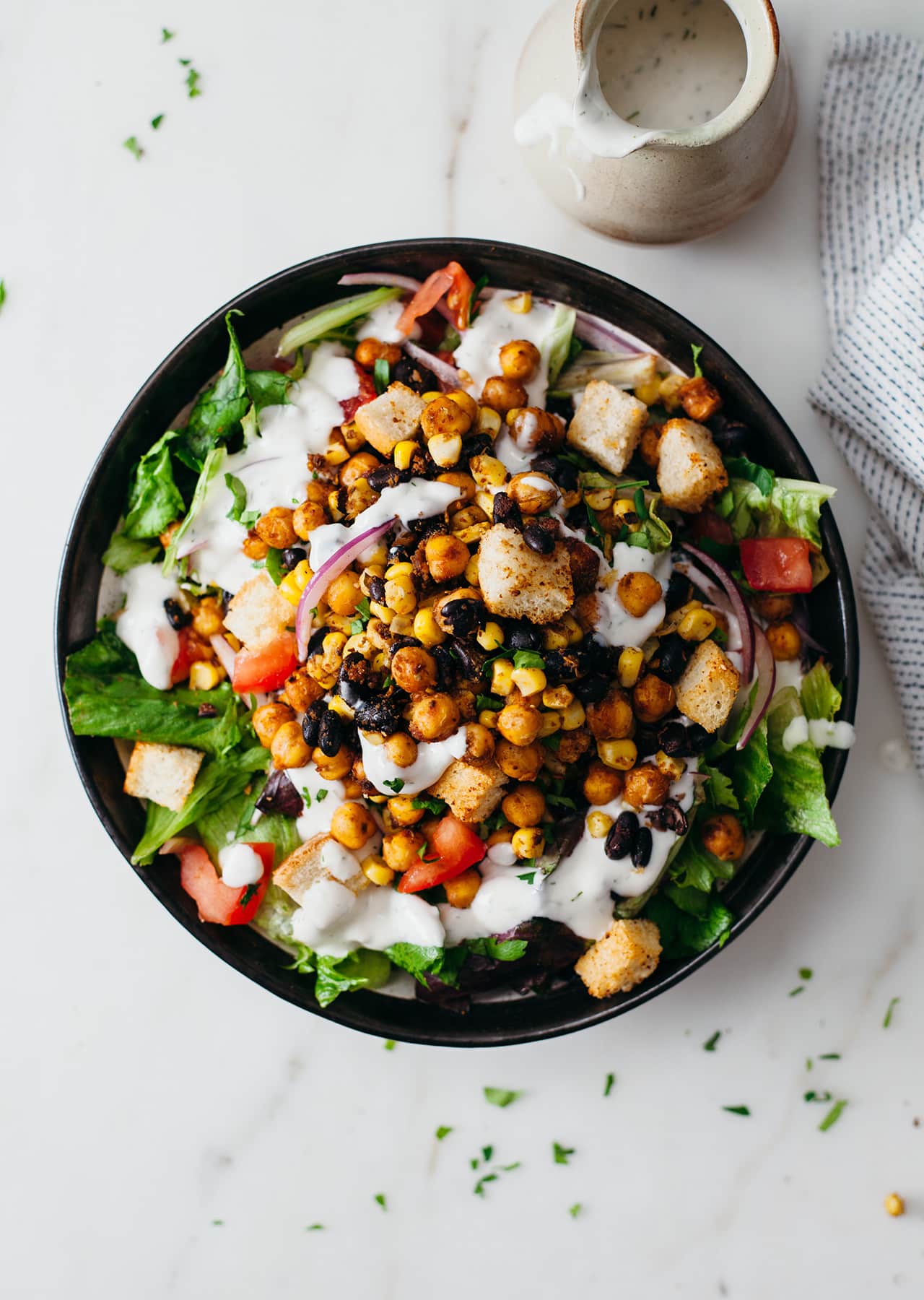 Ingredients
2 x 400g / 14.1oz tinned chickpeas
1 tbsp smoked paprika
1 tbsp ground cumin
1/2 tsp chilli flakes
1 tsp onion powder
1 tsp garlic powder
2 tsp dried oregano
salt and pepper
olive oil
1 x 400g / 14.1oz tinned black beans
120g / 4.2oz crusty bread
200g / 7oz corn kernels (we use fresh)
3 medium tomatoes
1 red onion
handful of fresh flat-leaf parsley
300g / 10.5oz crunchy salad leaves
For the vegan ranch dressing:
2/3 cup vegan mayonnaise
2 tbsp oat milk
1/4 tsp garlic powder
1/2 tsp dry dill
1/4 tsp onion powder
pinches of salt & pepper
Method
Preheat the oven to 200°C / 392°F fan-assisted.
Drain and rinse the tinned chickpeas, then add them to a large roasting tray. Scatter over the smoked paprika, ground cumin, chilli flakes, onion powder, garlic powder, dried oregano, and pinches of salt and pepper. Drizzle over a fairly generous amount of olive oil, then use a spoon to give everything a good mix. Roast for 15 minutes.
Drain and rinse the black beans and slice the crusty bread into small cubes. Add both to the tray along with the corn kernels and another small drizzle of olive oil, and use a spoon to give everything another good mix. Roast for 10 minutes.
Dice the tomatoes, and peel and thinly slice the red onion. Pick the parsley leaves off their stalks and finely chop the leaves. Add the tomatoes, onion and parsley leaves to a large mixing bowl with the crunchy salad leaves, and give everything a mix.
Meanwhile, combine the vegan ranch dressing ingredients in a bowl and leave to one side (check the consistency, if it's too runny, add more mayo. If it's too thick, add more oat milk).
When everything is ready, separate the salad into 4 bowls, top with the roasted chickpea mix and drizzle over the vegan ranch dressing to serve. Yuuuuuum.
Did You Make This Recipe?
Don't forget to share your SO VEGAN creations on Instagram and tag us at
@SOVEGAN
!