Be careful not to burn your chocolate when you're melting it – otherwise the liquid will split and you'll be left with a rather unpleasant-looking cake.
We try to avoid smashing our biscuits into crumbs – that way you're left with a few big crunchy pieces in the bites.
We loooove Biscoff but you can easily sub for your favourite biscuits.
Make sure you opt for a soy-free chocolate to make this recipe soy-free and gluten-free biscuits to make the recipe gluten-free.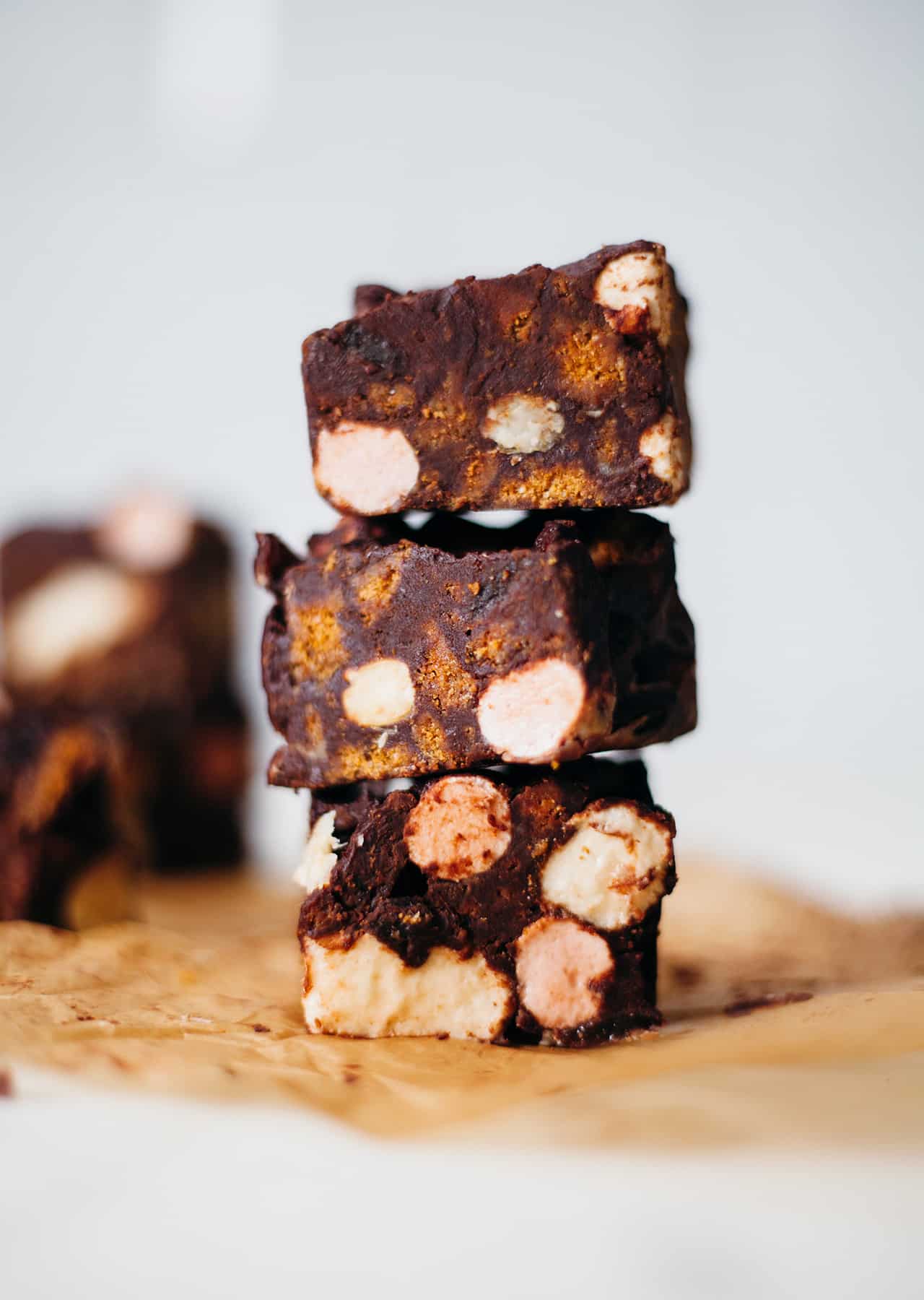 Ingredients
250g / 8.8oz Biscoff biscuits, or use gluten-free

300g / 10.6oz dark chocolate (vegan friendly)

150g / 5.3oz plant-based margarine

2 tbsp maple syrup

1 tsp vanilla extract

50g / 1.7oz raisins

50g / 1.7oz hazelnuts

60g / 2.1oz vegan marshmallows
Method
First, transfer the biscuits to the middle of a tea towel, hold the edges closed then bash the biscuits with a rolling pin until mostly broken up. Set the crushed biscuits to one side for later.

Next, line the base and sides of a 20cm square cake tin with baking paper.

Pour a little water in a saucepan over a medium heat. Place a large bowl on top so that it sits in the lip of the saucepan without touching the water. Add the chocolate, margarine, maple syrup and vanilla to the bowl and stir regularly until the chocolate has fully melted, then remove the bowl from the heat. 

Add the crushed biscuits, raisins, hazelnuts and marshmallows to the bowl, and stir until fully combined. Transfer the mixture to the cake tin and smooth out with the back of a spatula. Leave the mixture to cool until it reaches room temperature, then refrigerate it for 2 hours or until the chocolate is completely set.

Cut the cake into 16 squares and enjoy with a cup of tea!
Did You Make This Recipe?
Don't forget to share your SO VEGAN creations on Instagram and tag us at
@SOVEGAN
!