Our creamy cashew cheese works perfectly with the rich pesto and olives, but you can simply add shop-bought vegan cheese as a topping instead.
If you don't want to make all the pizzas in one go, you can simply wrap the leftover dough tightly in baking paper and freeze it for up to 2 months.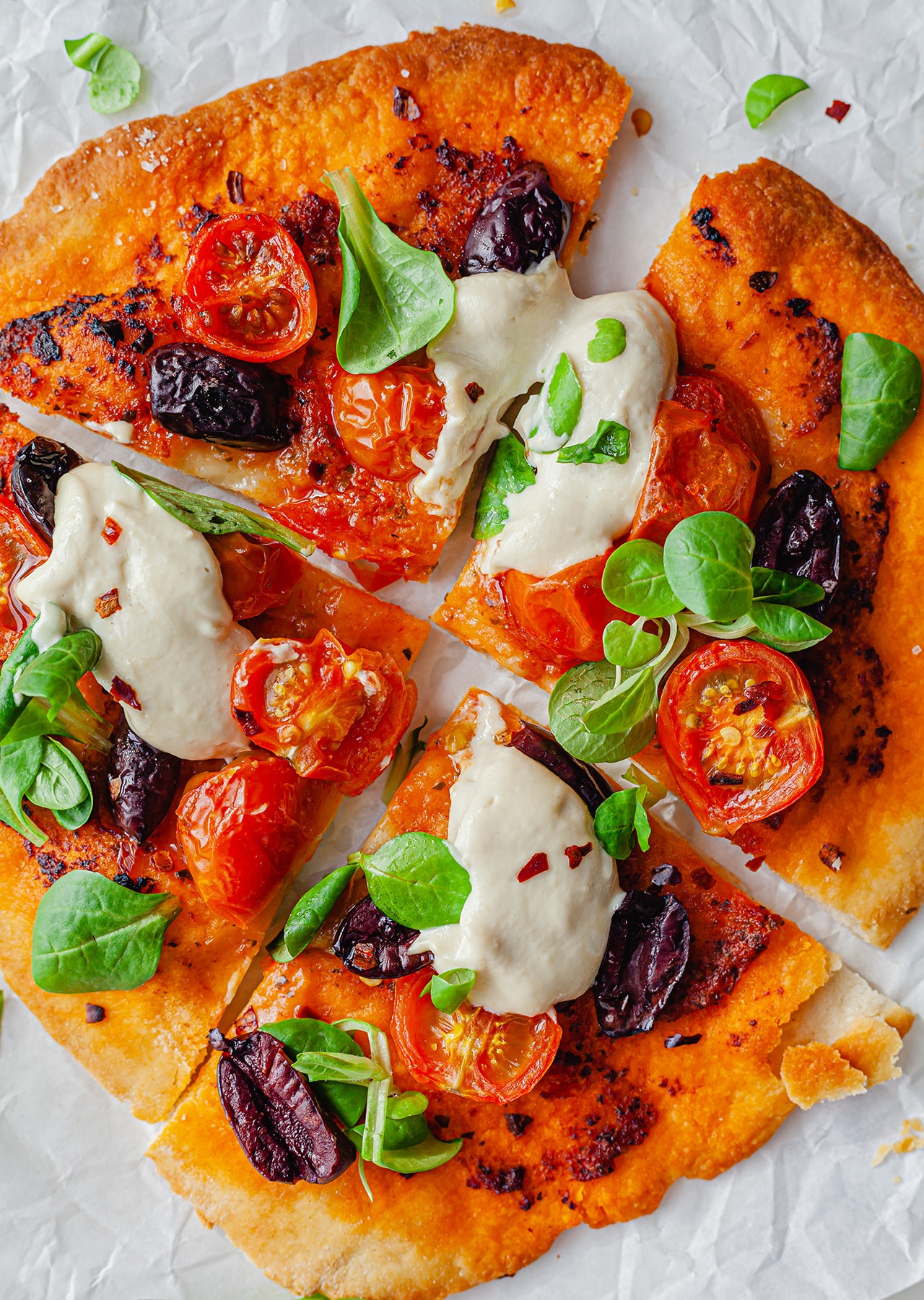 Ingredients
250g / 8.8oz plain flour
1.5 tsp baking powder
1/2 tsp salt
1.5 tbsp olive oil
120ml / 41fl.oz cold water
Toppings:
cherry tomatoes
Kalamata olives, pitted
shop-bought vegan pesto (we use sun-dried tomato pesto)
salad leaves (we use lamb's lettuce)
chilli flakes
For the cashew cheese:
3/4 cup cashews
5 tbsp soya milk
1 tbsp nutritional yeast
1/2 lemon
pinch of salt
Method
If you're making the cashew cheese, transfer the cashews to a bowl, cover with hot water from a kettle and leave to one side.
Preheat the oven to 180°C fan / 400°F and line two large baking trays with baking paper.
Add the flour, baking powder and salt to a mixing bowl and stir. Next add the olive oil and water, and bring together until a dough forms. Add a splash more water if the dough feels dry or add more flour if it's too wet. Tip the dough out onto a work surface and knead a few times to bring it together. Divide the dough into 4 and roll each quarter into a circle approximately ½ cm thick.
Spread a heaped teaspoon of pesto onto each circle of dough, leaving a 1cm clear around the edges. Sprinkle over a small pinch of salt on each pizza, then slice the cherry tomatoes and olives in half and scatter them over the pizzas. Sprinkle over some chilli flakes, drizzle with a light splash of olive oil (optional), then bake for 15-20 minutes or until the edges start to go brown and the base is cooked.
Meanwhile, to prepare the cashew cheese, drain the cashews and add them to a high speed blender along with the soya milk, nutritional yeast, juice of the 1/2 lemon and a pinch of salt. Blend until smooth.
Once the pizzas are ready, remove from the oven and top with spoonfuls of the cashew cheese, then sprinkle with lamb's lettuce. Finish with an extra drizzle of olive oil (optional). Delicious!
Did You Make This Recipe?
Don't forget to share your SO VEGAN creations on Instagram and tag us at
@SOVEGAN
!