Yum. Yum. Yum.
We're totally team bhaji, but deep fat frying foods is also a rare treat in our home.
These baked onion bhajis are the best of both worlds.
Crispy and perfectly spiced onion, topped with our favourite condiments.
These are the ideal snack.
They're simple to prepare and they bring serious flavour.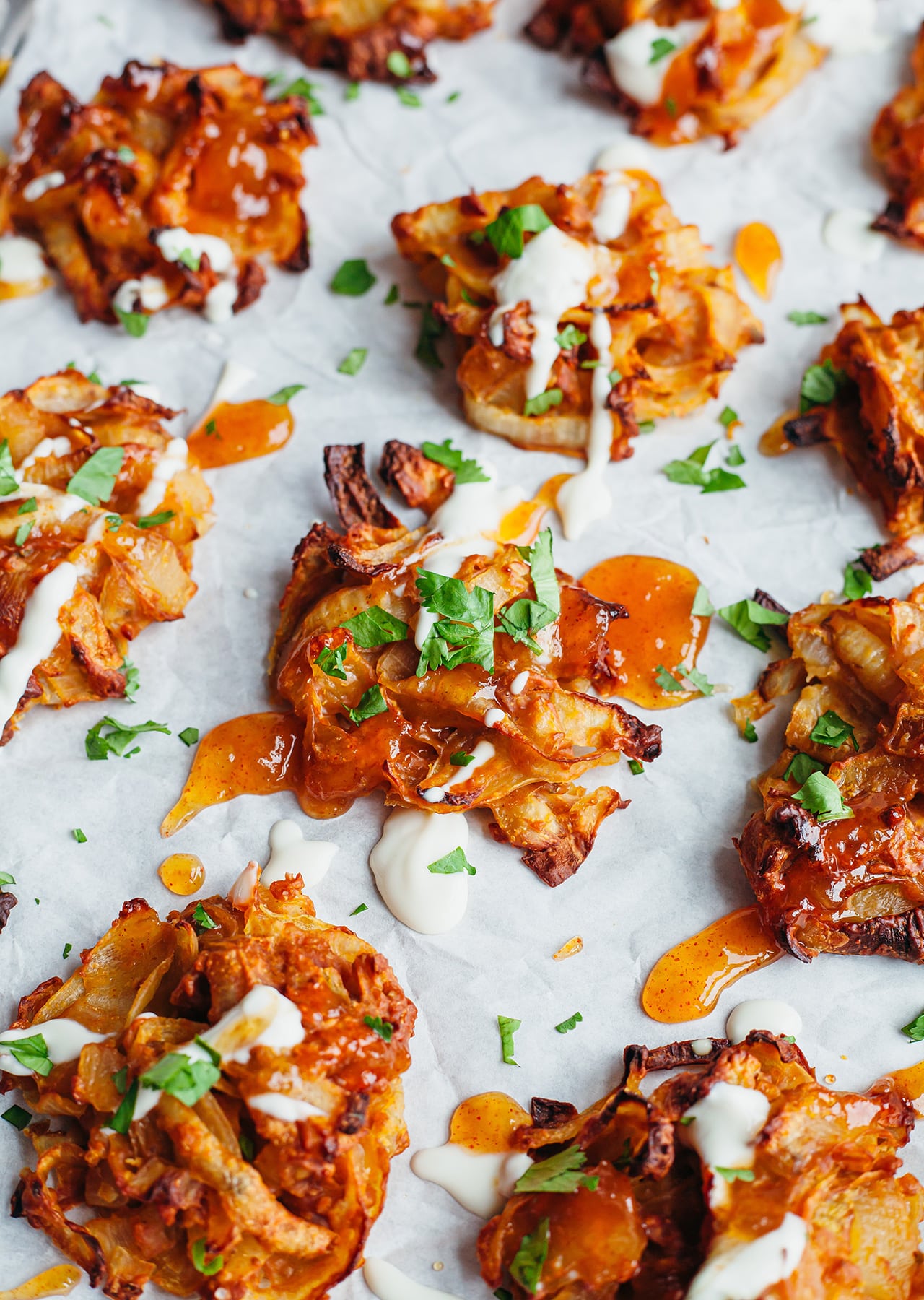 Here's what you need to know:
Lots of recipes call for added water, but we find the moisture in the fried onions to be enough. This also means the bhajis are less 'cakey' and more crispy!
We love to drizzle our bhajis with toppings and serve them in the tray for people to pick at. But there's no harm in serving the condiments separately and going for a good ol' fashion dunk.
We use the common Serrano pepper for our green chilli, which has a medium heat. If you prefer things spicier, either add the entire chilli into the mix or you can always opt for a hotter pepper!
That's about it.
We hope you enjoy the recipe and don't forget to tag us @sovegan if you recreate these wonderful bhajis at home.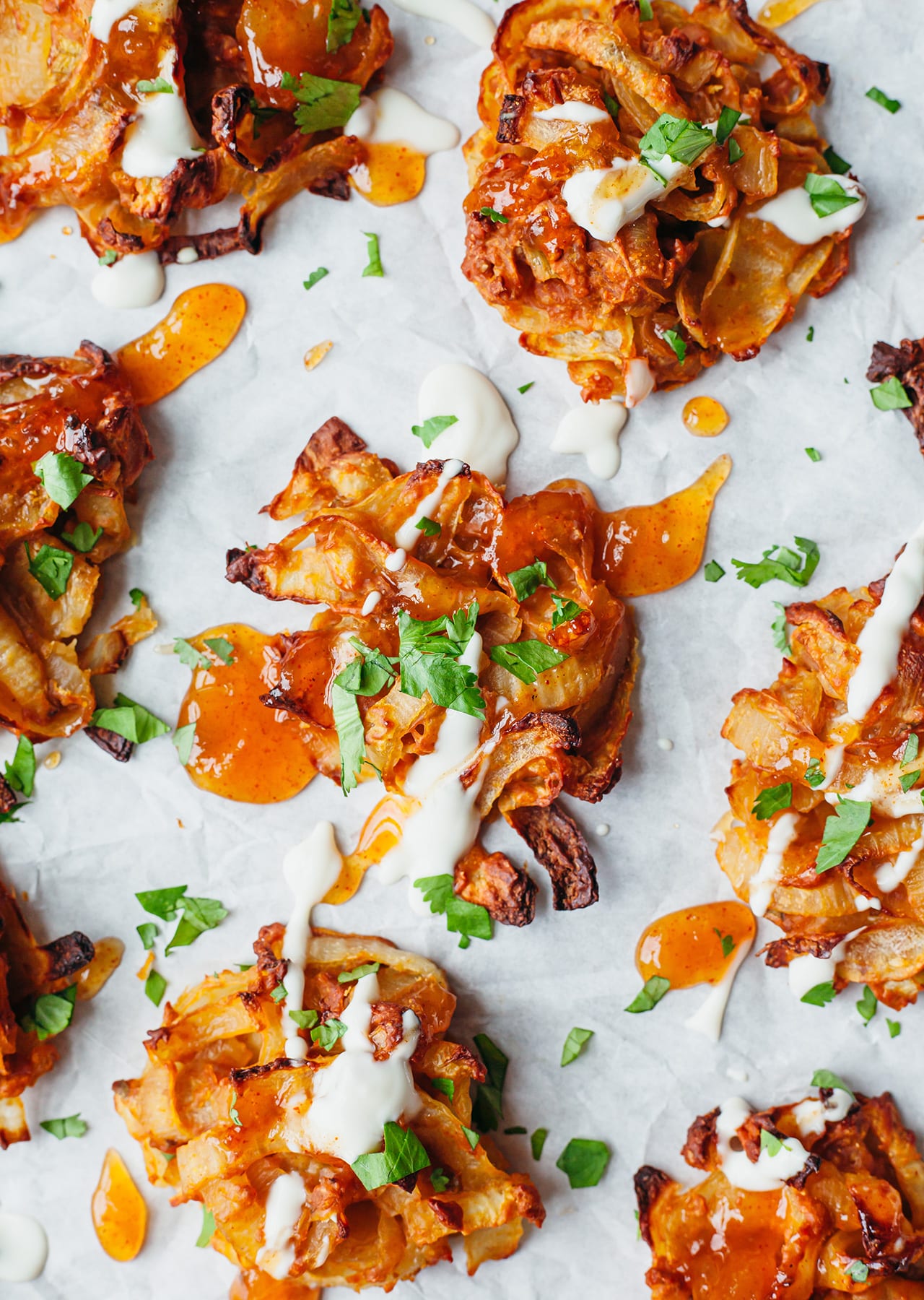 Baked Onion Bhajis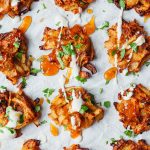 Ben, So Vegan
Yum. Yum. Yum. We're totally team bhaji, but deep fat frying foods is also a rare treat in our home. These baked…
Print This
Ingredients
4 medium onions (750g / 26oz)
vegetable oil
salt
100g / 3.5oz chickpea (garam) flour
1/2 tbsp ground cumin
1/2 tsp garlic powder
1 tsp paprika
1 tsp ground coriander
1/2 green chilli
Toppings
fresh coriander
mango chutney
vegan plain yoghurt
lemon
Instructions
Peel, halve and roughly slice the onions. Add 2 tbsp of vegetable oil to a large pan over a medium heat. As soon as oil is hot, add the onions and a pinch of salt and fry for 10-12 minutes or until soft (but do not caramelise).
Preheat the oven to 180°C / 356°F and line a large tray with baking paper.
Transfer the onions to a large mixing bowl, then add the chickpea flour, ground cumin, garlic powder, paprika, ground coriander and 1 tsp of salt. Finely chop the green chilli and add it to the mixing bowl along with a drizzle of vegetable oil, then use a couple of spoons to give everything a mix until the onion is fully coated in the flour and spices.
Using a couple of spoons, place 2 tbsp of the mixture onto the baking tray and lightly flatten it down with the back of the spoon. Repeat until you have 12 bhajis on the tray. Bake for 30-40 minutes or until crispy and slightly charred around the edges.
Either top with or serve with fresh coriander, mango chutney, vegan plain yoghurt and a squeeze of fresh lemon juice.