This low-calorie lentil curry can be enjoyed all on its own or you can pair it with rice and bread for a more filling evening meal.
Dhal is a traditional curry from the Indian subcontinent, which is made by cooking split-lentils until they become thick and combining them with delicious spices.
You can make this ahead of time and store it in the fridge for up to 4 days or the freezer for 2-3 months.
You can substitute red lentils with other lentils, however the cooking times will vary so it's worth reading the packet instructions to get an idea of how long you'll need to cook the curry until the lentils are soft.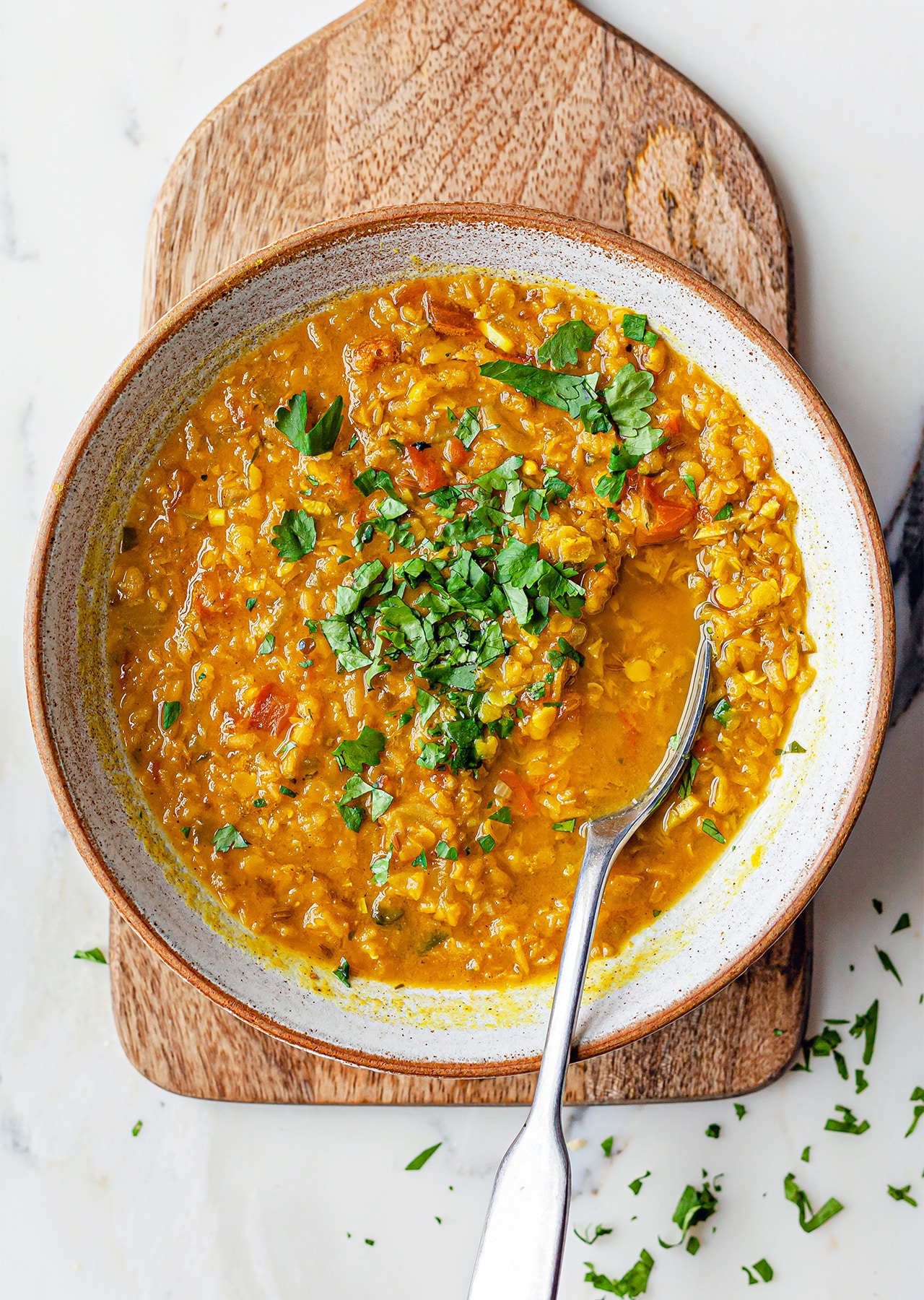 Ingredients
2 cups dried red lentils, rinsed under cold water
vegetable oil
1 onion, peeled + diced
6 garlic cloves, peeled + diced
1 thumb of fresh ginger, peeled + diced
4 green chilies, finely chopped
1 tbsp turmeric
1 tbsp cumin seeds
2 tsp garam masala
4 large tomatoes, diced
1 handful of fresh coriander, leaves roughly chopped
salt + pepper
Method
Put the lentils into a large saucepan along with 1.5 litres (6 cups) of water. Bring to the boil, then reduce the heat and simmer uncovered for 10–15 minutes until cooked. Skim off the foam as it gathers at the top.
Meanwhile, heat a little vegetable oil in a frying pan on a medium heat. Add the onion and fry for 5 minutes.
Add the garlic, ginger and chillies to the pan along with the spices and fry for 2 minutes.
Add the tomatoes and fry for another 2 minutes.
Once the lentils are done, transfer the onion mixture to the saucepan of lentils and simmer for 10 minutes. If the dhal is too dry, add a splash more water. If it's too wet, continue cooking for a few more minutes.
To finish, stir the coriander into the dhal along with generous pinches of salt and pepper, then serve. Yum!
Did You Make This Recipe?
Don't forget to share your SO VEGAN creations on Instagram and tag us at
@SOVEGAN
!