Use gluten-free tortillas to make this gluten free.
And use coconut or oat yoghurt to make this recipe soy-free.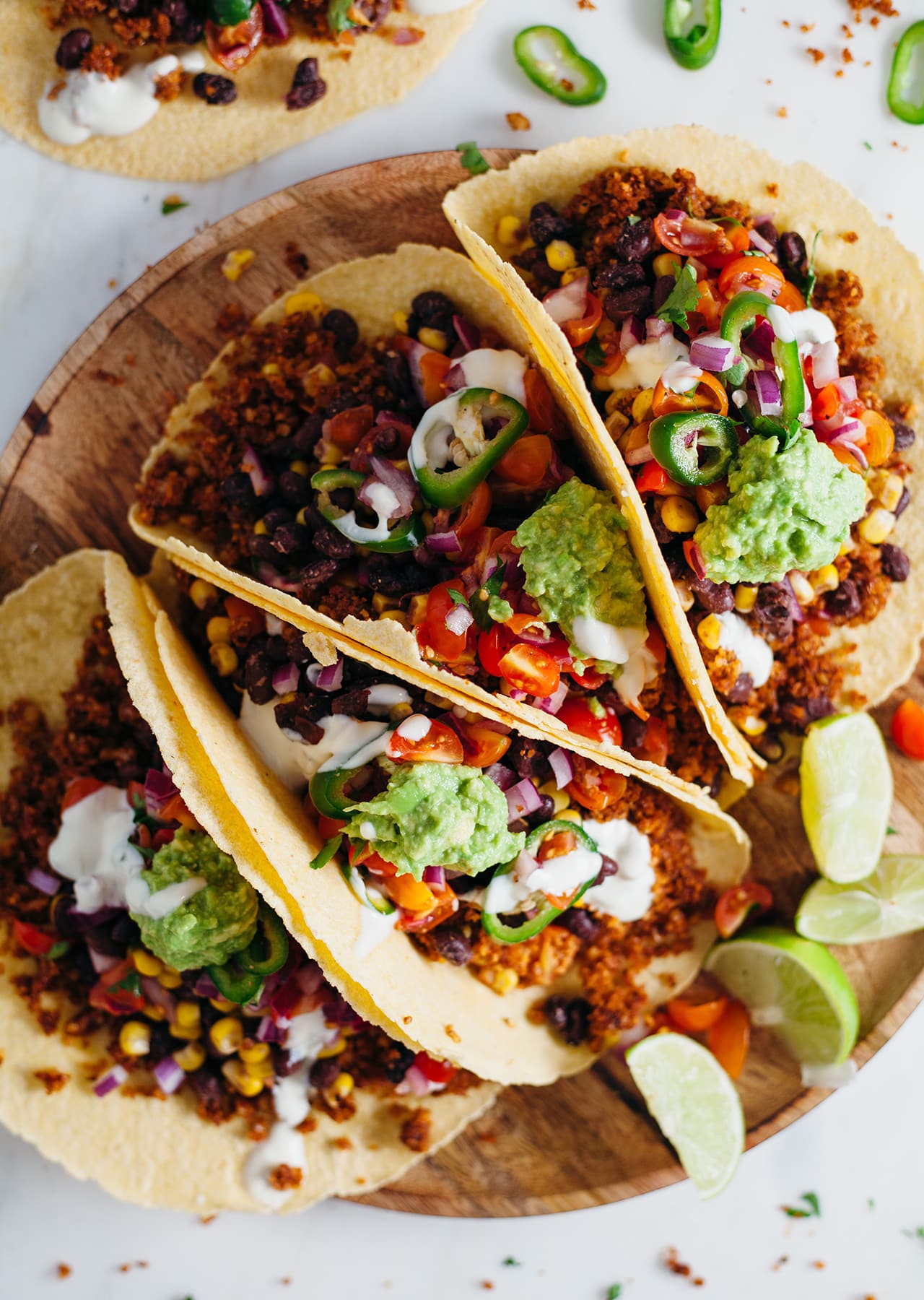 Ingredients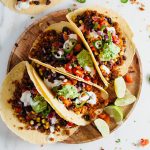 Walnut meat:
400g / 14.1oz walnuts
1 tbsp smoked paprika
2 tsp chilli powder
1.5 tbsp ground cumin
3 garlic cloves
2 tsp balsamic vinegar
2 tsp maple syrup
70g / 2.5oz sun-dried tomatoes in oil
salt
Black bean mixture:
250g / 8.8oz tinned sweetcorn
1 x 400g / 14.1oz tinned black beans
salt & pepper
1/2 lime
handful of fresh coriander
Salsa:
250g / 8.8oz cherry tomatoes
1 green chilli
1 red onion
1 lime
handful of fresh coriander
salt & pepper
To serve:
2 avocado
1/2 lime
8-10 small corn tortilla, use gluten-free or gf option
vegan yoghurt
Method
Toast the walnuts in a pan over a medium heat for 6-8 minutes or until they begin to smoke. Keep an eye on them and stir occasionally to prevent them burning. Then peel and dice the garlic and add the diced garlic to the walnuts along with the smoked paprika, chilli powder and ground cumin. Stir to coat the walnuts in the spices, then cook for 2 minutes.
Meanwhile drain and rinse the black beans and sweetcorn. Transfer them to a separate pan and stir in a generous pinch of salt and pepper, as well as the juice from the lime. Heat through for around 5 minutes on a medium heat. Then remove the pan from the heat, roughly chop the coriander and stir it into the beans and sweetcorn.
Add the cooked walnuts, garlic and spices to a food processor along with the balsamic vinegar, maple syrup, sun-dried tomatoes (drain as much oil as possible) and a pinch of salt. Process for a minute or two until the walnut mixture turns into a mince-like texture.
Next prepare the salsa by slicing the cherry tomatoes into quarters and transfer them to a mixing bowl. Peel and dice the red onion, slice the chilli (leave the seeds in if you like things spicy) and roughly chop the coriander leaves, and add them all to the mixing bowl. Squeeze the juice from the line into the bowl, along with a generous pinch of salt and pepper, then stir to combine.
Meanwhile heat through the tortillas in a pan over a low-medium heat.
Peel the avocado, slice them in half and remove the stone. Then scoop out the flesh and mash it in a bowl along with juice from half a lime.
When you're ready to assemble your tacos, spoon a few tablespoons of the walnut mixture on top of a tortilla, followed by the bean mixture, salsa and a dollop of mashed avocado. Then top with a drizzle of vegan yoghurt. Repeat for the remaining tacos. Yum!
Did You Make This Recipe?
Don't forget to share your SO VEGAN creations on Instagram and tag us at
@SOVEGAN
!