If you have a little extra time, try soaking the cashews for longer which will to create an even creamier sauce.
We love to use pappardelle or linguine pasta for this recipe but really any pasta will do.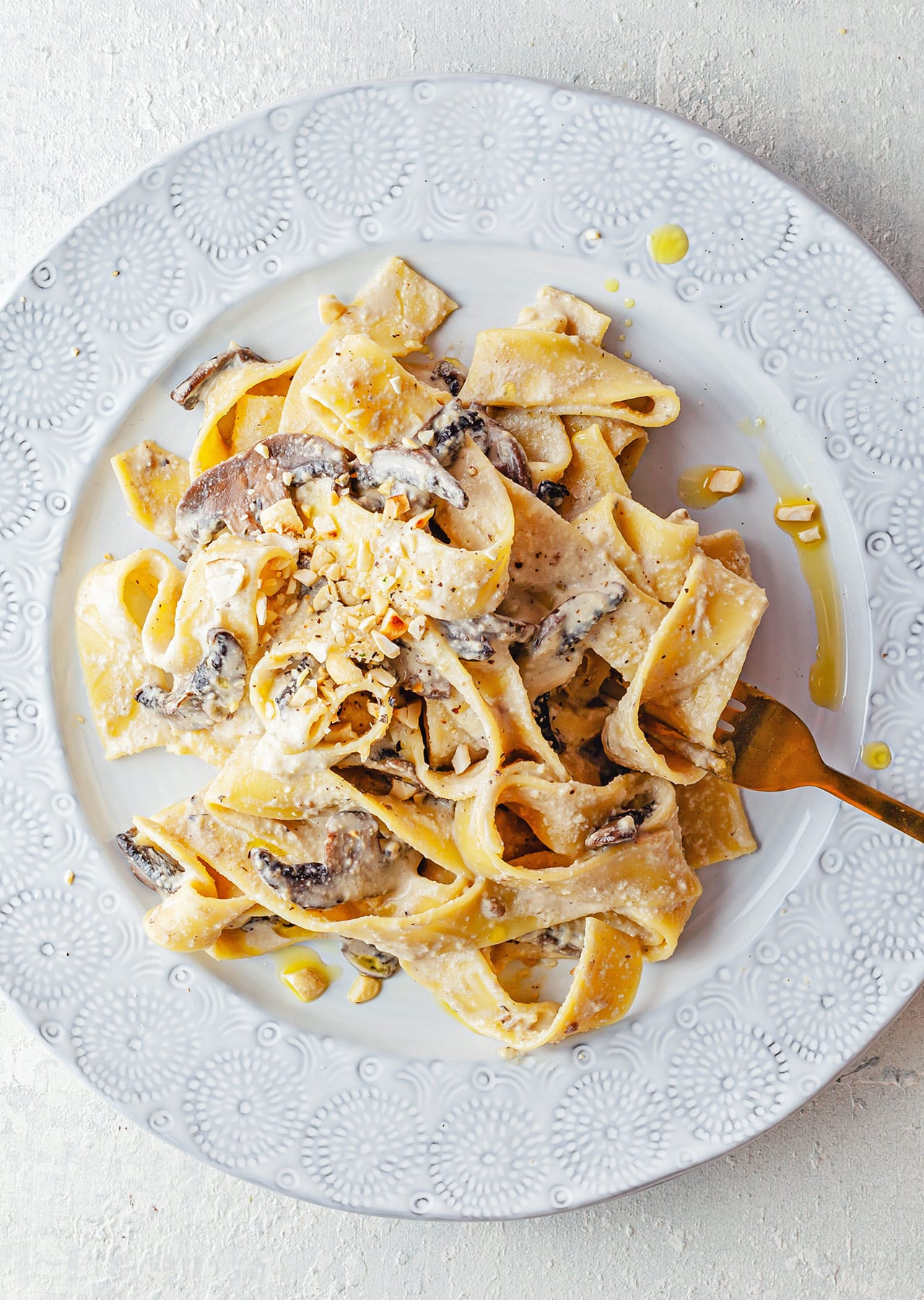 5-Ingredient Creamy Mushroom Pasta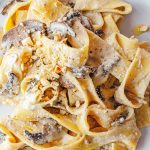 Ben, So Vegan
Quick. Easy. Tasty. This 5-ingredient creamy mushroom pasta is exactly our kind of food. Be generous with the seasoning. We serve our pasta with some extra freshly ground black pepper.
Print This
Ingredients
The 5 ingredients:
180g (6.3oz) pasta (linguine or pappardelle)
4 garlic cloves
20g (1/2 cup) nutritional yeast
100g (2/3 cup) cashews, plus a small handful for toasting
250g (9oz) mushrooms
The cupboard essentials:
salt
pepper
olive oil
extra virgin olive oil
apple cider vinegar
Method
Transfer the cashews to a bowl and cover them in hot water from a kettle. Leave them to one side to soak while you whizz through the next steps.
Cook the pasta as per the packet instructions, making sure you save the pasta water for later.
Add a small drizzle of olive oil to a frying pan on a medium heat. Slice the mushrooms roughly 5mm thick (approx ⅓ inch), then add them to the pan and fry for 8 minutes.
Peel and thinly slice the garlic, add them to the pan and fry for 3 minutes, then remove the pan from the heat.
Meanwhile, toast a small handful of cashews in separate frying pan on a medium heat. They'll take 3-5 minutes to turn a lovely golden brown.
Drain the pasta, saving the pasta water in a bowl below.
Add the 100g (2/3 cup) of cashews to a blender, along with the nutritional yeast, 250ml (1 cup) of pasta water, ½ tsp of apple cider vinegar and generous pinches of salt and pepper. Blend until smooth, then taste and add extra seasoning if necessary.
Pour the creamy sauce over the mushrooms, then add the drained pasta and stir to combine everything in the sauce.
Serve with a light drizzle of extra virgin olive oil, freshly ground black pepper and the toasted cashews.